Ken's Korner Web Extra: 'Door of Paradise' bound for museum – The Journal of Antiques and Collectibles – July 2012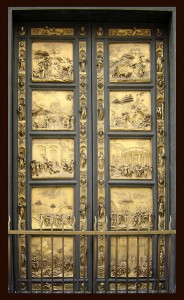 The 'Door of Paradise' – the nickname given by Michelangelo to an 8-ton gilded bronze door beautifully crafted in the15th century by Italian artist Lorenzo Ghiberti – has been unveiled to the public after a 27-year restoration, but it won't be headed back to the baptistery of Florence, Italy's duomo (or cathedral), its original home. Instead, starting in September, it will go on display in a case at Florence's Museo dell'Opera di Santa Maria del Fiore. The idea is to protect the door from the ravages that necessitated the restoration.
During World War II, the "Door of Paradise" was removed from the baptistery, to spare it from damage. But it was nearly destroyed twenty years later, in 1966, when the Arno River flooded, devastating much of Florence. Six of the door's ten panels were torn away in the flood, but they were reattached, only to suffer more damage caused by pollution. The baptistery's north door, also created by Ghiberti, and the south door, the work of sculptor Andrea Pisano, are also nearing completion on restorations that weren't as urgent.