Ken's Korner: Historic town is pulled from auction
The town of Garryowen, MT (population: 2) was listed for sale on eBay recently, with an asking price of $6.9 million, but it was pulled from the site without a single bidder coming forward. This would not be newsworthy except for the fact that Garryowen is located on 7.7 acres of the Crow Indian Reservation – also on the battlefield where General George A. Custer and his 7th Cavalry made their famous last stand against Sitting Bull and the Sioux warriors waiting for him. Despite that bit of historical cache, there were still no bids.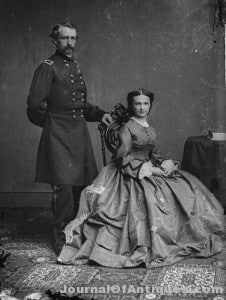 Meanwhile, a separate auction – of letters, photographs, notes and artifacts collected by Custer's widow, Elizabeth Bacon Custer – is being held by Williams & Williams, based in Tulsa, OK. The collection, bound in three dozen binders, features letters of condolence from other widows of the 7th Cavalry soldiers, an unpublished 200-page interview with Buffalo Bill Cody, and transcripts of letters from Custer to his wife, some sent during the Civil War. Not included, unfortunately, are letters or anything written in Custer's own hand.