Ken's Korner: Jackie Robinson collectibles on rise
News & Views From the World of Antiques & Collectibles
By Ken Hall
Interest in Jackie Robinson has shot up higher than normal since the release of the movie 42, and there's been a corresponding spike in the value of items and collectibles associated with the first black man to play major league baseball. According to Fanatics.com, the online sports retailer, sales of Robinson's replica jerseys and other items have increased 1,000 percent since the start of the baseball season (vs. a year earlier). The hottest seller: Brooklyn Dodgers T-shirts with Robinson's name and number (42) on the back.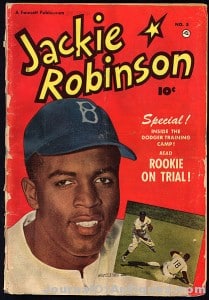 A story in the New York Times quoted Mark Roesler, CEO of CMG Worldwide (which sells the licensing rights of deceased celebrities) as saying Robinson is consistently one of the highest earning deceased sports celebrities. Michael Osacky of Baseball in the Attic, a sports memorabilia retailer, said Robinson's 1952 Topps baseball card in near-mint condition has appreciated from $3,200 to $8,100 since 2004, and the value of a baseball signed by Robinson went up in that same period by 50 percent, to $7,500.