Ken's Korner: Lunar meteorite to be auctioned
Ken's Korner
New and Views from the World of Antiquing and Collecting
by Ken Hall
A four-pound, slab-shaped chunk of the moon that crashed to Earth as a meteorite and was found in Libya in 1998 was set to cross the block this fall at Heritage Auctions in Dallas, where it was expected to fetch $340,000 or more. Dubbed Dar al Gani 1058, it is the fourth-largest chunk of the moon ever made available to the public. It originated as a piece of the lunar highland breccias from the moon's far side, and it is unknown exactly when it fell to Earth. The fact that it arrived by natural forces actually diminishes its value.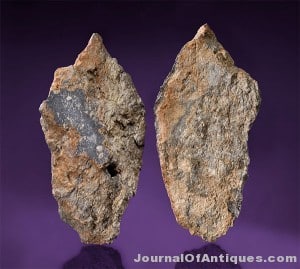 Moon rocks retrieved by man-made robotic probes – such as those sent to the moon by U.S. and Soviet missions – tend to fetch much higher prices than lunar meteorites because collectors value the history they represent. For example, three pieces of the moon no bigger than seeds brought back to Earth by a Russian robotic probe in 1970 brought $442,500 at auction 30 years ago. The moon rocks retrieved by the Apollo missions? They're considered National Treasures and can't be sold, but would easily sell for millions.