Ken's Korner: Sculpture carved from a meteorite
Ken's Korner
News & Views from the World of Antiques & Collectibles
By Ken Hall
German researchers at the University of Stuttgart say that an ancient Tibetan sculpture about 1,000 years old was probably carved from a 15,000-year-old meteorite. The "iron man" statue depicts the god Vaisravana, the Buddhist King of the North (aka the Hindu deity Kubera). The researchers began testing the statue in 2007 after it was sold at auction to a collector. That's when it was determined that the artifact's iron matches fragments of the "Chinga" meteorite field found near the border of Siberia and Mongolia in 1913.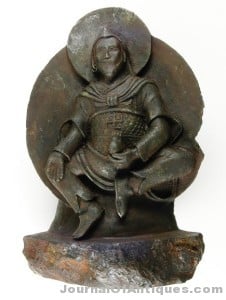 The statue was discovered in 1938 during a Tibetan expedition organized by Heinrich Himmler, Adolf Hitler's Nazi SS chief during World War II, and zoologist Ernst Schafer. Himmler probably brought the statue back to Germany because it had a swastika carved in its center (a good luck sign that existed in Tibetan culture long before the Nazis used it as their symbol). Chemistry tests linked it to the "Chinga" meteorite field. The findings were published recently in the journal Meteorics & Planetary Science.