Ken's Korner: Luxury yacht to double as art & antique gallery – The Journal of Antiques and Collectibles – June 2006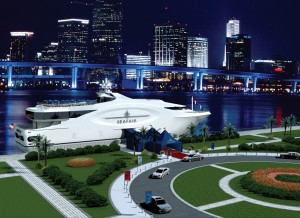 A Florida entrepreneur has commissioned a $60 million luxury yacht that will function as a floating art and antique gallery. David Lester, a resident of Bonita Springs, Fla., and president of Expoships LLLP, said the 228-foot yacht "Seafair" will carry international dealers and their exhibits to ports along the Eastern seaboard, including Southwest Florida. "It's never been done," said Lester, a founder of the Palm Beach International Art & Antique Fair, which he sold in 2001 for $18 million.
The ship will have 11,057 square feet of gallery space and feature a 21st century spin on the English trading ships that visited ports like Charleston and Savannah 300 years ago. It will have a "cargo" of Monets and Renoirs and $10-million diamond rings, not of crates of tea. "It will be a luxury shopping center on water," Lester said. He added he's taking bookings from leading galleries and dealers worldwide, including Marks Antiques, David Morris jeweler and Marlborough, all of London.