Ken's Korner: Man finds valuable comic inside a wall
News & Views From the World of Antiques & Collectibles
By Ken Hall
David Gonzalez, 34, was renovating a residence in Elbow Lake, Minn., when he made the discovery of a lifetime: a copy of Action Comics No. 1 from 1938, stuffed inside a wall and used for insulation along with some old newspapers. Action Comics No. 1 is highly prized by collectors because it is the first appearance of Superman. On the cover, the Man of Steel is shown hoisting a car above his head while flying through the air. A copy with a 9.0 grade sold at auction not too long ago for more than $2 million.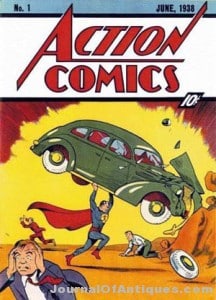 Gonzalez's won't fetch nearly that much. Professional graders would have given it about a 3.0, except a family argument erupted and one of Gonzalez's relatives ripped it from his hands, tearing the back cover. That, plus the comic's generally poor condition, led to a professional grade of 2.0. At press time, it was being sold in an online auction through ComicConnect, based in New York City, and bidding had barely topped the $100,000 mark, with about two weeks left to go. Still a nice payday for a find in an old house.