Ken's Korner: Man may own only 1912 buffalo nickel
News & Views From the World of Antiques & Collectibles
By Ken Hall
In 1960, Chuck Wachob, then 17, was working in a bank when he came across a buffalo nickel that looked a little odd. It was dated 1912, but how could that be? The first buffalo nickels weren't minted until the following year, 1913. Wachob, now 70, kept the coin all these years but only recently began researching it. And what he thinks is, he may have a rare prototype coin that, if it can be authenticated, could be worth a small fortune to numismatists. But the jury's still out, as specialists examine the coin and offer their opinions.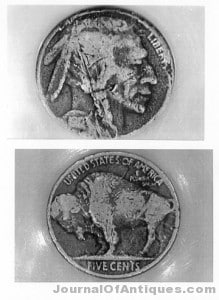 The buffalo nickel was designed by American artist James Fraser, who used actual American Indians to pose for his drawings. Wachob thinks Fraser created a prototype coin in the fall of 1912, and that's the coin he owns. On Wachob's coin, there is no mound underneath the buffalo (later on, Fraser depicted the buffalo standing on a mound; that rendering was used for the 1913 minting). A Florida coin specialist told Wachob it can't be real because it doesn't have a mound, and that the 1912 date is "an optical illusion."