Ken's Korner: Ronnie Wood's ex is selling his stuff
Ken's Korner
New and Views from the World of Antiquing and Collecting
by Ken Hall
Rolling Stones guitarist Ronnie Wood is livid that ex-wife Jo is auctioning items from their marriage he claims are rightfully his. The items include two Fender Stratocaster custom-painted guitars, Wood's stage-worn leather jackets and clothing, books, guitar picks, vinyl record albums, backstage passes and portraits by Wood of such rock legends as Keith Richards, Eric Clapton and Bob Dylan. The auction was set to take place at Julien's Auctions in Beverly Hills in October, with a portion of the proceeds going to charity.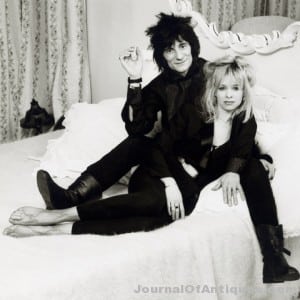 Wood, 65, divorced Jo, 57, his wife of more than 20 years, in 2008 after a messy split that involved Wood leaving Jo for a then 21-year-old cocktail waitress named Ekaterina Ivanova. The items being sold have been in storage all that time. A spokesman for Jo said they were "…left to her following the divorce" and that Wood "…has been kept in the loop of the sale." But a spokesman for Wood said he "…was asked by Jo some time ago if he wished to add some items to the auction, and he said he did not want to participate."