Ken's Korner: The new $100 bill coming in October
News & Views From the World of Antiques & Collectibles
By Ken Hall
Come October, a new, high-tech version of the $100 bill will be introduced, one designed to thwart counterfeiters. It will have features such as a blue 3-D security ribbon made up of thousands of tiny lenses (which will work by magnifying the objects underneath, so when the bill is moved one way, whatever is beneath it seems to move the other way) and a disappearing Liberty Bell in an inkwell. The new bill was supposed to be unveiled in Feb. 2011, but some unwanted wrinkles in the notes delayed its release.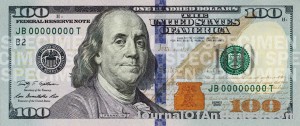 As most people know, Ben Franklin appears on the century note, and he coincidentally designed the country's first bills. He also agonized over counterfeiting and came up with the idea of a so-called "nature print" to protect against fakes. Franklin took a plaster cast of the surface of a leaf, which could be used to cast a lead plate that would be used to print the notes. Every leaf was unique – with veins of varying thicknesses – so the belief was that counterfeiting would be very difficult. It didn't work. Fakes soon appeared.