Ken's Korner: Thief makes off with $10 million in goods
Ken's Korner
New and Views from the World of Antiquing and Collecting
by Ken Hall
A brazen thief broke into a private home in Santa Monica, CA, sometime between September 12-13, and made off with a staggering $10 million worth of merchandise. Stolen were original works of art by such noted painters as Piet Mondrian and Jasper Johns (shown), five luxury watches (including pieces by Patek Philippe and Breitling), a red Porsche Carrera 4S, fine wine and a small amount of cash. No arrests have been made, and an investigation is ongoing. Police have offered a cash reward for the return of the items.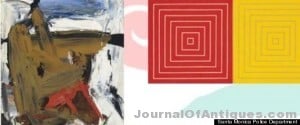 Wait, this just in! Police, acting on a tip, have arrested two men in connection with the case and report that all of the stolen artwork has been recovered (the expensive watches, wine and the Porsche still had not been recovered at press time). Charged were Jay Jeffrey Nieto, 45, the owner of a Pasadena car stereo store, and Wilmer Cadiz, 40, who had in his possession four of the paintings. The homeowner, bond trader Jeffrey Gundlach, had offered a $1 million reward for the return of the Modrian work, Composition en Rouge et Blanc.