Old-Fashioned Selling Techniques – Business of Doing Business – The Journal of Antiques and Collectibles – February 2004
By Ed Welch
When I became an antiques dealer in the early 1960s, antiques trade papers, magazines, price guides, group shops, and antiques shows did not exist or were in their infancy. The flea market sector of the antiques trade was small. The collectible market, for all practical purposes, did not exist. Hobbyists and collector-dealers did not exist, either.
The advent of trade publications made it possible for anyone willing to read these newspapers and magazines to gain enough knowledge to participate in the antiques trade. Established dealers concerned about the number of new, less-than-full-time dealers entering the antiques trade as a result of information contained in trade publications cried, "These new antique newspapers and price guides are ruining our business."
When the group shop sector of the antiques trade took hold in the early 1970s, established dealers complained, "group shops would ruin the antiques trade by allowing dealers to delegate the time-consuming process of selling." A common complaint was that group shops would put individually-owned shops out of business. Group shop display space was, and is, so inexpensive that no individually-owned shop can compete.
The same complaints were directed towards the antiques show. A common complaint about antiques shows was that the show allowed part-time and hobbyist dealers to work a regular job all week and "play around" in the antique trade on the weekend.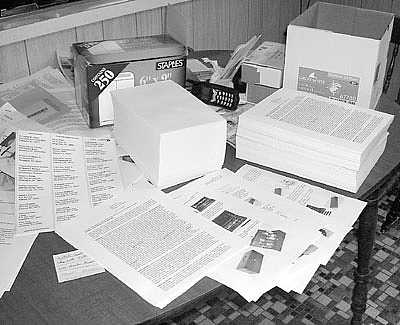 Hindsight tells us that indeed the group shop, the antiques show, and antiques publications did change the nature of the antiques trade. Many individually-owned shops went out of business. Long established dealers, unwilling to use or at least understand the changing nature of the trade, were losers. New dealers, many entering the trade as a hobby or dealer-collector, were winners.
Recently, I received telephone calls from two group shop owners and one show promoter. All complained that they were losing displaying dealers to the Internet. One owner implied that I was partially at fault because I write so positively about Internet selling.
It is a fact that the Internet is changing the antiques trade. Group shops and shows will lose dealers who chose to sell their merchandise in Internet auctions and on web pages. However, group shops and shows can offset this loss by using the Internet to make additional sales and by advertising on the Internet to attract buyers to the group shop and the antiques show.
Dealers who sell on the Internet do not live in a vacuum. They buy the things they sell at local auctions, antiques shows, and from group shops. Internet sellers visit group shops frequently and spend much money per visit. These same dealers also visit local auctions and antique shows, and they are heavy buyers. Group shop owners, show promoters, and the dealers who sell in shows or group shops should cater to the Internet seller. The best way to do this is by email. Use email to invite Internet sellers to your group shop or show. The Internet makes it once again possible for an antiques dealer to run an individually-owned shop. The fact that the individually owned shop has an URL rather than a street address is irrelevant.
My web page is my individually-owned shop. It attracts customers every day. I must pay attention to the requests and demands of these customers. The fact that a customer contacts me by email rather than in person or by telephone does not change the nature of the selling process. I use the same selling techniques that I use at antiques shows and at my shop to make sales. The truth is that selling from my web page puts personal contact back into the selling process.
I, like many dealers, keep the name, address, and some personal information about customers who buy from me. I use this information to establish long-term business relationships. I have had personal and profitable business relationships with many dealers and collectors that have lasted more than 20 years. Email messages are personal. They may not be as personal as face to face or telephone interaction between buyer and seller; however, they are more personal than selling from a group shop.
Just today I received an email from a customer in Alabama. I first met this customer on the Internet. Later, I met him in person when he responded to an invitation to visit my booth at the Charlotte Metrolina Antique Show. He has purchased many items from me in person and over the Internet. His email reads:
"Dear Ed, if you still have the midwife forceps you showed to me at the Charlotte show, please send them to me. I believe the price is $95. You may charge this item to my credit card." I added $4.50 to cover the cost of postage and insurance. The package is on my kitchen table and will be mailed tomorrow morning. This person has become such a good customer that he allows me to keep his credit card information on file to facilitate Internet transactions. Even though this sale was made by email, I did not make this sale because I sell on the Internet. I made this sale because I cater to my customers and used tried-and-true, old-fashioned selling procedures.
For example, I send a personal hand-written thank you note to every customer a few days after the sale. I send a catalog and list of my current inventory with pictures (similar to an auction notice) to all my customers who live within easy driving distance of an upcoming show. I notify customers, by email or with a hand-written note, when I buy something they may want. I send some customers Christmas and birthday cards. I send a few customers Christmas gifts.
The one constant in the antiques trade since 1960 is that selling methods are always changing. The Internet is just another selling method. It will attract a certain type of antique dealer. The Internet will not take the place of antique shows and group shops. The Internet is simply making the antique trade different. Some say this change is for the better, others believe the change is for the worst. The hard fact is that this change is happening now. Antique businesses that ignore this change, for whatever reasons, stand little chance of surviving. A particular business does not have to be on the Internet to survive, but the owners of that business must completely understand the Internet in order to make accurate business decisions.