by Deborah Abernethy and Mike McLeod
It is with sadness that we announce that Deborah Abernethy passed away in February from an illness. For more than a decade, she has diligently given freely of her time to make "What's Selling on eBay?" a fun feature and an informative read for thousands of collectors and antiquers. As a memorial to her passing, one of her first collaborations with me is below. It is from August, 2008. – Mike McLeod
---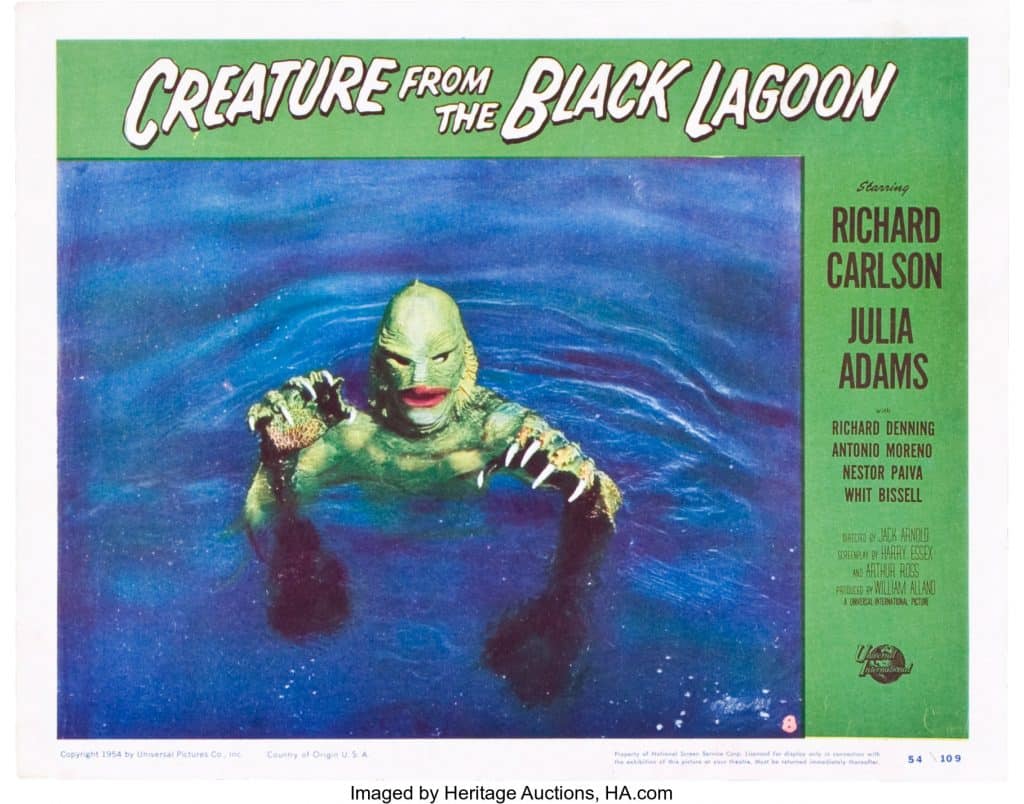 $1,525: Five 1954 Creature From The Black Lagoon Lobby Cards. Numbers 2, 3, 4, 7 and 8
Excellent images of classic scenes from the film. The set is in very good condition for their age. Four have pin holes, and one has some creasing and black marks, but the rest are basically unmarked. There is one card that looks mint and unused.
DA: Lobby cards were made to be displayed in the movie theatre lobbies. They are usually 11" x 14" and in sets of eight. Collectors love these, as evidenced by the sales price of this group. There are five of these from Creature From the Black Lagoon, and the condition is good for being from 1954. The title card is considered the best and most costly of the group. The title card from Metropolis brought $4,481.25 at auction. So this set of five for $1,525 seems like a bargain.

---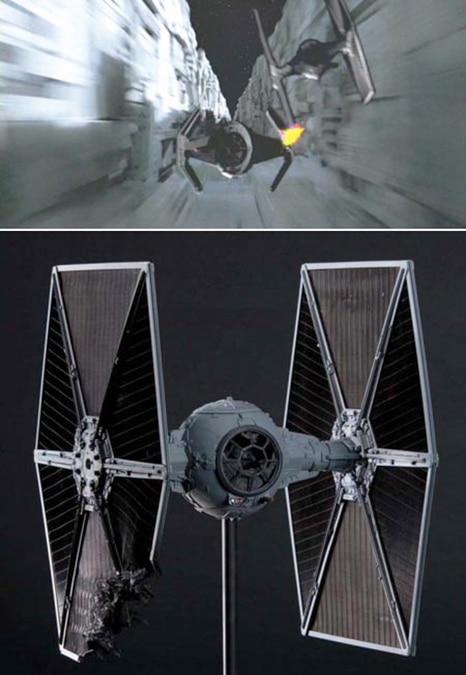 $350,000: Original T.I.E. Fighter from Star Wars: A New Hope
During the nail-biting assault on the Death Star in Star Wars Episode IV: A New Hope, this is the actual filming miniature of the T.I.E. fighter that bumps into Darth Vader's fighter, knocking him out of the trench, allowing Luke to destroy the Death Star. This historic piece is from the collection of Academy Award-winning visual effects wizard, Richard Edlund. The design concepts for the T.I.E. (Twin Ion Engine) Fighters of the Galactic Empire originally came from Colin Cantwell and Ralph McQuarrie.
Only four T.I.E. Fighters were built for the first Star Wars film. Grant McCune, head of the model shop, used a fairly heavy, but stable resin for the body of the ship and other resins for the tinier parts. The hexagonal wings are created of finely expanded metal sheeting. Much of the intricate design detail was robbed from plastic model kits, then modified and affixed. (Sold by and photo courtesy of Profiles in History, Calabasas, CA.)
DA: This Star Wars stuff gets to be too much for me. I have seen every one of the six films of the series, starting with the first one released. I guess that I am more into the characters: Luke, Leila, Hans, Obi-Wan, Darth Vader, Yoda, Chewbacca, and R2D2, to name just a few. Personally, I never paid any attention to the spacecraft. According to Wikipedia, "T.I.E. fighters are fictional starfighters in the Star Wars universe. Propelled by Twin Ion Engines (hence the TIE acronym), T.I.E. Fighters are depicted as fast, fragile starfighters produced by Sienar Fleet Systems for the Galactic Empire." These spacecraft are more defined in the action game series and literature than in the films.
There were four of these T.I.E. Fighters built for the first film. It is very difficult to say whether this was a "good buy." My personal guess would be that this series will not "fade out of memory" any time in the near future, since the time span for the six films covers 28 years. This is the only T.I.E. Fighter that has ever been sold. I am not sure that the others actually exist, as they may have been "destroyed" in filming. This is the only one that has been recorded as being sold.
Is this a good buy? Who can predict the future? Maybe Darth Vader will come back to capture it and fight again. Or maybe it was a time warp dream and hasn't occurred yet.

---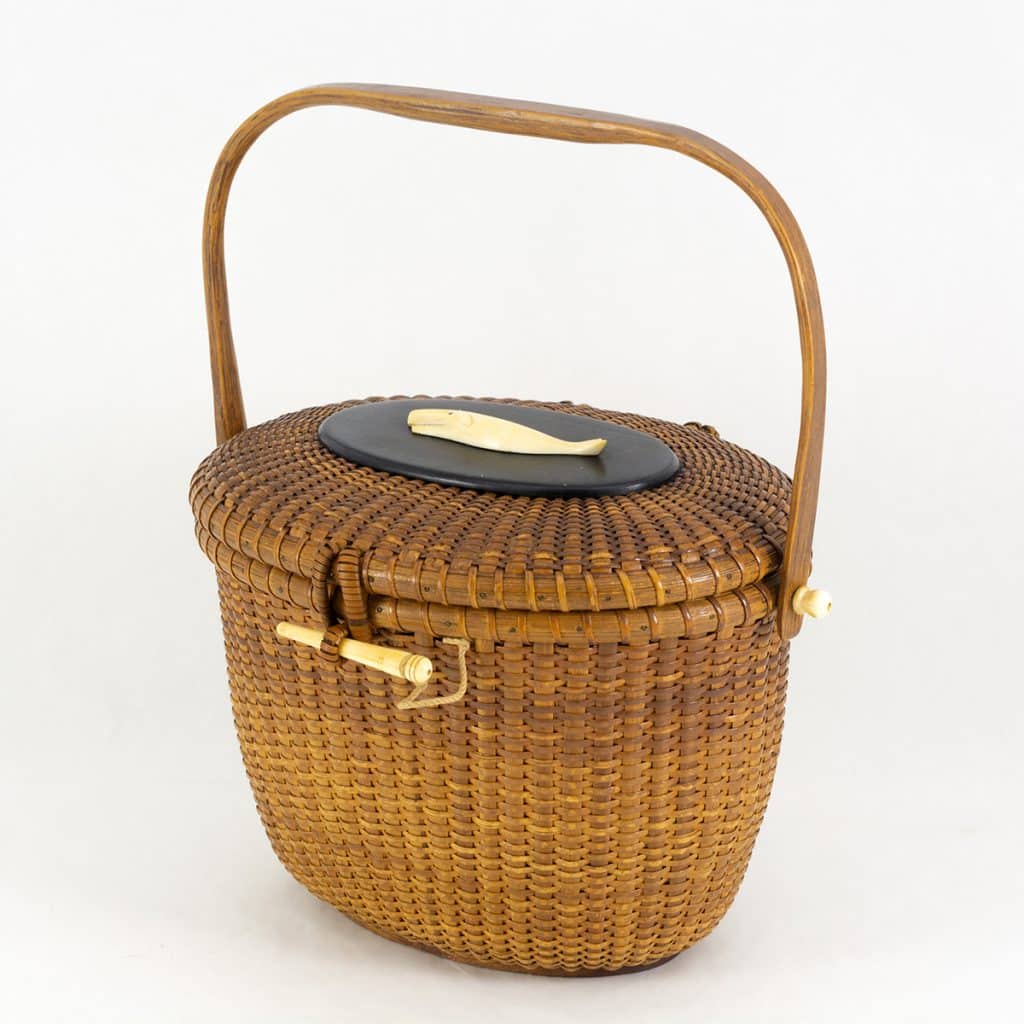 $3,000: Jose Reyes Nantucket Covered Purse
9" wide x 6" tall x 6" deep, carved whale top piece, old patina, faint signed on bottom, "Jose Formosa Reyes Nantucker," with island outline, good condition. (Courtesy of MV Auctions, West Yarmouth, MA)
DA: The Nantucket Lightship Basket tradition began in 1856 when men were stationed on the lightship to work the lights that kept ships from wrecking. In their leisure time, the men began to make graduated-size baskets with a grooved wooden bottom. The lighthouse purse tradition started in 1945 when Jose Reyes came to Nantucket from the Philippines. He made a basket form with a woven lid with cane-wrapped leather straps. A carved piece of whale ivory in the form of a seagull or seashell would attach the lid to the basket of the purse, and it would be topped with scrimshaw like top.
The baskets made today are with synthetic ivory or recycled ivory. Audrey Hepburn was known to carry one. A new 8-inch round purse made today will cost between $280 and $800 with the price variations being with the quality of the ivory and scrimshaw. An older Jose Reyes purse will cost much more with $3,000 being the norm. It was a good buy in that these bags are difficult to find.


---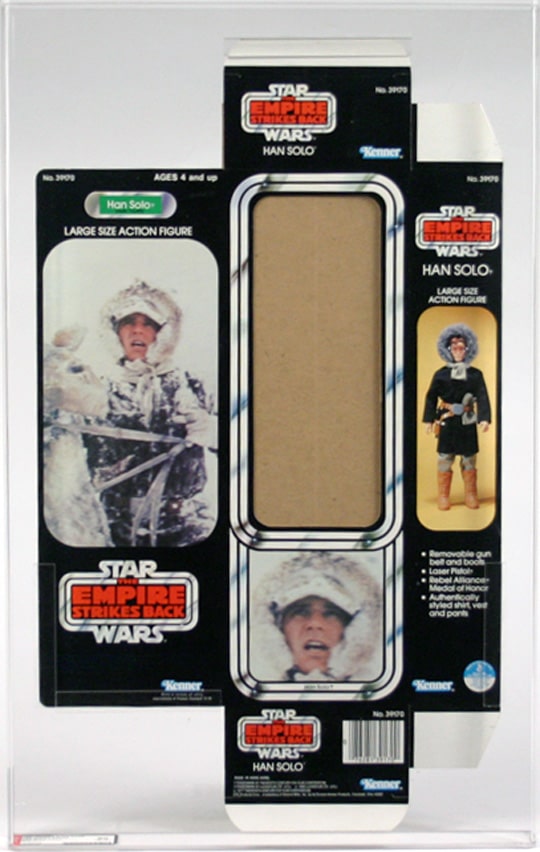 $7,500: Star Wars Box Flats ESB 12" Han Solo Hoth AFA 90
Grade: 90. Subgrades: NA. Serial #: 12160445. (courtesy of Premier Collectible Auctions, Fountain City, WI)
DA: At first, I thought that this auction was at a Star Wars® convention and they had everyone drunk! Why would a BOX sell for $7,500? So I started investigating. This was a large Han Solo in Hoth attire doll that Kenner had planned to produce in 1980. There were three known unproduced dolls made with hand-made outfits and mold-injected parts. Only three to five of these box flats are known to exist. None were ever used to contain a doll.
Other information, in case you are in a trivia game: Hoth is a planet of snow and ice, where creatures like the wampas and tauntauns live. The Rebel Alliance had set up their headquarters there before the Empire tracked them down, forcing the Rebel Alliance to leave. (This was Episode V: The Empire Strikes Back.)
Is it a good buy? Who knows because there are so few that you won't find one to compare with it.