Collectors Showcase: January 2015
Collectors Showcase: January 2015
Pleasant & Main Cafe & General Store in Housatonic, Massachusetts has guests looking at more than the food on their plates.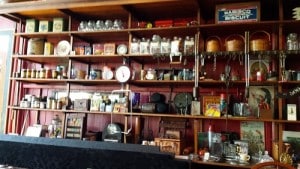 Craig Baro, a transplanted New York restaurateur, is the newest owner of this popular community eatery in downtown Housatonic, off the beaten path from the more centrally located restaurants in downtown Great Barrington. What makes this restaurant worth the short drive out of town is both its food and the decor. The 110-year old walls of Pleasant and Main are covered, floor to ceiling, with Craig's possessions from a lifetime of "salvaging and reclaiming artifacts of our uniquely American past."
Craig is a self-professed avid collector of "uniquely American, usable objects," which he defines as "things made not to be showcased but made by craftsmen to be used." Craig likes to get his "boots dirty" in the search for things to add to his collection. "If it doesn't resonate with more, or the finding of it, it doesn't have value to me." Clearly, Craig's patrons share his interest in valuing American craftsmanship and utility, as word-of-mouth about the food and collection continue to draw new fans to his restaurant, and inspire great conversations around the table.
What's his favorite item in the collection? "Probably changes as the light changes."