What makes collectors compete hard for a corkscrew which ends up selling for thousands of dollars? There's no one answer. In a recent www.CollectorCorkscrews.com auction, very different styles of corkscrew excited collectors and attracted high bids.
One type is the classical English mechanical corkscrews of the 19th Century. These are the cornerstone of most good collections internationally. They are visually very impressive, typically made of brass or polished steel with finely turned wood or bone handles. The mechanisms are typically quite complex and a pleasure to use. They feel great in the hand and display beautifully in a wine cellar. They are not super rare but every collector wants one.
Two fine examples sold in the November online auction conducted by CollectorCorkscrews™.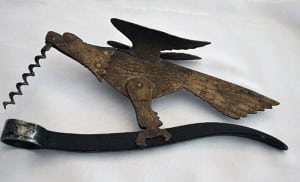 One was a beautiful example of the "self adjusting" corkscrew registered in England in 1842 by Edwin Cotterill. It has a complicated perpetual mechanism with a clutch which removes the cork from the bottle and then the cork from the corkscrew. With its ebony handle and brass barrel bearing a most impressive coat of arms badge the Cotterill is one of the corkscrews most prized by collectors even though it is not as rare as some. Surprisingly, two Cotterills appeared in the sale one selling for $6,300 and a lesser example for $5,300. The main difference was in the depth of the brass patina. Neither had its original patina but one had been recently polished. The better example also had its original dusting brush (for dusting the top of the bottle before opening.)
The other English classic was a very fine rack and pinion corkscrew complete with Edmund Lund's bottle grips patented in England in 1838 which sold for $7000. The well patented brass barrel, rosewood handle with original dusting brush have great visual appeal but, without the rare and most distinctive bottle grips,(which hold the corkscrew on top of the bottle) this rack and pinion corkscrew would sell for around $500. The grips are quite fragile and often snap off. An example with one grip missing sold for $2100.
Other highly collectible corkscrews have little visual appeal. Instead the attraction comes from its rarity and ingenuity, particularly with a patent. For example this little multitool corkscrew which also served as a keyring is frankly underwhelming! But its inventor Justus Browning received a US patent in 1911 for the nail clipper feature. Though the corkscrew itself is basic, only 2 or 3 examples are known, prompting serious competition between collectors of US patented corkscrews. The final bid was $1,860.
Many simple but ingenious multitools and other devices with corkscrews are marked with US patent details, particularly from that great period of invention between the U.S. civil and first world wars. Most are worth only a few dollars but if a quick google search only reveals the patent details, and no eBay sales, it is worth further research. A search of the CollectorCorkscrews.com data base will reveal hundreds of US patent sales ranging from $100 to $25,000.
Some corkscrews are a mystery even to experienced collectors and the authenticity of an undocumented "one-off" piece is often challenged. In the November sale this imposing oneoff piece 1876 Centenial corkscrew (OLD ABE) attracted considerable interest and some controversy. After keen bidding it was finally sold to a prominent American collector for $1200.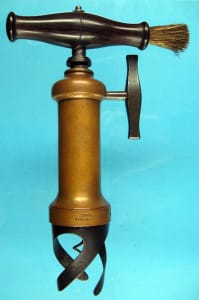 The top handle of the lever is in the shape of an eagle and it is marked "1876 Centenial" on the bottom handle. From the vendor's extensive research it emerges that an eagle named "Old Abe", after playing a prominent role in the American Civil War, was a popular attraction at the 1876 Centennial Exhibition in Philadelphia. The vendor also established that the misspelling "Centenial" was not uncommon at the time. If this is a genuine item from 1876, commemorating the centenary of American independence it is truly a great bargain being the only known example. As a corkscrew it is not particularly functional. Though based on a contemporary French lever design, the screw lacks a handle so the whole piece must be turned to insert the screw into the cork.
CollectorCorkscrews.com operates twice yearly auction sales for better corkscrews and continually has lower priced items available in the "buy now" section of the website. Operated by collectors on a voluntary basis, CollectCorkscrews.com maintains a public database of more than 11,000 corkscrews sold on the site since 2008 which is an invaluable research tool for buyers and sellers. The next auction sale is scheduled for April 15-May 1, 2016.
CollectorCorkscrews.com Auction Highlights  the Beauty & Functionality of Corkscrews
Photos from top: Edwin Cotterill Self Adjusting Corkscrew, Edmund Lund Bottle Grip, Justus Browning 1911 Multitool, Centenial 1876