By Bridget McConnel
It is useful to have some idea of the history and the earliest known examples of needles, awls, pushers and thimbles to understand why people collect thimbles – a rather insignificant industrial device to stop fingers from becoming pin cushions.
Sewn work appears as early as ca. 30,000 b.c. on the Cro-Magnon man. For needles we have to move on to the earliest bone needles that were found in Neolithic cave settlements in France, ca.15,000 b.c. Similar examples can be seen in the British Museum in London. The first needle pusher appears 5000 years later. Dating from approximately 10,000 b.c., Neolithic sites in Europe, Africa, and China have yielded pushers or Acutrudia made of stone. They appear very reminiscent of a sailor's palm. The accompanying needles were probably made out of wood and porcupine quills as well as bone.
The next important period, showing a great change in the level of sophistication in society, takes place 5000 years later in ancient Egypt. By 5000 b.c. there was a thriving weaving and textile industry along the fertile banks of the Nile. Men and women were beginning to develop a taste for luxury, where previously only survival had been sought.
The textile industry, based on linen made from flax, was in evidence as early as the Fayum A culture of 5000 b.c.. There are many pictorial records found on the walls of tombs showing scenes of spinning and weaving. As a state industry, weaving was often supervised by women of the royal harem who were in charge of instructing the textile workers. A charming model of a weaving workshop, found in a tomb of the eleventh dynasty, can be seen in the Egyptian Museum in Cairo.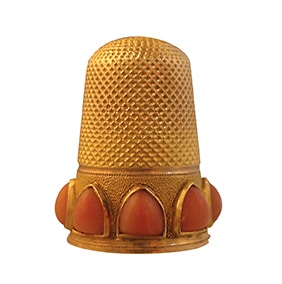 A dress made from fine woven linen and purported to be the oldest dress in the world (2,800 b.c.) was donated to the Victoria and Albert Museum and is now on view in their Egyptian room. Even today that dress would not look amiss. The very fine pleating and diaphanous texture remind one of the famous Fortuny textiles. It is sewn with wonderfully tiny whip stitching. There is an abundance of minute stitching, beadwork, sequin decoration, and embroidery on many ancient Egyptian clothes and textiles. How, and with what, was this fine work carried out? Any woman knows that to sew on an every-day basis without any finger protection leaves the finger like a pin-cushion. Therefore it seemed worthwhile to examine some of the sewing tools in the Petrie collection of Egyptian excavated artifacts.
The Petrie collection is probably the largest in the world. It has been split mainly between University College London and the Museum of Manchester University. It is far more comprehensive than the British Museum, with a fair number of objects directly related to sewing, especially needles. As the needle must precede the thimble, being its reason for existence, attention needs to be given to what kind of needle sewed the fine stitches. There were accounts of short gold needles having been used with fine spun flax thread, but no photos or detailed information appeared in any books on sewing tools that can be found.
China
Ancient China is another civilization which yields information on the use and evolution of the thimble. China produced fine silk thread from 2000 b.c. onwards, and consequently fine needles must also have existed – though none has survived. However, the earliest thimble found to date is Chinese, taken from the tomb of a minor court official of the Han Dynasty (206 b.c. – 220 a.d.). An open top example, it is made of iron (or a type of steel) and was found as part of a complete sewing set.
Trade along the extensive silk routes spread the Chinese knowledge and mastery of steel-working to Asia Minor. The famous Damascus steel industry exported its distinctive Damascene work from ca. 200 b.c., although as yet no early sewing implements have been found. Bronze acutrudia (held in the palm of the hand to push bodkins or awls through the material being worked) date from ca. 100 BC to as late as the seventeenth century, and are early examples of some sort of pushing device.
Europe
By the mid-fourteenth century, plain medieval bronze or brass thimbles, made by casting or hammering, were common in Europe. The acorn-shaped cap that is typical of the time is fairly shallow, and sometimes has a hole in its top (this may have been for ventilation, or may mark the point at which it was held as it was removed from its cast). These medieval thimbles are delicate enough for embroidery. Fine spun thread was by now readily available, although fine needles were costly. During the fifteenth century, brass thimbles continued to be cast in a mold or hammered, but became slightly deeper in shape.
It was the development of the Nuremberg thimble in the early sixteenth century that marked the turning point in European thimble production. In 1530, Nuremberg thimble-makers discovered a superior metal alloy, made of copper and zinc, which created a smooth, bright, brass of an even texture. The Nuremberg craftsmen also produced gold and silver thimbles (as well as fine steel needles) in quantity. These are among the earliest thimbles to be decorated and some bear inscriptions. Makers' marks are sometimes found at the start of the knurled indentations.
In England, fine needle-makers established a factory in Long Crendon, Buckinghamshire in 1650, and a London needle factory was set up in Threadneedle Street, hence the name. English seventeenth-century thimbles are very distinctive, recognizable by their domed tops, straight sides, and tall slim shape. They were made in brass, silver, or gold, and were often decorated with a form of strapwork. Some bear religious mottos around the bottom rim, and then indentations appear as square waffles or tiny circles.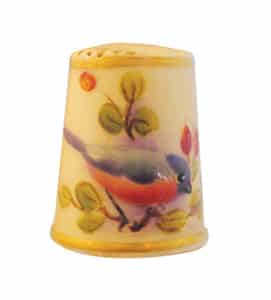 One of the most important manufacturers of brass working thimbles of the time was John Lofting. He had brought a new casting method with him from Holland in 1693, and was revolutionizing the English thimble-making industry, firstly in his factory in Islington, London, and later at a larger factory in Buckinghamshire. At the end of the seventeenth century, pinchbeck was invented by Christopher Pinchbeck (1670-1732) as an imitation of gold. Some pinchbeck pieces were dipped in gold, i.e. gilded. Pinchbeck thimbles are found in chatelaines of the period.
Eighteenth-century thimbles are more diverse, ranging from squat examples in the early and mid-1700s to straight-sided, round-topped taller versions later in the century. The indentations on thimbles changed from the waffles and circles of the 17th century to circles in the early 18th century, and to dots (still with us) at the end of the eighteenth century. Meissen started producing porcelain thimbles ca. 1720 and squat filigree silver thimbles were also introduced in the early years of the century. Reinforced steel-topped silver thimbles were being produced. Enamelled examples from the English south Staffordshire factories, notably from the area around the town of Bilston, were becoming fashionable.
The 18th century fashion for trifles, objets de vertu, vitrine and galenterie (including thimbles), which originated in France, took Europe by storm. Silver sewing compendiums, thimbles containing scent bottles, and 18ct gold sets are good examples. For collector's, 18th century silver thimbles, especially with a motto around the rim, are highly collectible and can be worth $300-450. Palais Royal, the most gorgeous of all thimbles with mother-of-pearl set with a tiny enamel insert showing a pansy or flower, is now worth $750 and up, depending on condition. In this period you also have highly-collectible thimbles made by John Piercy, an English craftsman, and the Tunbridge ware thimble produced by companies such as the George Wise Turnery, ca. 1830.
A popular development at the end of the 18th century and the beginning of the 19th century was decorative thimbles and the "toy" thimble containing a tiny scent bottle, which were being introduced alongside practical working thimbles. Such thimbles were made of gold, silver, ivory or pinchbeck. Silver compendiums, mainly made in England, Germany, and Italy, are particularly interesting: a compendium unscrews to reveal a thimble, a letter powderer, a needle-holder and a letter seal. Sometimes if you undo, and look at each piece carefully, you will see numbers scratched on the surfaces. This was most probably done to facilitate assembly. If you are lucky enough to find one it will cost you approximately $750. Filigree (wire work) was a very popular technique used in the creation of sewing toys, and all manner of small objects such as boxes, marriage caskets, bodkin cases and many others. An adorable filigree thimble with a tiny perfume bottle inside cost approximately $900 in good condition.
Porcelain thimbles are works of art rather than a practical tool. They were often hand painted with great finesse. Among the finest are those made by Meissen, which can fetch up to $7500 today at auction. The Meissen factory in Germany opened in 1710, and was the first to manufacture 'hard paste' porcelain in Europe. One of the first documented porcelain thimbles recorded by Meissen can be found under the category Gallanterien, which can be translated in this context as 'fancy goods.' There is little pretense that these porcelain thimbles were ever intended for practical work; they were fashioned purely as decorative objects – as beautiful gifts and keepsakes for wives and sweethearts – and for this reason have a very special place in the romance of thimble-collecting (China thimbles, however, have a specific use in needlework, as their smooth texture makes then ideal for working with silk).
Of all the centuries, the 19th was the age of optimistic progress. There was a generally held belief that man was capable of anything, given health and the will to work hard, and that all progress was good. This "feel good" sentiment was reflected in the designs of the time. This was also the Golden Age of thimble design and manufacture. Queen Victoria and her able and popular consort Albert presided over a prosperous Great Britain. Thimbles commemorated royal events, castles, day trips to holiday resorts and all excursions. Every romantic sentiment abounded. The ever improving methods of production made silver thimbles available to many.
In general, the first 40 or so years of the century – roughly encompassing the French Empire and English Regency periods – were marked by a mood of cautious optimism, unlike the more carefree and comfortable decades that followed. This early watchful yet discerning temperament was reflected in the abundance of delightful, sometimes even frivolous objets de vertu, including thimbles. High-quality but relatively affordable thimbles and sewing items were produced during this period.

Silver thimbles came into their own in the 19th century, with assay offices (institutions set up to assay or test the purity of precious metals) in Birmingham, London, Chester, Sheffield, and Edinburgh. Silver thimbles were required to be assayed after the 1890s. Before then, thimbles could be marketed as below the weight needed for an assay mark. A good silver thimble circa 1890/1910 will cost $55-70 each.
The 20th and indeed 21st century could be viewed as one of the machine dominating many crafts owing to the industrial and technological ascendancy by cheap labor and easy markets of the British Empire. There were still some fine British silver thimbles being made in 1904, especially Silver Commemoratives, the most favored being items linked to the Royal family. Thimbles were still being used in every household, so why not have one connected to a piece of history?
In 1937, the shy stuttering King George and Queen Elizabeth were crowned, and a commemorative thimble was issued. So the fashion continued until the present Queen Elizabeth was crowned in 1957. That thimble was nicknamed 'The Coach and Horses.' And across Europe, silver commemorative thimbles celebrated the end of World War II.
Entering the 21st century, thimble production diminished as fewer women sewed. What were sold were cheap working metal thimbles or mass produced china souvenirs. There have, however, been terrific exceptions, including thimbles designed by Peter Swingler, Graham Payne, Ken Russell, Shirley Frost, and Christopher Bowen.
Today, there is a renewed interest in sewing in its social context. Perhaps the passive isolation provoked by television is being challenged by the ever growing popularity of quilting, for example in the United States, and lace-making groups in Europe. The lace bobbins, the tatting shuttle, the needle and the thimble are not valued for the work they are instrumental in, but also for their role in encouraging the binding together of, and the exchange of information between communities. Perhaps that is their real value.
About the Author
Bridget McConnel studied at the Sorbonne and achieved an M.A. at Goldsmiths. An actress trained at the Royal Academy of Dramatic Art, Bridget started a small antiques business in London while in a long running play. Both careers seemed to work perfectly in tandem. McConnel is the author of "The Story of the Thimble: An illustrated Guide for Collectors," and "The Story of Antique Needlework Tools," both published by Schiffer Publishing, Ltd.
Thimble Collecting: A Small Passion