The Granite State Book and Ephemera Fair, one of the oldest and longest running events of its type in the country, features a record-breaking 70 dealers from nine states and some as far away as Canada!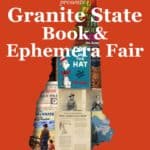 Concord, NH – Book and Paper Fairs is excited to announce that this can't-miss event, sponsored by the NH Antiquarian Booksellers and ABEBooks, will be held on Sunday, June 5th, 2016 at the Everett Arena in Concord, NH.  This highly anticipated show is one of the high points in the annual book fair circuit among booksellers and collectors alike. Come see for yourself!  Admission to this family-friendly event is FREE!  
The Granite State Book and Ephemera Fair presents a full spectrum of antique books and quality ephemera.  Ephemera are items made from paper that were not made to stand the test of time, and have since become collectible.  Popular categories include correspondence, advertising, historical documents, posters, tickets, brochures, cards, and others.   Many dealers at this show are members of New Hampshire Antiquarian Booksellers Association, a professional society advocating the study, preservation, and celebration of fine books and ephemera in a wide range of specialties.
All that makes "New Hampshire" great is a prominent theme among dealers presenting their treasures at this show.  And no author better embodies all that makes the state so distinct than favorite son, Robert Frost.  These Frost related show highlights are certain to warm the hearts of all collectors.
Larry Druckenbrod, of Holly Books, will present a first edition, first printing of the "expanded version" of Frost's Selected Poems from 1923.  This rarity, one of only 3,473 copies printed, is signed by Frost on the title page.
Deborah Lavoie, of Deborah Lavoie Fine Books & Paper Treasures, will feature a fifth printing of The Complete Poems of Robert Frost. It is inscribed, "To Anna Carelton Hurd, from Hervey's Friend, Robert Frost, Boston, Nov 30, 1955."
Richard Thorner, of Resser-Thorner Antiques, will offer a signed copy of Frost's The Book of Knowledge.
John Townsend, of Towns End Books, will spotlight several Frost selections, including a first edition of A Boy's Will, one of only 750 copies printed; a first edition, signed copy of West-Running Brook; a signed, limited edition of Collected Poems, one of only 1,000 printed; and a first edition of Steeple Bush in its original dust jacket.
Ben Koenig, of The Country Bookshop, will offer a signed, first edition of Frost's In The Clearing in its original dust jacket.
And Susan Liebegott of Enchanted Books will bring a small collection of picture books authored by Lesley Frost Ballantine, daughter of Robert Frost.
 Other rock-solid, "Granite State" themed showstoppers include…
 A scrap book "time capsule" from c. 1920-1950, featuring a plethora of notes, clipped recipes, and newspaper articles assembled by a NH housewife and a late 19th century print advertisement from the Portsmouth, NH Stovene Stove Polish Company, both from by Lizzy Young of Lizzyoung Bookseller.
 A complete set of White Mountain Appalachian Mountain Club guides from 1908 through 1976 and a group of rare immature Sawyer hand painted photographs made into decorative pins, both from Richard Mori of Mori Books.
According to Marvin Getman, producer of The Granite State Book and Ephemera Fair, "It's safe to say that this NH show is a perfect way to kick off the summer season!  And for the first time ever, admission is free in order to encourage as many people to attend as possible.  With a record breaking 70 dealers presenting an extraordinary range of world-class antique books and ephemera, there is truly something for everyone.  You won't leave empty handed!"
The Granite Book and Ephemera Fair will be held at the Everett Arena, located at 15 Loudon Rd., Concord NH. on Sunday, June 5th from from 10am to 4pm.  The venue, conveniently located right off of I-93 at exit 14, offers ample free parking.  Admission to the 2016 Granite Book and Ephemera Fair is free for all attendees.
The Granite State Book and Ephemera Fair is sponsored by the New Hampshire Antiquarian Booksellers Association and ABEBooks and brought to you by Book and Paper Fairs.  Book and Paper Fairs produced the top book and ephemera fairs in the Northeast US.  Our professionally managed events have a long history of bringing together the finest buyers and sellers in the industry, and are held in major locations including Boston, New York City, Brooklyn, Concord, NH, and Lexington, MA. For more information and a calendar of our shows, please see www.bookandpaperfairs.com.