Graham Nash
When you've lived a life like legendary singer-songwriter Graham Nash, you pick up a bit of history along the way, especially if you're a collector, photographer, and fan of Rock & Roll as well as a performing artist.
Graham Nash, born in Blackpool, England in 1942, found his sound and voice as a founding member of the Hollies in the early 1960s before leaving the group in 1968 to team up with David Crosby and Stephen Stills (and later that year, Neil Young) to form the "supergroup" Crosby, Stills, Nash and Young (CSNY). A GRAMMY Award winner, Nash was inducted into the Rock and Roll Hall of Fame as a member of Crosby, Stills and Nash (CSN) in 1997, and then again in 2010 as a member of the Hollies. He was also twice inducted into the Songwriter's Hall of Fame, once as a solo artist and then again with CSN.
Despite what you may know about Graham Nash the musician, social activist, or photographer, what you may not know is Graham Nash is also a serious collector of rock memorabilia. So when you're a collector and a fan, as well as an icon in your own right, what better place to share your collection and tell your personal story than the Rock and Roll Hall of Fame in Cleveland, Ohio.
In Graham Nash: Touching the Flame, which opened in October 2015, Nash shares his musical life and journey through a carefully curated selection of his personal collection of photographs and items from people who've inspired him, or maybe angered him – people who ignited his own creativity and world-view. As intended, it explores how rock and roll has shaped the world and inspired some of history's most powerful figures.
"It's more than a look at Graham Nash's musical career," says Rock and Roll Hall of Fame President and CEO Greg Harris. "It's a look at the inspiration he drew from the world around him – inspirations that made him a Rock and Roll Hall of Fame Inductee."
"[Nash] is an extreme example of a musician as a collector of other people," says Associate Curator of the Rock & Roll Hall of Fame Meredith Rutledge-Borger, who worked with Nash to put this special exhibit of his collection together. And what a collection it is!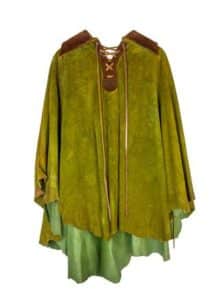 The exhibit contains pieces from Nash's heroes and inspirations – the Beatles, the Everly Brothers, Elvis Presley, the Beach Boys, Buddy Holly and Duane Allman – and treasures from his time with the Hollies and Crosby, Stills and Nash. Items include:
1960 Gretsch model 6120 guitar played by Stephen Stills
Gibson SG 6-string guitar, formerly owned by Duane Allman
1963 Gibson Everly Brothers model acoustic guitar played by Phil Everly
Oil on canvas portrait painting of Graham Nash painted by Joni Mitchell
Kick drum head from Hollies' drummer Bobby Elliot
While a collector of rock memorabilia, Nash says he has very little of his own stuff. "When you're in a band, it's not important… It's only important to others… I have very little of [Hollies, CSN] stuff because I'm living it every day."
Why does he collect? "It's quite simple," says Nash in the exhibit, "I want to touch the flame. I want to get as close as I can to the flame without getting burned too badly."
While some artists leave the selection of items for a special exhibit to the museum or their personal archivist, Nash was very hands-on, Rutledge-Borger shares. "As an artist he knew what he wanted the exhibit to look like. The placement of items in the exhibit was as important to him as what items were to be included."
"What I would like you to get out of this exhibit, is to know, no matter who you are, if you want to open your heart to be able to express yourself, do it with energy, do it with passion." – Graham Nash
Graham Nash: Touching the Flame is currently on exhibit at the Rock and Roll Hall of Fame Museum in Cincinnati, OH through September 5, 2016. Visit rockhall.com for more information and to purchase tickets.
Collector Showcase: May 2016