The three-day event will be held at the Washtenaw Farm Council Grounds in Ann Arbor, Michigan
ANN ARBOR, MICHIGAN....The lifetime country store and advertising collection of Tom and Mary Lou Slike, and the equally impressive coin-op collection of Deke and Joanie Richards, will co-headline a three-day auction slated for the weekend of April 1-3 by Showtime Auction Services, at the Washtenaw Farm Council Grounds in Ann Arbor (address: 5055 Ann Arbor/Saline Road).
Quality investment-grade merchandise from over 50 other advanced collectors will also be sold. In all, nearly 2,000 lots will come up for bid. The Richards coin-op collection was too massive to be contained in one sale, said Mike Eckles of Showtime Auction Services. All the famous coin-op makers from the 19th and early 20th centuries will be sold in Part 1 and future auctions.


The auction will feature more than just coin-ops, country store and advertising. Other categories will include cigar and tobacciana, soda fountain, Coca-Cola, gum, candy, peanuts, grocery, barber shop, breweriana, whiskey, veterinary, pharmaceutical, lamps, toys, games, banks, gambling, arcade, clocks, watches, hardware store, firearms and gun powder and store displays.
Also sold will be petroliana and automobilia (to include a 1966 Chevrolet Corvette hardtop with 51,000 miles, all-original, including the white paint), safes, bronzes, shoes, millinery, music, dye cabinets, scales, safes, Old West, door pushes, thermometers, string holders, typewriter ribbon tins, pin backs, matchbooks, pens, door stops, coffee, telephones, furniture, showcases and more.
The sale will also feature a large collection of over 50 rare clocks, some of them from the early 19th century. Our auctions do not often contain clocks, but when this fine collection presented itself, I just had to include it, Mr. Eckles said. Two Gorgeous oversize wall-hanging regulators and other fine examples by renowned makers from the past will be well represented in this auction.
An example is the elaborate 8-foot regulator wall clock by William E. Harpur of Philadelphia. Advertising signs will feature a 1914 self-framed Coca-Cola sign in excellent condition, and a very rare Indian Root Pills tin sign with stunning color and graphics. Also sold will be a two-piece tin die-cut window display for Buster Brown Shoes and an 1890s zinc Cigar Store Indian.
Other items will include a hard-to-find Buckley Bones 5-cent dice slot machine, circa 1890s single W Winchester bullet board (one of three bullet boards offered in this auction), an 1876 Wooton ( The King of Desks ) cabinet office secretary, in excellent all-original condition; a coin-operated 1905 Regina Corona automatic disc changer (style 34), and many other fine items.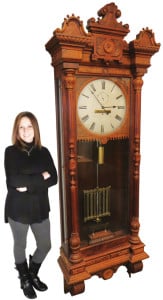 A preview will be held on Thursday, March 31st. Internet bidding all three auction days will be facilitated by LiveAuctioneers.com and Invaluable.com.
Phone and absentee bids will also be accepted. Flyers will be mailed out in early February; catalogs will be ready to ship out the first week of March. Online bidding will start around March 1st at www.showtimeauctions.com.
The host hotel is Weber s Hotel, at 3050 Jackson Avenue in Ann Arbor. For reservations, call (734) 769-2500. To get a 280-page color catalog, call Showtime Auction Services at (951) 453-2415 (EST).
The firm's next big auction after this one is scheduled for the first week of October and will feature one of the largest Advertising and Store Display collections ever offered at auction. Showtime Auction Services is based in Woodhaven, Mich. The firm is always accepting quality items for future sales. To consign an item, an estate or a collection, you may call Michael Eckles at (951) 453-2415; or, e-mail him at mike@showtimeauctions.com. To learn more about Showtime Auction Services and the upcoming April 1st-3rd auction, please visit www.showtimeauctions.com.
Lifetime Collections to be Sold by Showtime Auctions Services, Apr. 1-3