Three-day event will be held at the Washtenaw Farm Council Grounds in Ann Arbor, Michigan
ANN ARBOR, Mich. – The outstanding lifetime collections of Richard and Diane Goldman and Gordon W. Fosburg will be auctioned the weekend of Oct. 2-4 by Showtime Auction Services, at the Washtenaw Farm Council Grounds in Ann Arbor (at 5055 Ann Arbor / Saline Road). Quality merchandise from over 50 other advanced collectors will also be sold.
The Goldmans' collection is the culmination of over 40 years of gathering artifacts of American material culture that span the period from the mid-19th century to the early part of the 20th century. Their focus was on quality. Bidders will see that when previewing the auction catalog.
Mr. Fosburg is known in collecting circles as Mr. Remington because of his vast knowledge of the Remington Firearms Company. Not only has he assembled an enviable collection of items made by Remington, he has written extensively about the company and its products for over 40 years. As such, Fosburg is considered a leading authority on the Remington Firearms Company.
But the auction will feature more than just Fosburg's Remington firearms, posters, ammunition window displays and calendars. Approximately 2,000 lots will come up for bid, in categories that will include petroliana, tobacciana, gambling, coin-op, automobilia, trade signs, salesman s samples, barber shop, lamps, bronzes, coffee, toys, whiskey and breweriana.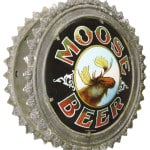 Five Brothers
Also sold will be soda fountain items (including Coca-Cola), pedal cars, cash registers, scales, pharmacy and apothecary, grocery, hardware, veterinary, jukeboxes, gum, Western (and Old West), Native Americana, Black Americana, clothing and shoes and more. "We only hold two major sales a year, and this will be a big one," said Mike Eckles of Showtime Auction Services.
Many vintage and antique advertising signs will come up for bid. Examples include a rare two-sided canister reverse glass sign for Moose Beer in excellent condition, made circa 1880; a rare porcelain Shell Oil sign for motorcycles, about 20 inches in diameter; a Case Implement sand on tin sign in excellent condition, 6 feet wide by 3 feet tall; and a Vegederma Tonic paper sign.
Coin-ops will feature what is possibly the only arcade machine made specifically for women, one where the woman would put in a coin, pull a rope and see if she's strong enough to turn
the pool player's head; and an all-original Caille Brothers 5-cent banker machine. A Cigar Store Indian figure by Samuel Robb, case iron and later repainted, 82 inches tall, will also be sold.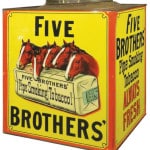 Other lots of note will include a buffalo bank (the buffalo's tail wags when you put a penny in); a Five Brothers store tobacco tin, exceedingly scarce and in remarkable condition; a 1915 Model T Ford peddler's truck made for Rawleigh's Products, in very good running condition; and more than 150 occupational shaving mugs, plus a mug rack with a very rare built-in reverse glass sign.
Internet bidding (available all three auction days) will be facilitated by LiveAuctioneers.com and Invaluable.com. Phone and absentee bids will also be accepted. Flyers will be mailed out the first week of August; catalogs will be ready the first week of September. Folks should be able to start bidding around Sept. 5, when the virtual catalog is posted online at www.showtimeauctions.com.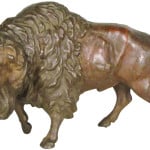 To get a 260-page color catalog, call Showtime Auction Services at (951) 453-2415. The firm's next big auction after this one is scheduled for spring 2016, and features the lifetime collection of Tom and Mary Lou Slike. Times and dates will be announced later.
Showtime Auction Services is based in Woodhaven, Mich. The firm is always accepting quality items for future sales. To consign an item, an estate or a collection, you may call Michael Eckles at (951) 453-2415; or, e-mail him at mike@showtimeauctions.com. To learn more about Showtime Auction Services and the upcoming October 2-3-4 auction, log on to www.showtimeauctions.com.
 The Lifetime Collections of Richard & Dianne Goldman and Gordon W. Fosburg to be Sold by Showtime Auction Services, October 2-4