Another Action Comics #1 Record?
By J.C. Vaughn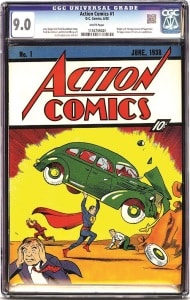 Action Comics #1 on eBay?
By the time our next issue rolls around, we'll know the results of one of the more interesting moves in the comic book market in recent years.
Darren Adams of Pristine Comics made a big splash when eBay announced that his firm would sell a CGC-certified 9.0 copy of Action Comics #1, the first appearance of Superman, on the auction site from August 14-24, 2014. The companies first advertised the offering in The Overstreet Comic Book Price Guide #44, which was released on Wednesday, July 23.
The only other CGC-certified 9.0 Action Comics #1 sold for a record $2,161,000 in 2011 by ComicConnect.com That issue was noted for its cream to off-white pages, while the comic that will be available on eBay features white pages.
"The quality and preservation of this Action #1 is astounding," said Paul Litch, Primary Grader for CGC. "The book looks and feels like it just came off the newsstand. It is supple, the colors are deep and rich and the quality of the white pages is amazing for a comic that is 76 years old."
Marvel Studios Box Office Roll Continues
The $4 billion The Walt Disney Company paid for Marvel Comics is beginning to look better and better. Critics and wishful-thinking executives from rival studios predicted that Marvel's run of box office successes would end with Guardians of the Galaxy. After an opening weekend domestic take of $94 million over the August 1-3, 2014 weekend, it's Marvel and not the naysayers who are smiling.
Still, it's good to pause and remember the many analysts (including The Wall Street Journal) who said that it was a stupid move and that Disney had severely over-paid. You know, much like William Seward and his purchase of Alaska.
Annie Still Going Strong at 90
Little Orphan Annie's comic strip may be a thing of the past, but the character continues to enjoy success in other media, which has been true since radio days. A new version is set to theaters this Christmas.
August marked the character's 90th anniversary. Little Orphan Annie debuted as a daily on August 5, 1924 in the New York Daily News. Fans quickly found themselves enthralled with the hard-luck adventures of the tough little girl.
Annie became the life work of her creator, cartoonist/storyteller Harold Gray (1894-1968). His writing and art helped a nation pass through the Depression, inspiring hope in readers everywhere as Annie's can do attitude thrilled millions.
Year in and year out Annie was among the most popular strips of its time. Comic books, hardcover reprints of the newspaper strips, Big Little Books, coloring books and giveaway books proliferated from 1926 through the 1940s.
After Gray's passing in 1968, a string of artists and writers continued the comic strip, the most notable of which was Leonard Starr, who did it from 1979 until 2000. The last Annie appeared on Sunday, June 13, 2010.
Beautiful, hardcover, archival collections of the strip are published by IDW Publishing's imprint The Library of American Comics, which has been able to scan the original art – not published strips or proofs, but Gray's originals – giving Little Orphan Annie its best reproduction ever. The work is collected in chronological order, so it's possible to start at the beginning and watch things develop from there.
Little Orphan Annie was selected by the United States Postal Service to be featured in their 1995 celebration of a Centenary of Comic Strips.She appeared alongside The Yellow Kid, Little Nemo in Slumberland, Krazy Kat, Gasoline Alley and only a few others.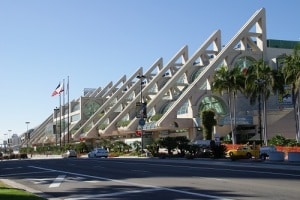 Comic-Con Aftermath
Comic-Con International: San Diego was held July 23-27 at the San Diego Convention Center and it continues to be a sold-out affair, with attendance capped around 130,000. This year many of the badges sold were for only one day of the show, an attempt to disappoint fewer fans than in recent years.
The convention facility continues to be well maintained, but it does not meet the convention's needs. With that in mind, ground will be broken on a major expansion in Spring 2015, one that should take about two years to complete.
Additionally, over the last couple of years, the show has started to farm out panels to the two hotels on either side of the convention center. It seems likely those efforts will continue before the expansion is complete.
J.C. Vaughn is the Vice-President of Publishing for Gemstone Publishing. Gemstone's Mark Squirek also contributed to this column.