Comic Character Collectibles
By J.C.Vaughn
Almost from the earliest days of comic books, titles licensed from other media have been part of the mix. Early best-sellers such as Bringing Up Father and Thimble Theater, for instance, were popular comic strips collected into book form.
Many licensed titles have gone on to become highly collectible over the years. From the Disney work of Carl Barks to Zorro by Alex Toth, and from original stories set on the Planet of the Apes by Doug Moench and Mike Ploog to the adaptation of the original Star Wars by Roy Thomas and Howard Chaykin, collectors and historians of the medium have noted many high points.
And then there's the toy-based comics. Where as most licensed comics pick up the story from the TV show or films on which they're based, often the toy-based comics are where the story or play concept originates. The popular Transformers franchise wouldn't have much of its story without the foundation provided by the Marvel Comics series of the 1980s. Likewise, Marvel's G.I. Joe, written by Larry Hama, was highly influential on the franchise's toys and the accompanying animated series.
From that same period at Marvel, The Micronauts by Bill Mantlo and Michael Golden and ROM, Space Knight by Mantlo and Sal Buscema were not only solidly crafted entertaining reads, they went well beyond the minimal story concepts they were handed and vastly expanded the characters' stories.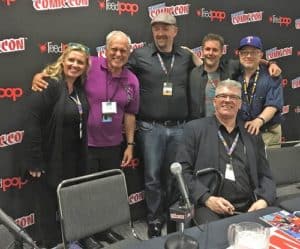 Fans, as you might expect, remember these things.
So, we created a vehicle for discussing the great – and the not-so-great licensed comic book titles over the years. "LICENSED! Overstreet Looks at Licensed Comics" began as a panel on Thursday, October 6, 2016 at Manhattan's Jacob K. Javits Convention Center as part of the New York Comic Con.
Geppi's Entertainment Museum (GEM) and The Overstreet Comic Book Price Guide hosted what turned out to be a lively discussion the subject of the best and worst of licensed comics and on the differences between producing traditional publisher-owned properties and their licensed cousins. On hand to stir the pot with moderator Melissa Bowersox, President of GEM, were former Marvel Comics editor-in-chief Jim Shooter, IDW editor-in-chief and Chief Creative Officer Chris Ryall (co-writer of the new ROM, among other projects), Captain Action Retro-preneur Ed Catto, and Stargate Atlantis and 24 comic book scribe Mark L. Haynes and yours truly.
There were many different viewpoints offered, but everyone on the panel came away with the immediate understanding that this was a topic rich in potential and very interesting to the fans who attended.
"We could take this show on the road," joked Chris Ryall. As the Chief Creative Officer of IDW Publishing, he both oversees and co-writes the rival of ROM, originally a Parker Bros. toy and now part of the Hasbro line-up. Ryall's also a passionate fan of the original Marvel Comics ROM series, so he was coming at it both as a professional and as a fan.
And he was right.
On Saturday, July 22, 2017, "LICENSED! Overstreet Looks at Licensed Comics" made its west coast debut at the San Diego Convention Center as part of Comic-Con International: San Diego. Joining returning panelists Ryall, Catto and Haynes were acclaimed writer-illustrator Mark Wheatley (most recently noted in this arena for a series of Doctor Who covers) and writer Andy Mangles, whose impressive string of licensed work spans three decades (with Wonder Woman '77 Meets The Bionic Woman currently in release). For this one, I transitioned to moderator.
Attendance for the second installment grew substantially as word had gotten out about the panel and its topic. Among those in large crowed were Bonfire Agency's Steve Rotterdam, the Hero Initiative's Charlie Novinskie (himself connected to the subject by Topps' successful X-Files comic book in the '90s), noted screenwriter Steven Peros (The Cat's Meow), and comics historian Nicky Wheeler-Nicholson, granddaughter of DC Comics' founder Major Malcom Wheeler-Nicholson.
Each of the panelists had an opportunity to discuss their experiences – good, bad and funny – as they talked about the importance of continuity between the source material and the licensed comic. As audiences have become more sophisticated and therefore more demanding – it's very clear that no one wants characters who act out of character or stories that blatantly (or even subtly) contradict the shows, video games, movies or novels on which they're based.
They also expressed the push-and-pull relationship between a licensor and licensee, the balance of a creator's passion for a story and the duties of those managing the property. It was noted that for licensed properties – like the long-running, company-owned characters such as Superman or Spider-Man – one is generally dealing with caretakers rather than the properties creators. It's possible that the licensee may know more of the property's history than a new licensing executive, and that can be a source of confusion in the process.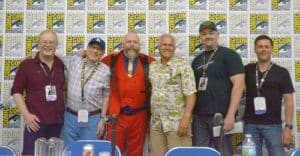 Some licensors have very specific stories in mind that connect to their larger universes in order to move their properties forward or keep them in the public eye, while others have little notion of what to do other than accepting the licensee's money.
While less common these days, there have been many stories about when the comic book creators don't have enough information about a new property. The earliest Gold Key-published Star Trek comics, for instance, depicted Lt. Sulu as an African-American male (he is of Japanese descent, played by George Takei) and Lt. Uhura as a white female (she is African-American, portrayed by Nichelle Nichols). The widespread availability of promotional materials in form of clips, videos, and episodes these days has helped that process greatly, all said, but still problems can pop up.
Based on the audience reaction – and the enthusiasm of the panelists – we'll be revisiting the topic at additional comic book conventions again in 2017 and 2018. If you're at one of them, whether you're a fan of Buffy The Vampire Slayer or Godzilla, Star Wars, Star Trek or Stargate Unvierse, please come by and join us for the discussion.
J.C. Vaughn is the Vice-President of Publishing for Gemstone Publishing. He also writes comic books including such licensed titles as Stargate Atlantis, Stargate Universe, and 24, among others, and has collected them for far too many years. Gemstone's Amanda Sheriff contributed to this column.
LICENSED! Overstreet Looks at Licensed Comics