Comic Character Collectibles
By J.C. Vaughn
During the late '70s and into the early '80s, Parker Brothers was a dominant force in the board game business. In 1977, when electronic games were in their infancy, the company decided to make the leap into toys as well. The result was ROM.
Originally known as Cobol (after the programming language), ROM was created by Bryan Lawrence "Bing" McCoy (the patent is credited to McCoy and business partners Scott Dankman and Richard C. Levy). McCoy had sold a spate of early electronic games including Electronic Battleship and had originally developed ROM as a figure with an ancient Egyptian motif. That changed when they sold it Parker Brothers.
The backstory he came with was minimal: he was a cyborg. According to McCoy, that was it. The rest came from the Marvel comic book series.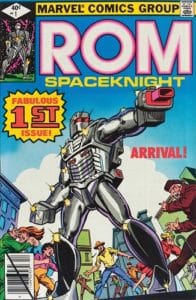 ROM #1 debuted in December 1979. Written by Bill Mantlo and illustrated by Sal Buscema, the first issue and subsequent series expanded on ROM's origin as a cyborg. It gave him a personality, a worthy cause, a cast of supporting characters, villains, and even pulled him into the Marvel universe.
As the story went, his homeworld of Galador was under siege by a vicious alien race known as the Dire Wraiths. Answering a desperate call for volunteers, the title character and others were transformed. Their new armor granted them numerous abilities including superhuman strength, extreme durability, flight, space travel, self-repair capabilities, and high-tech weaponry. ROM was even granted Galador's greatest weapon, the Neutralizer, which allowed him to banish the Wraiths into Limbo forever. His sustained battle against the Wraiths eventually brought him to planet Earth.
The series concluded with ROM #75, the February 1986 issue. The run also included four annuals in addition to the 75 standard-size issues.
One of the things that make the Marvel Comics series notable is that it was so much more successful than the toy itself. Parker Brothers had opted for quick, inexpensive production, so the action figure had very few points of articulation and very little detail.
The result was a resounding dud. The toy did not find much of an audience. The comic book, on the other hand, not only wound up with a solid run but also found its way into to the hearts of many collectors.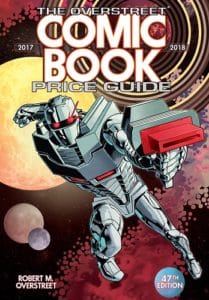 Flash forward to 2015. Parker Brothers was acquired by Hasbro. Hasbro, in turn, had a relationship with IDW Publishing to produce comic book versions of Transformers, G.I. Joe, and other properties. IDW's Chief Creative Officer, Chris Ryall, was a very devoted fan of the original ROM series, so much so that he tried to acquire the license to do ROM comics. It didn't seem to work out.
Ryall was no casual ROM fan. He went as far as to commission custom-bound hardcover volumes of his personal collection. He worked with Nebraska-based Houchen Bindery to put together four colorful volumes, the spines of which formed one larger image of the spaceknight. Collectors and even other professionals made the images of the books a mini-viral event.
At Comic-Con International: San Diego in 2015, IDW announced they would bring back the comic book version of ROM with new adventures. Because of the way the original deal with Marvel was structured, many of the supporting characters and concepts created by Mantlo and Buscema belonged to Marvel, while the title character and some elements belonged to Hasbro.
Ryall teamed with writer Christos Gage (known for his V work on Law & Order: Special Victim's Unit and Marvel's Daredevil, as well as his efforts in comics) to redevelop the story. Their final product carries the flavor of the Marvel series, yet at the same time, it is its own unique animal. The new series was launched on Free Comic Book Day and was quickly developed as part of a coherent universe of IDW's Hasbro-based properties.
This year will mark ROM's first appearance on the cover of The Overstreet Comic Book Price Guide when its 47th annual edition debuts July 19, 2017. The cover is illustrated by Gabriel Rodriguez, the artist for the acclaimed series Locke & Key.
Norman Mingo, Mad & The Beatles
Renowned commercial artist Norman Mingo began his career with illustration work for various magazines, including American Weekly, Ladies' Home Journal, and Pictorial Review. From there he branched off into pin-up art, paperbacks, paper dolls, while still serving as a traditional portraitist.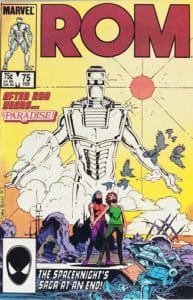 In 1956, he was selected by MAD publisher William M. Gaines and editor Al Feldstein to create a more polished version of MAD's mascot/spokes character, Alfred E. Neuman. The rest, as they say, is history. Between 1956 and 1957, Mingo crafted several striking covers before leaving MAD magazine. He later returned in 1962 and painted nearly all of the front covers until 1976. Combining the regular issues, back covers, reprint MAD Specials, and paperbacks, Mingo produced more than 200 original covers for MAD.
In November 2008, Mingo's original cover featuring the first "official" portrait of Neuman was auctioned for $203,150.
Hake's Americana & Collectibles Auction #220, which closes on March 14-16, 2017, features a mixed media Mingo original that depicts Neuman as a spiritual guru, held aloft by all four Beatles as well as Mia Farrow and Maharishi Mahesh Yogi. It was the cover for MAD #121 (1968), and it's estimated at $35,000 to $50,000.
J.C. Vaughn is Vice-President of Publishing for Gemstone Publishing. Gemstone's Amanda Sheriff and Carrie Wood contributed to this column.
The Return of ROM, the Spaceknight