FELDSTEIN: The MAD Life and Fantastic Art of Al Feldstein
By J.C. Vaughn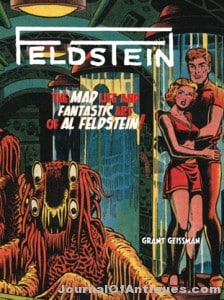 Grant Geissman is a man who successful wears many creative hats. He's an highly praised jazz musician with well reviewed albums of his own. He's the co-composer of the music for TV's Two and a Half Men (he's even appeared on the show). And he's also an acclaimed historian specializing in MAD and the EC Comics line of the 1950s, a topic on which he's authored several books including Tales of Terror: The EC Companion, Foul Play!: The Art and Artists of the Notorious 1950s E.C. Comics, Collectibly MAD: The MAD and EC Collectibles Guide.
His most recent book on the topic, FELDSTEIN: The MAD Life and Fantastic Art of Al Feldstein!, from IDW Publishing, is an imaginative hybrid, coffee table biography if you will, that depicts the life and career of the veteran EC writer-artist-editor and longtime editor of MAD magazine.
For those who might not know his track record, Geissman said how one views Feldstein might be based on what period of his work you're familiar with.
"It's interesting, because depending on which circle you're in, you might know Al Feldstein as the artist/writer/editor of the 1950s EC comics. While at EC, Feldstein wrote and drew for such seminal titles as Tales from the Crypt, The Vault of Horror, The Haunt of Fear, Weird Science, Weird Fantasy, and so forth. These legendary comics are still avidly collected and discussed even now. Or if you came up later, you might best remember him as the editor of MAD magazine for nearly thirty years," Geissman said.
Even today, an different audience knows his for his landscape paintings, as well as painted recreations of the EC science fiction and horror covers he did six decades ago.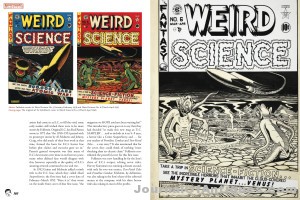 While most histories about EC start out with EC itself, he wanted to begin as early as possible with Feldstein.
"In FELDSTEIN: The MAD Life and Fantastic Art of Al Feldstein!, we follow the young Al Feldstein exhibiting some artistic talent at an early age, and being encouraged in his art by both his mother and by one of his elementary school teachers. There are some really quite amazing, never-before-published family photos of Feldstein, starting as a very young child and going up through adolescence, and on from there. And we include the three existing paintings that he did while as a student at the High School of Music and Art in New York, which are quite good. There are tons of rare and previously unpublished photos in the book, as well as every cover and most every splash page and house ad Feldstein ever did for the EC comics. We also look at the work he did before he came to EC, including the titillating comics he did for Fox, Junior and Sunny," he said.
When Feldstein started at EC – which became best known for Tales from the Crypt, Weird Science and similar titles – he never imagined staying there for the bulk of his career.
"Feldstein started working for EC publisher Bill Gaines in 1948, and before that he was a freelancer, working for 'anyone who would give me a job.' I'm sure that he would have been totally shocked to learn that he would continue working for Gaines (apart for just a few months in 1956) until he retired at the end of 1984," he said.
The work that Gaines and Feldstein did is considered among the most groundbreaking in the history of the medium, and it remains influential among even modern comic book creators. Why is that?
"Apart from creating the first really successful horror comics (other publishers had tried horror, but they didn't catch on like the EC horror comics did), Gaines and Feldstein also produced what are considered to be the first 'real" science fiction comics, Weird Science and Weird Fantasy. Earlier attempts by other publishers at doing science fiction comics came off more like 'cowboys in space.'
"Gaines and Feldstein were writing to please themselves, not writing down to what was then often perceived as the typical comic-book reader: young children. They put great importance on the story content, and found the best artists they could to illustrate the material, paying page rates that were among the highest in the industry at the time. But they knew that even great artwork would not save a bad story, so they made sure the story content came first," Geissman said.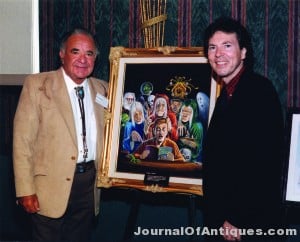 When he worked at EC, Feldstein edited, wrote and illustrated for many of their titles.
"He always approached everything he did as a job, a job that he tried to do to the best of his abilities, and then to move on to the next task at hand. He never thought he was doing anything that would be remembered. Longtime MAD writer Frank Jacobs is quoted in the book as saying that Feldstein "would have been a success no matter what business he went into. He had drive, he had a care about his responsibilities. He knew how to turn a product out on time," he said.
Harvey Kurtzman, the visionary founding editor of MAD, deservedly gets a huge amount of credit, but it was Feldstein who took it from the ashes of the EC comic book line to the multi-million copy sales it experienced as a magazine. This is overlooked by some.
"Particularly with regard to his work editing MAD, Feldstein says that he sometimes feels like the forgotten man. There are a number of reasons for this. One is that until more recently Feldstein wasn't that interested in engaging with comics fandom, doing interviews, appearing at comics conventions, and so forth. He also didn't interact much with other professionals in his field. He worked hard, he wanted to do his work editing MAD, and when he left the office he wanted to forget about work," Geissman said.
"Feldstein has always said that he is as surprised as anyone that the EC Comics are still discussed, all these years later," he said.
J.C. Vaughn is Vice-President of Publishing for Gemstone Publishing.