The Best of Ed Welch: Cost: $350 Directions: Use Once Then Discard
The Business of Doing Business in Antiques
By Ed Welch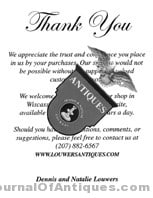 The ability to manage customer relations is the key to a successful business. Antique dealers spend thousands of dollars each year searching for customers. This money is spent as rent in a group shop, booth rent at antique shows, seller's fees at auctions and, to a small extent, ads in newspapers and trade publications.
The cost of finding one customer to buy one item can be very expensive. Unfortunately, for the majority of antique dealers, as soon as one sale is made to a new customer that customer is discarded. Literally, the customer is used once and then thrown away.
Because the most expensive part of any antique business is finding customers, skillful dealers develop methods of customer retention.When you sell the first item to a new customer, your expense to make the sale is great. When you sell the second, third, fourth, and fifth item to this customer, your expenses to make each progressing sale become lower. By the time you have sold 50 items to this customer, your cost of making each sale is practically zero.
When you make any sale, you should make a sales slip that includes the customer's name, address, and phone number. You should also chat a bit with this person and as soon as possible make notes of your conversation on the back of your copy of the receipt.
You should note things such as the buyer's want or wish list and information that may lead to a future sale. When you return home, you should send that customer a thank you card and record his or her information into a customer database.
I cannot overstate the importance of establishing a system for building and maintaining good customer relations. A thank you card is a small part of this system. Also included in a good relations system are invitations to shows, notices when you buy an item a particular customer may want, Christmas cards and every now and then, a post card.
Last July my wife and I were on a buying trip to Scotland. One afternoon while having lunch in Edinburgh Castle overlooking a spectacular view of the city, several customers came to mind. In the past, I had had conversations with each of these dealers about the unique beauty of Edinburgh. I went to the gift shop and bought six postcards. I wrote the same note on all six cards. "Hi, Marilyn and I are having lunch at Edinburgh Castle and looking out over the city. The post card view is the view we are now enjoying. We thought you would like to join us." I signed the postcards Ed and Marilyn, no last name was needed. All six customers made a point to contact us after we returned home. Each had greatly enjoyed the postcard view and the fact we had thought about them. It is amazing how much fun, good will, and enjoyment six post cards can generate.
I have a good friend who has just retired after more than 30 years in the antiques trade. He is a great believer in sending thank you cards and notices of special events and purchases to his customers. He also sends each of his customers a homemade, hand-addressed Christmas card. He adds a personal comment to each card. His Christmas card list contains between 6,000 and 8,000 names.
I have been in his shop in August and found him working on his Christmas card mailing. It takes a long time to hand address and write a personal note on 8,000 cards. He began his business renting one table at a flea market. When he retired, he owned a spacious gallery built as an addition to his home.
He once told me never to neglect to get a shopper's name, address, and telephone number. "Ed, if someone is in your shop, talk to that person. Ask what he or she wants, take a want list, and most important of all, send a thank you card even if that person does not buy anything. Simply write, 'Thank you for visiting my shop. Please stop again the next time you are in the area.'" The following Christmas this shopper, who did not buy anything, would get a Christmas card.
He began his business with a few hundred dollars. When he retired, he had annual sales in the seven figures. How much work would you do for a million dollars a year in sales?
I recently had a bad experience with the owner of a major group shop. The owner required a one-year contract but agreed to a 90-day trial period that allowed either of us to terminate the contract. He also agreed to have his employees collect buyer contact information on every sale.
Two weeks after I moved in, I received a phone call from an employee who told me that I had sold so many items that my booth was empty. A week later, I made a trip to this shop, located some distance from my home in Maine. My booth was empty. At first, I was happy. The problem started when the employees could not provide me with the names and addresses of the people who had bought all of my antiques.
The owner was called. He arrived at the shop in a few minutes. He could not understand why I was upset. "After all," he stated, "You sold nearly $11,000."
When I pointed out that he had agreed, in writing, to collect the names, addresses, and phone numbers of every person that bought anything from me, he ignored the point as if it did not, or should not, matter. His excuse was that his employees were so busy that they did not have the time to waste writing down all this information for each sale.The owner repeatedly pointed out the one big-ticket sale of $3,800. In his opinion, I should have been happy with such a sale. The hard reality is that the value of this item was wasted, lost to me forever.
Antiques are not a necessity of every day life. One does not have to buy an antique. One has to buy gasoline, food, clothing, make house payments, and so on. Antiques are bought with discretionary money, money that is left over after the necessities of life are paid.
I want the name and address of buyers for many reasons. I want to send a thank you card. I want to ask what else he or she collects. I want to ask if I can put this person on my mailing list.
In this case, the buyer was a man. I would like to know the name of his wife and children. I would like to know what he does for work. If he lives in another state, I would like to know how often he visits or vacations in my area. Does he like to ski? Does he like to fish? If he likes the sea, does he prefer a powerboat or a sailboat? I would like to know what we have in common. On what subjects can we share a meaningful conversation or possibly a debate?
I have a customer database containing thousands of names. I have a working customer database with just over 600 names. I have an active customer database with 300 names. To be on my active database, a buyer must have made a purchase in the past two years. To be on my working database requires a purchase in the last five years.
Any purchase in the last 10 years will keep a buyer on my customer list. Buyers on my active list receive show invitations, invitations to private sales, the two catalogs that I create each year, and a chance to view my new web pages before I remove the lock and make my web pages open to the public. Last month I held one of the two private/public shows that I do each year. Before the show, I send several hundred show invitations and catalogs to my active customers in that area. One of my regular customers called and requested that I put aside six items featured in my catalog. He visited me in my hotel room the same evening that I arrived. He bought five of the six items for a total sale of $3,030.
Show set up is Monday and Tuesday. Early buyers are let in at 9 a.m. on Wednesday. This same person and his wife were the first buyers to enter my booth. Together, they spent an additional $6,150. Results like this are the reason that I send thank you cards, show invitations, and catalogs.
Generally my show invitations and catalogs bring a response between 20 and 30 percent. Since 2002 my total sales have grown at least 25 percent each year.
Continued business growth in these trying economic times has nothing to do with luck. Such growth is the result of careful business planning which includes good customer relations.
The failure of the group shop owner and his employees to collect buyer information denied me the opportunity to develop any type of customer relations with the buyers who bought all the things that I sold at this shop. To say that I am disappointed and angry is an understatement.
As many of you are aware, our friend Ed Welch passed away in October, 2012. His wisdom and entrepreneurial spirit will be greatly missed. At the request of many of our loyal readers we've decided to publish some of their favorite columns from past years.