Comic Character Collectibles
By J.C. Vaughn
"In the world of hardcore comic book fans, it's not always an easy thing to get the seasoned veterans and excited newcomers to agree on what's good, much less what's great or even spectacular. If you've spent any amount of time trying to bridge the two groups, you know that frequently it's an impossible task," said Melissa Bowersox, President of Geppi's Entertainment Museum.
Except, she says, in the case of Amanda Conner's artwork, which gets the spotlight treatment in the museum's latest exhibit, The Artistry of Amanda Conner.
"Then it's easy. So easy that you look around expecting a 'Gotcha!' moment. It seems that regardless of age enthusiasts love her what she draws. And when you take a look at it, there's a good reason for this," she wrote in her introduction to the catalog to the museum's retrospective of Conner's art, which debuts April 2, 2016 for an extended run.
To Bowersox's point, Conner really is just that good.
Strictly speaking, she is not a pioneer in that there have been a number of well regarded female comic book artists over the decades. Clearly, not as many as there might have been without the proverbial glass ceiling, but not so few as to make Conner a stand out just for being a female artist.
What's made her achievement stand out is that through hard work and good timing she's developed a following that puts her among the medium's top stars.
"Her clean, fluid style, the grace of its lines, and the emotion, energy, and kinetic activity on display in her art makes her work simultaneously contemporary and classic. Whether on Barbie or Painkiller Jane, Disney titles or Harley Quinn, Amanda Conner brings a distinctly accessible yet consistently innovative style to every project she takes on," Bowersox said, and she insists that Conner's popularity is not a fluke.
"She has worked diligently at mastering her craft for years, and her work ethic continues to pay off. On page after page and cover after cover, she delivers remarkably solid compositions – frequently with a true sense of whimsy added – and turns out work that surpasses her fans' expectations," she said.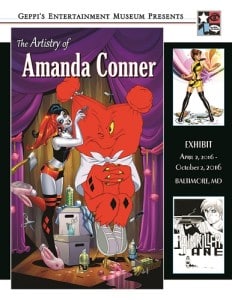 The Artistry of Amanda Conner features 45 of the artist's originals. Conner's work on Power Girl, Starfire, Dark Knight III, The Flash, Before Watchmen: Silk Spectre, Batgirl Red Sonja, The Big Con Job, Painkiller Jane, Vampirella, Jem and the Holograms, Superzero, Black Cat, Star Wars, Avengers Academy, Wonder Woman, JSA Classified, among others. There's a large, two-page spread from Green Arrow and Black Canary Wedding Special, which features about 75 heroes posing at the wedding of the two DC Comics icons.
Conner began her career in the late 1980s with work for Archie Comics and Marvel Comics, followed by stints on Claypool Comics' Soulsearchers and Company, Crusade's Tomoe, and Harris Comics' Vampirella in the 1990s.
She went on to popular jobs for independent publishers as well as high profile gigs for Marvel and DC Comics, the "big two" of the comic book market.
In addition to traditional comic books, her work has been seen in MAD, The New York Times, and Revolver magazine, on advertising for products from Arm & Hammer and Playskool, on ABC's Nightline, and on commercials for A&E's Biography magazine.
"The best part? If you talk to the people who know her, they'll tell you that all of her well documented success hasn't changed her a bit," Bowersox said.
What's more, according to a number of sources, is that this success hasn't altered her approach to her work.
"She's not looking to settle into a groove. Now that she's taken on the mantle of 'writer-artist,' it's clear from the results that Amanda Conner the writer is pushing Amanda Conner the artist to get even better," she said with a laugh. "If that's possible."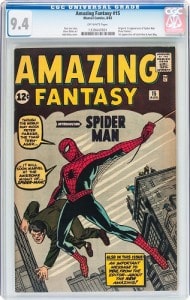 GEM Celebrates Walt Disney's Alice in Wonderland
Simultaneous to the Amanda Conner exhibit, the museum will launch a showing from the Matt Crandal's impressive Alice in Wonderland collection. It will also open to the public April 2 for an extended run. Included are approximately 30 pieces of art and other items from the Walt Disney classic. Expect more on that in this space next month.
Strong Comic Book Market Continues
"Rare, vintage and high grade" continue to be the magic words with the big three comic book auction sources again attracting attention.
February 18, 2016 saw a CGC-certified 9.4 copy of Amazing Fantasy #15, the first appearance of Spider-Man, sell for $454,100 at Heritage Auctions (a record price at public sale for the issue in that grade).
Just a day later, ComicLink sold a CGC-certified 9.6 copy of X-Men #1 for a record $350,000.
The shortest month also witnessed ComicConnect record the sales of a CGC-certified 9.4 copy of Amazing Spider-Man #1 for $135,000 and a CGC 9.4 copy of Tales of Suspense #39 (first appearance of Iron Man) for $110,000.
J.C. Vaughn in Vice-President of Publishing for Gemstone Publishing. Gemstone's Amanda Sheriff and Mark Huesman contributed to this column.
The Artistry of Amanda Conner Debuts at GEM