Comic Character Collectibles
By J.C. Vaughn
In January 2019, Heritage Auctions began offering video games certified by third-party independent grading firm Wata Games in their Sunday night auctions, and the auction house subsequently offered a selection in their February Signature Auction, with sessions on February 21 and February 23.
Separately, in a private sale prior to the Signature event, an unopened copy of Nintendo's Super Mario Bros. set a world record when it sold for a $100,150. It is the only known sticker sealed copy and was certified by Wata Games as Near Mint 9.4 and a "Seal Rating" of A++.
It was purchased by a group of collectors including Jim Halperin, founder and co-chairman of Heritage Auctions of Dallas, TX; Zac Gieg, owner of Just Press Play Video Games in Lancaster, PA; and Rich Lecce, renowned coin dealer, pioneering video game collector, and owner of Robert B. Lecce Numismatist Inc of Boca Raton, FL.
Building Value Through Validation
The fact that Heritage made the plunge into this market was enough to get the attention of some, but others are still acting surprised at this turn of events. According to Carrie Wood, the author of The Overstreet Guide To Collecting Video Games, they shouldn't be.
"I've spent a lot of time going to video game conventions over the last several years, and there's been a noticeable uptick in vendors dealing with retro gaming systems and selling various rarities in that time. Honestly, there's a big uptick in mom-and-pop-style old-school video game stores in general, largely in response to the fact that there's a demand for those games without a supply from the bigger, more national gaming retailers who only sell new titles. That these stores and vendors have continued to pop up and generally be successful goes to show that there's a demand for older games, whether by collectors or simply by folks my age who are finally coming into some disposable income and want to re-live parts of their childhood," Wood said.
And as we've seen in a number of collectible arenas, third-party independent graders can make a significant impact in terms of a collectible's acceptance and liquidity. History has also shown us that they won't gain acceptance if the timing's not right or if the people behind them haven't done their homework.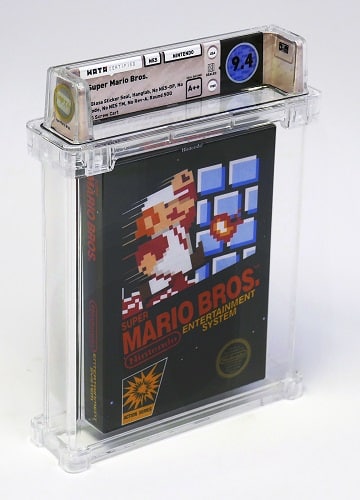 Establishing a Business to Certify Quality

Wata Games didn't come about overnight, according to Deniz Kahn, the company's President and Chief Executive Officer.
"It was an iterative process through discussions with collectors of all sorts of collectibles—not just video games—over the course of several years. I grew up exposed to the collectible world of comics through my dad, and the other founders all collectors various items before video games. Our chief grader, Kenneth [Thrower], he collected coins, Hot Wheels and die-cast cars, bottles, you name it. So, seeing mature markets like coins and comics, and comparing them to the infant hobby that we were most passionate about—video games—gave us tremendous insight as to what was lacking in video games that needed to take them to the next level as a collectible," Kahn said.
"We, as collectors, we basically become 'archivers' and historians in a way, revealing information that hasn't been revealed yet. But at the same time, the collecting hobby to date has always been just that – a hobby based in nostalgia that sort of stagnated. We felt that it was time that the hobby got elevated to the level of coins and comics, where it became a legitimized appreciation of art and history," he said.
"But in order to get there, the marketplace needed the barriers to be removed that would allow everyone that grew up with video games to appreciate collecting them the way that we do, where we have spent 10-15 years each studying and learning every bit of information we could about them. To get there, we needed standards – the market needed protection against counterfeiters and the confidence in purchasing decisions. It needed the resources for education and, above all, it needed a healthy community. So, Wata was started to provide all of that so that video games could reach that level, because our vision is elevating the hobby to an appreciation of art and history," Kahn said.
Timing is Everything
Kahn said that every collectible hits its prime growth point when the item hits the 30 to 35 year mark after being released.
"Naturally, that makes sense, because the people who grew up with them in the 1970s and '80s are now adults with disposable income and they can recapture that nostalgic part of their childhood – just like with the comic market," Kahn said.
"More importantly, a collectible gains a lot of value when it is initially made to be disposed of, or when it becomes obsolete over time. Which is why video game boxes are often more desirable than the games themselves! People didn't keep them, they threw them away. No one was like, oh I'm gonna keep this box, it's gonna be valuable – that didn't happen," he said.
The question for this collectibles field, of course, is: will this take root?
"People are certainly starting to take notice. The sticker-sealed Super Mario that managed to squeak into six figures got some mainstream gaming media attention, which brought the whole scene into a different sort of spotlight. Much like with comic book grading, the biggest pushback to what Wata is doing is that you can no longer play the game once it's been slabbed. Unfortunately, unlike comic books, there's a lot of valuable games that have been out of print for a long time and have never been re-released or ported on contemporary consoles, so there's perhaps a larger hesitation with game collectors to seal something away like that. Comic fans can still read their books digitally or in trade paperback collections," Wood said.
"The other thing with video game certification and grading is that it aims to preserve the cartridge and the box, which is great – objectively speaking! But largely, because of how relatively new mass market video gaming is—just 40 years or so, for the earliest games—we still don't know how certain aspects of cartridges, discs or hardware will break down over time. I think a lot of game collectors believe that they don't need to have anything slabbed and preserved because they're already doing what has worked for them in terms of keeping things in pristine condition. And maybe they're right. But we won't know for sure what the best methods of preservation are for maybe another 20 or 30 years, when we can compare a slabbed cartridge to a non-slabbed one," she said.
Certified Video Games Enter the Marketplace in Force