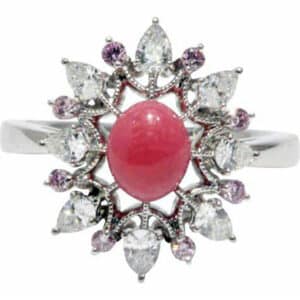 RubyLane.com made its online debut in 1998, a quarter of a century ago! The idea for building a robust, user-friendly platform for the buying and selling of antiques and vintage collectibles forever changed the landscape of the marketplace, providing a virtual storefront where thousands of dealers worldwide can connect with online shoppers and retail customers. Today, RubyLane.com brings in over one million unique visitors each month who are on the prowl for a range of vintage products including jewelry, high-quality antique dolls, art deco furniture, fashion accessories, and porcelain wares.
The inception of Ruby Lane was sparked by Founder & CEO Tom Johnson's passion for collecting 1950s pottery (a collection that features complete sets of Franciscan Autumn and Trio). Faced with challenges in completing matching sets and finding missing pieces, he envisioned a platform where global buyers and sellers could unite to share their collectibles. Over time, Johnson further developed an interest in antiques and vintage, becoming an avid collector of art and lifestyle pieces, as well. With his passion for collecting and a professional background as a former programmer at IBM with a degree in Computer Science, Johnson created Ruby Lane as a website that caters to the antiques and collectibles world.
Following the great retail tradition of naming businesses with a family name (think Bloomingdale's – founded by brothers Joseph and Lyman Bloomingdale; Neiman-Marcus – founded by brother and sister team Herbert Marcus and Carrie Marcus Neiman; or Sotheby's – named for one of its co-founders, John Sotheby), Johnson decided to name the site in honor of his mom, Ruby. He attributes much of his drive and ambition to the enduring influence and invaluable life lessons imparted by both his parents.
Ruby Lane, like so many other businesses, was affected by COVID but saw it as an opportunity to use their platform and reputation to create a new virtual marketplace that kept dealers, show promoters, and customers actively engaged in buying and selling antique and vintage collectibles when all other traditional channels for conducting business were shut down.
"When the pandemic arrived at our doorstep we had to really think outside the box and pivot as many businesses did. Our entire business model was based on assembling large groups of people in one place. That was clearly not an option," said Klia Ververidis, Esq, CEO Brimfield Antique Shows. Early on in the pandemic, Klia partnered with Ruby Lane to bring their Brimfield shows online and keep their
dealers making money while they waited for the return of in-person shows.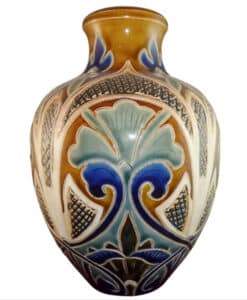 "We had to quickly figure out how to do an online antique show that had the same effect as an in-person show. As we navigated through this process, Ruby Lane became an invaluable partner, not only understanding what we were trying to accomplish but also creating real-world technology-based solutions that allowed us to move forward with a revolutionary and forward-thinking model of how to transport the excitement and anticipation of a live show to the Internet."
Ruby Lane's team is comprised of award-winning, experienced professionals, many of whom have been with the company for more than a decade and are collectors and vintage enthusiasts themselves. The same goes for its dealers and customers. Numerous shop owners have maintained a presence on Ruby Lane for decades, and many buyers return time and time again, drawn by the prompt and professional customer service and the personal buying experience facilitated by knowledgeable shop owners.
Ruby Lane has witnessed numerous changes over the past 25 years, yet its core values have steadfastly remained intact. "Our unwavering commitment to high-quality listings, attracting professional shop owners, and meticulous curation of the site remains as dedicated as ever," says Gisele Barrau-Freeman, Ruby Lane's Chief Marketing Officer.
Ruby Lane is consistently honored with awards for customer service, responsiveness, ease of use, and overall customer and vendor satisfaction. It's an accredited Better Business Bureau company with an astounding A+ rating, has a five-star rating on Trustpilot with nearly 8,000 ratings, and came in 3rd in the 2021 Sellers Choice Awards for Online Marketplaces. Ruby Lane is also known for having excellent customer support, a highly secure platform, and a flexible return policy for customers; however, the reviews from dealers and customers speak for themselves:
– "I have sold on Ruby Lane since 2005 and in my experience they have always been a partner to their sellers. If one has a problem all you need do is ask for help and they are there with knowledgeable, friendly and helpful CSR's. They helped us with the Pandemic by giving us several months of discounted fees that helped immensely. They helped us with our State Tax questions when this was changed by seeking out expert tax information and a platform that was integrated into the site to do the calculations for us. Yes, I tell everyone that Ruby Lane is by far the best that is around to sell online with for Antiques and Collectibles."
– "They always let us know about upcoming changes to the site when they are necessary, and the quality of presentation is beyond compare. Ruby Lane has been a home to us for a very long time."
– "They hold your hand while you are setting up your shop so I was selling right away. It appears that they pay for advertising on other sites more than other sites do. They have real sellers and buyers, and I believe the buyers are vetted more than other sites, so we shops do not
get scammed."
See for yourself what all the talk is about at www.RubyLane.com.