By Barry Blair, Sports Collectors Digest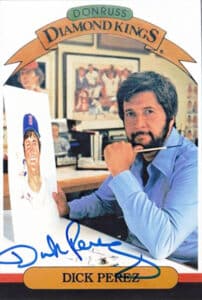 Most long-time readers of Sports Collectors Digest know the name Dick Perez as well as they know the names Ted Williams, Mickey Mantle, and Sandy Koufax. He is arguably the most accomplished baseball artist of all time. When asked several years ago about how many baseball paintings he had done in his lifetime, he responded, "Somewhere between 2 to 3,000." Many of those paintings have been turned into baseball cards and postcards, thus the familiarity with his name and work by collectors.
Famous Experience
Over the years, Perez has been the "Official Artist" of the National Baseball Hall of Fame and Museum in Cooperstown, the Philadelphia Phillies, and The Roberto Clemente Foundation. Two former Presidents commissioned baseball paintings from him. Ronald Reagan asked for one of Hall of Famer Grover Cleveland Alexander, whom he had portrayed in the 1952 film, The Winning Team. Bill Clinton had one done of Pittsburgh Pirates Hall of Fame shortstop Arky Vaughn, a fellow Arkansan. He did a commissioned painting for Ichiro Suzuki of a Japanese stickball game after Suzuki saw one at the HOF that he had done of a game in the streets of New York City. Suzuki, one of baseball's greatest players, is known as a great student of the history of the game. Perez's coffee table book, The Immortals, An Art Collection of Baseball's Best, contains over 1,400 reproductions of his work in 560 pages.
A Painter is Born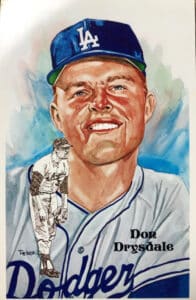 A native of San Lorenzo, Puerto Rico, Perez grew up in Harlem, then later moved to Philadelphia with his family. The Puerto Rico connection was instrumental in his work for the Clemente Foundation; each year he paints a portrait of the Roberto Clemente Award winner. Having grown up mostly in New York City, he lists Mickey Mantle as his childhood hero and all-time favorite player –probably the reason Mantle has been one of his most prominent subjects over the years.
Living and working in Philadelphia, he has worked for the Phillies in some capacity dating to 1972. They honored him with an art gallery featuring 33 of his baseball paintings on permanent display at Citizens Bank Park, covering all Hall of Famers with connections to the city, such as Mike Schmidt, Chief Bender (Philadelphia As), Reggie Jackson (who grew up in Philly), and Phillies executive Pat Gillick.
Diamond Kings/Turkey Reds/Allen & Ginter
His influence in the baseball card collectibles hobby started with the Diamond Kings art cards he produced for Donruss from 1982 to 1996. Each season, one player was selected to represent every team, and these were the first cards in the set. By '96, the card industry had changed dramatically, overcome by too many brands mass-producing cards, leading to market saturation, and Donruss soon became a financial casualty. The brand would change hands, eventually disappearing from the scene for a few years. It returned as an offshoot of Panini and was produced without a major league license, so the cards contain no MLB logos, including the Diamond Kings cards.
After they broke from Perez, the Diamond Kings eventually became available in their own boxes and sets, no longer just as inserts within the Donruss packs. At that point, they employed several different artists to work on each set. They were good, but they never had quite the same appeal as the originals. With a careful eye, you can spot the name Perez at the bottom of his cards.
Perez returned to baseball cards with Topps in 2007, doing Turkey Red cards, including cards of his favorite player, Mantle. He also did some insert cards for the Allen & Ginter brand as well. Topps, which now holds the license for all MLB cards, has several art cards available in its lineup today, including the very popular Allen & Ginter and Gypsy Queen brands. While art cards have been around in one form or another since the late 1800s, a great deal of credit should go to Perez for what is out there now. Part of their appeal over the years is the artwork, and that they are a great piece to get signed, for those who collect baseball autographs.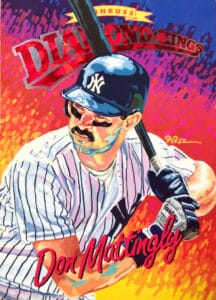 For the most part, the Perez Diamond Kings are not that expensive except for those that have been signed by Hall of Famers. The lineup of cards each year varied in the artwork and the players selected, and while most are big-name stars, some are guys who had a brief touch with baseball immortality for a few seasons. Most of the early Perez Diamond King cards range from $1-$5. The exception would be the final year Perez did the Diamond Kings in 1996. The cards were numbered on the back to 10,000, which makes them more valuable in the resale market, selling from $5 to $20, depending on the player. It is not unusual at a big card show to find some in common boxes. Some Diamond Kings were also made as larger cards, available through the mail at the time. You occasionally see a few of these at shows. They can be a little pricier, as they are scarcer and numbered on the back.
I have always liked the art cards for getting nice, clean, collectible autographs. If the cards have been signed, of course, their value will probably shoot up, based on the player and what kind of a signer he is. As we know, once a player goes into the Hall of Fame, the price usually increases, and in some instances, the availability of the player to sign changes as well, usually based on what they are getting paid. All you have to do is look at the prices charged for them at The National. I scoured the internet, looking mostly for signed Diamond King cards from the '82-83 sets, and here are examples of some of the prices that I found: Phil Niekro (HOF) for $15, Tom Seaver (HOF) for $80, Gary Carter (HOF) $92, Kent Hrbek $23, Carlton Fisk (HOF) $70, Pete Rose $92, Willie Stargell (HOF) $120, Ron Guidry $32, Steve Garvey $42, Len Barker $5, Dwight Evans $50, and George Brett (HOF) $150. Unsigned cards of Brett were listed at $4-$5.
Perez-Steele Baseball Hall of Fame Postcards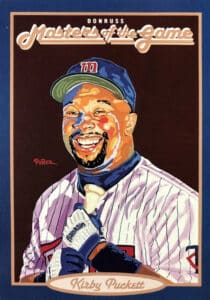 Starting in 1980, in conjunction with the Hall of Fame, Perez put out a series of art postcards. There were 253 in total, in 15 published series, running until 2001. Each card is of a Hall of Famer and numbered to 10,000. They can be purchased today, unsigned, with prices from $2 to over $100, depending on the player. When these cards came out, Mickey Mantle, Ted Williams, and Joe DiMaggio were still alive, and since they were all prolific signers, there are several cards available with their signatures. Looking on the internet and in card catalogs from top dealers, you can find DiMaggio for $200-$250, Mantle for $235-$500, and Williams for $150-$200. The most expensive one I saw was former Dodger catcher Roy Campanella for $700. Paralyzed in an automobile accident, it is said that he did sign items before his death with the help of an autopen, so you must assume that this is where they came from. There were several Yogi Berra and Whitey Ford cards running in the $50-$60 range, with Carl Yastrzemski for $100, Willie Mays for $150, and Sandy Koufax for $200.
Perez-Steele Baseball Hall of Fame Great Moments
These are my favorites. They come in 5¾" x 8" full-color cards with a greenish border and a gold nameplate. Designed after the original T-3 Turkey Red cards, they are each numbered to 5,000. On the back is a story about the Hall of Famer and the picture on the front. There are 96 of them, released in eight series of boxed sets from 1984-1993. Unsigned, they range from $4 to $60. The most expensive one I found is #87, featuring Willie Mays, Mickey Mantle, and Duke Snider, the three great center fielders who ruled New York in the 1950s. Signed copies of this one run in the $500-$700 range. There are some other cards that contain more than one player, including one of Jackie Robinson and Pee Wee Reese (#91), and one of the famed Cubs infield of Tinker to Evers to Chance (#40). I found some copies of the Robinson-Reese card, signed by Pee Wee, selling in the $60-$80 range. Some other signed cards were Joe Morgan ($60), Yaz ($80), and Willie Mays ($150). Duke Snider, Stan Musial, Yogi Berra, and Al Kaline sell in the $40-$80 range. To me, these are great deals on some of the best players in baseball history. You can purchase the different complete boxed sets online with the price depending on what cards are in the set.
One of my favorites is card #1 of Babe Ruth in a Red Sox uniform, which goes for about $20-$50, unsigned of course. Most everything you find of Ruth is as a Yankee, so I think it will make this one an even more valuable collectible in the long run.
If you are a serious art collector, you can purchase original artwork of Perez's paintings and prints, and his book, from his studio in Philadelphia (dickperez.com). Contact him at info@dickperez.com.
---
Barry Blair is an author/writer from Jonesborough, TN. Contact him at barryblair54@gmail.com or at www.rightfieldpress.com