By J.C. Vaughn
Marvel Comics #1 Joins the $1 Million Club
A CGC-certified 9.4 copy of Marvel Comics #1 has joined Action Comics #1, Detective Comics #27, and Amazing Fantasy #15 as the only comics to date to hit or top the $1 million threshold. The copy became the latest to cross the seven-figure mark when the hammer fell at Heritage Auctions' Comic and Comic Art Signature Auction on November 21, 2019. It closed at $1.26 million.
Marvel Comics #1 features the first newsstand appearance of Namor, The Submariner by artist Bill Everett, the introduction of the Human Torch by Carl Burgos, as well as stories featuring Tarzan knock-off Kazar, The Masked Rider, and The Angel. The contents appeared under a cover by pulp illustrator Frank R. Paul. The October/November 1939 issue, which is the highest-graded known copy, comes from the Windy City pedigree collection. Marvel Comics became Marvel Mystery Comics and ran 92 issues. The series ended in June 1949. Publisher Timely later became Atlas and eventually brought back the issueís name for their entire line of comics, Marvel Comics.

There had been speculation just a few months ago that a high-grade Captain America Comics #1 (1941) might join the $1 million club, but that has not happened to date. The $3.2 million racked up by a CGC-certified 9.0 copy of Action Comics #1, the first appearance of Superman, remains the highest price recorded for a comic book thus far.
For those keeping score, of the four different issues that have hit or surpassed $1 million, Action Comics #1 and Detective Comics #27 (the first appearance of Batman) are from DC, and Amazing Fantasy #15 (the first appearance of Spider-Man) and Marvel Comics #1 are from Timely/Marvel. That gives each publisher two in this rarefied club. However, since there have been multiple $1 million+ copies of Action Comics #1, it seems safe to suggest that DC still rules this particularly exclusive roost.
Other comic book highlights from this auction included Whiz Comics #2 (#1) CGC 6.0 finishing at $150,666, Batman #1 CGC 4.0 ending at $150,000, Superman #1 CGC 2.0 for $150,000, Sensation Comics #1 CGC 8.5 for $132,000, Captain America Comics #1 CGC 6.0 for $132,000, Amazing Fantasy #15 CGC 7.5 for $120,000 and Journey Into Mystery #83 CGC 9.2 for $120,000. A robust outing for comic books.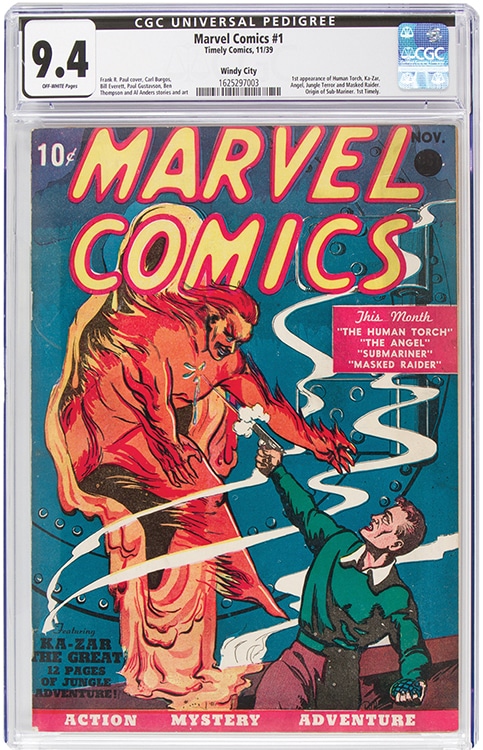 This CGC-certified 9.4 copy Marvel Comics #1 (October/November 1939), the highest-graded copy known, sold for $1.26 million at Heritage Auctions on November 21, 2019.
photo: Heritage Auctions.

Original Comic Art Also Goes Big at Heritage
The top sales in this Heritage Auction were not limited to comic books themselves. Original art more than held up its end of things. Leading the way, Neal Adams' original cover art for Batman #251 ("The Joker's Five-Way Revenge!") realized $600,000. This cover comes from the pivotal story in which the writing and art team of Dennis O'Neil and Adams revived a scarier version of the Joker. This surpassed Heritage's previous record for Batman original comic art, by topping the Batman: The Dark Knight Returns #2 cover by Frank Miller, which sold for $478,000 in 2013.
Robert Crumb's Your Hytone Comix #nn (no number) original "Stoned Agin!" inside back cover art ended at $690,000; Crumb is a leading underground comix artist, and collectors are always on the hunt for artwork from "Stoned Agin!" The piece represents Crumb at the height of his popularity, featuring an excellent display of his trademark inked hatching.
Several Jack Kirby pieces also crossed the auction block, including the Kirby/Syd Shores original cover art for Captain America #103 which ended at $288,000, the Kirby/Chic Stone original splash page for Fantastic Four Annual #2 for $288,000, and the Kirby/Stone page 11 from Fantastic Four Annual #2 for $180,000.
Movie Posters Score As Well
Heritage immediately followed up their comics event with a November 23-24 Movie Posters Internet Auction which contained a bevvy of desirable vintage posters from musicals, dramas, horror, and more. The results topped out at $2,504,814, which made it their highest grossing movie poster auction of the year.
The Dracula jumbo lobby card, which is a scarce size that was only printed in a very limited number, took a big bite at $192,000. This example is even more exceptional because it once belonged to Bela Lugosi, the actor known for playing the film's title role.
One of Universal's extremely popular monsters took another top spot when the Frankenstein lobby card reached $78,000. Boris Karloff's gaunt expression from the test shot before makeup artist Jack Pierce finalized the monster's makeup is the central image on this card.
The first post-war release of Casablanca was highlighted with three Italian photobustas. A lot of two depicting Humphrey Bogart, Ingrid Bergman, and Madeleine Lebeau closed at $90,000 and a single photobusta of Bogart, Dooley Wilson, and Sydney Greenstreet went for $78,000.
The Road to Overstreet #50
We've known for quite a while that 2020 was going to be a special year for The Overstreet Comic Book Price Guide since it's the book's Golden Anniversary. Our team at Gemstone has been preparing a number of special publications including a facsimile edition of CBPG #1 and a companion book called Overstreet @ 50: Five Decades of The Overstreet Comic Book Price Guide.
One of the best parts about these projects and CBPG #50 itself has been hearing from dealers and collectors who have seen the Guide's influence over the years. One of those folks is Buddy Saunders, founder of Lone Star Comics and MyComicShop.com, a true industry leader in many respects.
"When Bob Overstreet brought his new baby, The Comic Book Price Guide, into the world, I was 23 years old. Now the Guide has turned 50 and I'm 72. I like to think both of us have held up pretty well over those 50 years, years that have seen many changes in comic book collecting and in the comic book industry as well," Saunders said.
J.C. Vaughn is the Vice-President of Publishing for Gemstone Publishing. Gemstone's Carrie Wood and Amanda Sheriff contributed to this piece.