More Tarzan: Rare Hal Foster Tarzan Original Strip Art Discovered
Comic Character Collectibles
By J.C. Vaughn
Our previous column was focused on the centenary of the first appearance of Edgar Rice Burroughs best-known creation–Tarzan. Almost as if on cue, an incredible piece of original Tarzan art has surfaced with distinct appeal to at least three groups of collectors.
ComicLink.com, a comic book auction house which in recent years has made significant inroads into the realms of original comic book and original comic strip art, has announced a November 2012 sale for the first Sunday page depicting Tarzan's origin. The bidding will go live on their site on November 14.
First published in 1933 but often reprinted as new papers added the Sunday Tarzan to their rosters, the 26 inches x 20 inches piece was illustrated by Hal Foster. While the widely acclaimed Foster is better known for his long running work on his own strip, Prince Valiant, he started on the Tarzan daily strip January 7, 1929 and continued on it until just June 10 of that year, when Rex Maxon took over.
He returned to create the Tarzan Sunday strip for a long and influential run that began September 27, 1931 and continued until May 9, 1937 when he left to do Prince Valiant and another acclaimed artist, Burne Hogarth, took over the Sunday Tarzan.
Renowned for his attention to detail and story telling on both epic and extremely personal scales, Foster's line work has been admired for decades. Along with Hogarth's, it continues to inspire artists today, particularly those illustrating contemporary adventures of the Lord of the Jungle.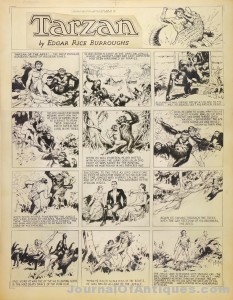 This piece was recently uncovered by Jonathan Levey, son of Harris Levey, who was an artist during the Golden Age of comics (late 1930s – mid-1950s).
"I am very excited that this historically significant and wonderfully illustrated piece of Foster Tarzan artwork will finally see the light of day, after being hidden for so many years. I only recently discovered it in an old box of my late father's belongings in our basement, after so many decades – initially, I didn't even know what it was!" Jonathan Levey said.
Tarzan collectors may via with Foster enthusiasts and general original comic art fans for this iconic piece.
"Our consignor is offering here the most important Tarzan original artwork that we have ever seen, and very likely the most important Tarzan newspaper artwork extant," said ComicLink's founder and President, Josh Nathanson.
"This exceptional, Hal Foster Tarzan Sunday artwork presents Tarzan's origin and early life spelled out in detail; from his rescue by a she-ape as an infant, to his education and struggles among the pack, through his ascension to the primate throne, his aborted return to England as the Lord of Greystoke, and his return to sovereignty in the savage land. This piece sums up the major details of Tarzan's history in a single Sunday and it also dates from a prime period of Hal Foster's run on the legendary strip, 1933, right as he was hitting his true stride with the King of the Jungle," he said.
"In 1933, the success of the Tarzan strip was booming, with many papers picking it up as a major feature for their Sunday pages. The decision was made that it would be helpful for Foster to produce a Sunday strip that could serve as an introduction to Tarzan and his adventures when a new paper picked it up," he said.
According to Robert R. Barrett's 2002 book Tarzan of the Funnies, "On February 28, 1933, George Carlin [the strip's writer at the time] sent Ed [Elser, of United Feature Syndicate] the proof of a Sunday page which encapsulated the origin of Tarzan, with an explanation: 'Some of our subscribers, in starting the Tarzan Sunday page, complained to us that they had no introductory page that told their readers of Tarzan's background. In response to demand for such an introduction, we (had Hal Foster) prepare a page to be run in black and white in advance of the regular color page release.'"
Comics historian, writer, and former Marvel Comics editor-in-chief Roy Thomas, helped identify the piece.
"It's wonderful to see that this Tarzan intro strip by Hal Foster was recently discovered, as it is of great historical importance," he said.