Comic Character Collectibles
By J.C. Vaughn
Just a matter of weeks ago, New York-based ComicConnect.com sold a CGC-certified 4.0 copy of Detective Comics #27 for $475,000. In that grade, the previously recorded high for the issue, which features the first appearance of Batman, was $287,000. As it turns out, they weren't done making new with the high profile issue, since on June 1, 2015 they sold a CGC 6.5 copy of Detective Comics #27 has sold for a record $725,000.
The company can lay claim to selling eight of the top ten comics and purchasing the most expensive one to date, according to Vincent Zurzolo, Chief Operating Officer of ComicConnect and its sister company, Metropolis Collectibles.
"I think the prices we have been able to achieve for Detective #27 are jumps that will now set the new floor for these grades and increase the value of other copies," Zurzolo said.
Title / Issue #    Grade Price Realized    Seller
Action Comics #1     9.0     $3.2 million     Pristine Comics
Action Comics #1     9.0     $2.1 million    ComicConnect
Action Comics #1     8.5     $1.5 million    ComicConnect
Amazing Fantasy #15     9.6     $1.1 million     ComicConnect
Detective Comics #27     9.0     $1 million+     Heritage Auctions2
Action Comics #1     8.0     $1 million    ComicConnect1
Detective Comics #27     6.5     $750,000     ComicConnect
While each deal must be evaluated on its own merits, Zurzolo said his long-held bullish attitude about the market for rare, vintage, high grade collectible comics continues to be strongly optimistic.
"I have stated for years that we are nowhere near the top of the market on key issue vintage comics. When you see what pop and fine art sell for at auction, you realize that comics have a long way to go," he said.
In their release announcing the sale, the company said that the seller had met his goal for return on investment with the issue and was ready to pass the torch. With the increasing number of five-, six-, and even seven-figure transactions, does this indicate that buyers of high dollar comics are simply looking to turn a quick profit? Zurzolo said he doesn't think that's the case.
"The buyers are usually in it for mid to long term periods. Most are doing this because they love the books they are buying. The investment aspect is important, but I believe it is secondary," he said. "When I approach them with big offers, some will make the sale, take the money and find a next 'dream book' for their collection."
How would he define the trends rare, vintage high grade comics at the moment?
ìThe market is so strong and we are constantly seeing new people coming into the market. Their budgets vary, but there are people interested in all areas of the market. We are seeing collectors and investors flocking to books from the last 25 years now with many buyers going after keys issues from the ë90s,î he said.
The last few weeks have seen a number of negative economic indicators for the mainstream economy. The last time there was a major downturn, the upper echelons of comics dealers seemed to shrug it off as they started setting high-end records.
ìI think if the economy does well, people have more discretionary income to spend in the comic market. If the economy is on a downturn, people look to the comic market as a safe place to put their money. That is what happened during the recession and could happen again if the economy has another downturn. Everyday there are new people coming into the market. People love comics. The nostalgia, escapism, entertainment, growth potential and profitability are all very appealing,î Zurzolo said.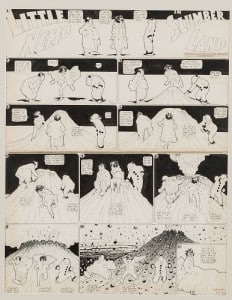 Heritage May Comics, Art Auction Hits $6 Million
If ComicConnect has made a track record with high end individual comics, no less impressive is Heritage Auctions string of robust cumulative results. The latest in their line of strong performances came with the Comics and Comic Art Signature Auction over the May 28-30, 2015 weekend when it brought in $6 million.
Alex Raymond's original art for the March 21, 1939 Sunday page for Flash Gordon and Jungle Jim Sunday topped the event at $155,350. Another Raymond Flash Gordon strip, the Sunday, July 12, 1936 edition, sold for $89,625.
While Raymond's work on Flash Gordon, Jungle Jim, Secret Agent X-9 and Rip Kirby has long brought high prices, a bit more of a surprise – though long, long overdue – was the results for Winsor McCay's original for the Sunday, July 19, 1909 Little Nemo in Slumberland. The $131,450 realized constitutes a new record paid for the pioneering creator's work.
In addition to the continued performance of the original comic art market witnessed at the Heritage event, comic books themselves continued their march. Included in the top results were a CGC-certified 8.0 copy Detective Comics #33 ($83,650) and CGC 4.5 Batman #1 ($77,675).
GEM's Steve Epting Originals Extended
The exhibit of artist Steve Epting's original comic art from Marvel's Captain America, which inspired the film Captain America: The Winter Solider, has been extended through July 31, 2015. The exhibit formally kicked off with an invitation-only party on Friday, June 5. A selection of covers and interior art from the collections of Nick Katradis and Jason Versaggi form the centerpiece of the presentation. Beyond regular museum admission, no additional charge is required to see the exhibit.
Continue Finding Records