14th century painting, $50,000, Doyle N.Y.
Gavels n Paddles
Recent Auction Results from Near and Far
By Ken Hall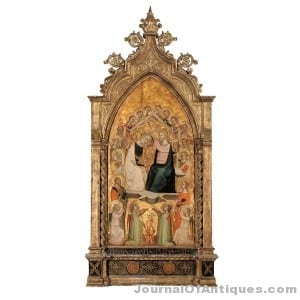 A tempera and tooled gold on panel depiction of The Coronation of the Virgin with Saints and Angels, by the Master of the Christ Church Coronation (Florentine, 14th century), sold for $50,000 to a European buyer at an auction held Jan. 29 by Doyle New York in New York City. A section of the sale was devoted to the collection of legendary Maestro Arturo Toscanini. It was an auction of Important English and Continental Furniture and Decorations, including Old Master Paintings. The sale grossed over $1.7 million. The price includes a 25 percent buyer's premium.