Camille Faure vases, $33,750, Doyle N.Y.
Gavels 'n' Paddles
Recent Auction Results From Near & Far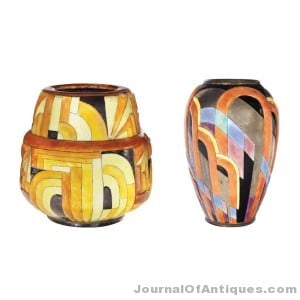 Two Art Deco enamel on metal vases by Camille Faure (Fr., 1874-1956), decorated in colorful geometric patterns, sold for $33,750 at a Doyle + Design Auction held Oct. 16 by Doyle New York in New York City. Also, a circa-1957 Surrealist flatware service designed by Salvador Dali and marked by Pierre Hugo (Paris) chalked up $21,250; a mahogany and brass bar cabinet with fitted interior designed by Tommy Parzinger brought $21,250; and a wood and gold necklace by Louise Nevelson commanded $12,500. Prices include a 25 percent buyer's premium.