The International Quilt Museum at the University of Nebraska-Lincoln is home to the world's largest publicly held quilt collection. With quilts spanning five centuries and more than 55 countries, the museum is focused on creating an encyclopedic collection. That is, a collection that represents the depth and breadth of quilts and quilt making traditions throughout history and around the globe.
The Collectors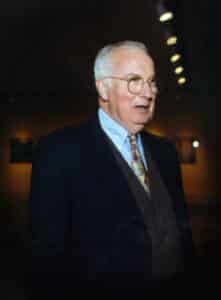 One of the gems in the IQM's world-class collection is The Collection encompasses 156 quilts made by African-American women primarily from Alabama. More than 32 quilt makers are represented in this collection, including folk artists Nora Ezell, Mary Maxtion, Lureca Outland, and Yvonne Wells.
While most of the quilts were made during the last quarter of the 20th century, the collection also features significant pre-1950 works. Many of the quilts were purchased directly from the makers. A professor at the University of Alabama and the owner of the Folk Art Gallery in Tuscaloosa, Robert Cargo came to know them well as he visited and photographed them at work in their homes. This documentation of the makers and their quilts makes this collection particularly significant. In most cases, collectors do not have specific provenance for antique quilts.
Cargo began building his collection of Alabama quilts in the late 1950s after inheriting a number of quilts from his great-grandmother. He decided early to focus his efforts primarily on Alabama quilts and assembled a collection that became widely regarded as one of the most important quilt collections in the United States. Starting around 1980, Cargo concentrated more on African-American quilts from Alabama with a few examples from several other states of the Deep South.
"As a group, these quilts have the qualities that excite me as I grow older – bold, eccentric, idiosyncratic, improvisational, brightly colored," Cargo said in an interview.
Heritage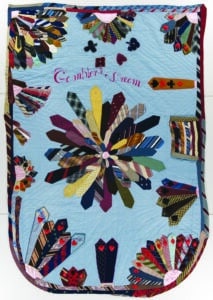 African-American quilts are a critical segment of quilt history. They reflect the diverse traditions that merge to form our American quilt heritage. African-American quilts come in every imaginable style: traditional patterns and original patterns, bold colors and subdued colors, and pieced quilts and story quilts. Like all American quilts, they vary from region to region, from era to era, and from person to person.
Nora Ezell
The late Nora Ezell is among the best-known quilt artists in the Cargo Collection. After receiving widespread attention in the early 1980s for her quilt dedicated to the life of Dr. Martin Luther King, Jr., Nora Ezell went on to show her quilts at Stillman College and at the Alabama Artist's Gallery. Most notably, she received a National Heritage Fellowship from the National Endowment for the Arts. You can see her work in her 1998 book, My Quilts and Me published by Black Belt Press.
Her quilts are often lively, colorful explorations of traditional pieced patterns."You can find joy in anything you do. It makes me feel so good to make a pretty quilt and have someone enjoy it," Ezell said in an interview. "A lot of people have asked me about my colors. I don't care about color combinations. I do what looks good, but I keep the pattern in mind."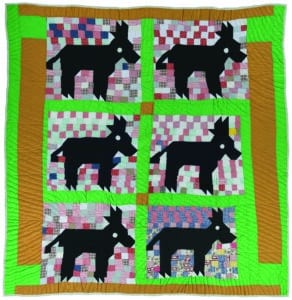 Lureca Outland
Lureca Outland is another artist featured in the collection. The late maker learned to make quilts from her mother as a teenager. Sometimes they filled their quilts with old clothing and sometimes with cotton left from ginning.
Lureca grew up working in the cotton fields and only was able to go to school when the harvest was over. As an adult, she continued to make quilts, and in her later years, she and her friend, Mary Maxtion, made quilts with a senior citizens group.
"I did not make fancy quilts until after I joined a senior citizens quilting group with Mary Maxtion," Outland said in an interview. "Sometimes she quilts with me."
This was a fruitful time for her, as she created dozens of bold and quirky quilts.
Yvonne Wells
Artist Yvonne Wells was a Tuscaloosa physical education teacher for many years. She began making quilts in 1979. She started with traditional, repeating block patterns but soon moved into telling stories with her quilts. She cuts figures out directly from fabrics, creating scenes and imagery that reflect her view of the world.
Her work came to the attention of folk art lovers when she won a "Best of Show" award at the prestigious Kentuck Festival of the Arts in Northport, Alabama, in the mid-1980s.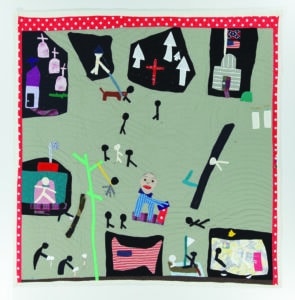 "I still think what I'm doing is just 'plain old Yvonne,'" she said in an interview. "And when somebody else sees my work, it touches my heart."
Today, she is known for work like Yesterday: Civil Rights in the South, which presents her remembrances of living in Alabama in the turbulent 1960s.
The Collection
Selected quilts from the Robert and Helen Cargo Collection of African-American quilts have been exhibited at the Museum of American Folk Art in New York, The National Humanities Center in North Carolina, and the Smithsonian Institution in Washington, D.C., and are featured in several publications including Quilts: A Living Tradition by Robert Shaw.
The collection came to the museum and university as a joint gift from the Cargos as well as collectors and philanthropists Robert and Ardis James.
The International Quilt Study Center was established in June 1997 when native Nebraskans Ardis and Robert James donated nearly 1,000 quilts to the University of Nebraska-Lincoln. In 2008, the IQSC opened a museum, now known as the International Quilt Museum. Located on the University of Nebraska-Lincoln campus, the museum holds a number of gallery and educational spaces as well as state-of-the-art textiles storage.
Accredited by the American Alliance of Museums, the IQM's mission is to build a global collection and audience that celebrate the cultural and artistic significance of quilts.
To learn more about the International Quilt Museum's collections, exhibitions, research, and programs, visit internationalquiltmuseum.org.