Guess What – August 2014
Hob-(k)nobbing in society
by Bob Cahn – "The Primitive Man"
Over the years and our many GUESS WHAT get-togethers, we've been extremely parsimonious (stingy) with our advance hints and clues, so why should this month be any different?
We came across this round semi-folk art relic with faded red and blue vegetable dye coloring, hand-forged iron knobs resembling rugged drawer pulls — with the larger center one having the look of a door knob.
The 15″ diameter board is approximately 1″ thick and can take punishment if necessary. We're offering these suggested uses, more to confuse than to inform, with the correct answer buried amongst.

Is it:
1.) Folk art bazaar necklace display stand
2.) African open field ring toss bulls-eye hand target catcher.
3.) Wig maker's human hair sorting frame
4.) Indian tribal trophy scalp display plaque
5.) Taxidermist's skin stretching/drying rack
6.) Donut/bagel baker's hole puncher
7.) Pretzel maker's hand twisting station
8.) Booty knitting yarn color arranger
9.) Big game hunter's hide softener
10.) Pasta maker's linguine drying frame
11.) Puppeteer's small creature wardrobe hat stand
12.) Country diner dishwasher's drinking glass drying drain rack (used in flat position)
13.) Early drawer/cabinet pull-knob hardware store display
14.) Red vine licorice candy kitchen pre-packaging pegs
15.) Porcupine dead quill back scratching post.
Time's up. Answer next month. 'Til then!*
*Many thanx to Jennifer Price Studios, Cedros St., Solank Beach, Ca. for their gracious participation.
Answer to July's Guess What
What we presented last month was a country store bulk chunk cheese cutting computer scale. By pre-setting, one would know how large a piece was about to be lopped off and weighed simultaneously — as ordered by the customer.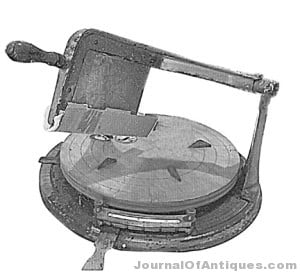 This scale was patented on May 12, 1903 by the Computing Scale Co. of Dayton, Ohio.*
*Many thanx to Bruce Nordstrom of LaHabra, Ca. for graciously making this available at Mike Grimes Delmar Antique Fair, Delmar, Ca.