Comic Character Collectibles
By J.C. Vaughn
For many years, it seemed as if Philip Zolli, Jr.'s site, The Atlas Archives (atlasarchives.com), was the only place for fans of the short-lived Atlas-Seaboard line of comics to find their collecting niche researched, explained, and celebrated. For such collectors, Zolli's efforts fanned the flames of fandom and gave common ground to their small-but-dedicated number.
I shouldn't say "their small-but-dedicated number." I should say "our small-but-dedicated number." I've been an Atlas-Seaboard fan since I picked up IronJaw #1 and #4 in a trade in 1976. Little did I know those two issues – thrown in by a classmate to sweeten a deal – would lead me to one of my collecting obsessions or into a friendship with Phil.
And now he's gone. Just shy of his 58th birthday. Heart attack.
The Atlas line was an imprint of Seaboard Periodicals, which was owned by Marvel Comics founder Martin Goodman and his son, Charles (or Chip). In between the days when Marvel began as Timely Comics and their 1960s adoption of the Marvel name, the company was called Atlas. It was Martin Goodman's grandson, Jason, who told me of our mutual friend's passing.
When Martin Goodman sold Marvel in the late '60s, he kept the Atlas name, and when he later had a falling out with the new owners, the new Atlas was born (and quickly christened "Atlas-Seaboard" by experienced collectors to differentiate it from the first one).
With a mix of strong original concepts and others that seemed like potboiler interpretations of the popular characters of the day, Atlas brought together established professionals and up-and-coming creators. By paying top rates, the company attracted creators such as Russ Heath, John Severin, Alex Toth, Walter Simonson, Ernie Colon, Neal Adams, Pat Broderick, Mike Ploog, Rich Buckler, Frank Thorne, Tony Isabella, Jeff Jones, Boris Valejo, and others.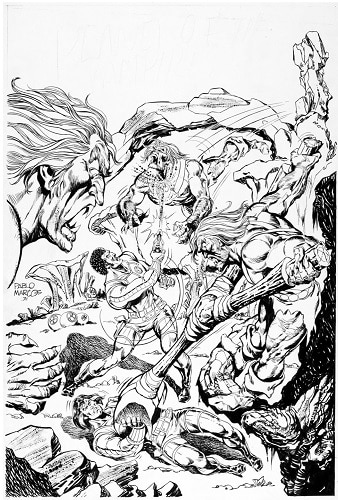 One series, The Destructor, featured longtime Warren, Marvel and DC editor Archie Goodwin as its writer, Spider-Man and Doctor Strange co-creator Steve Ditko on pencils, EC veteran and T.H.U.N.D.E.R. Agents creator Wally Wood on inks, with Marvel veteran Larry Lieber (one of the Atlas editors and Marvel impresario Stan Lee's brother) providing the cover. Others saw relative newcomers such as Larry Hama on Wulf The Barbarian and Planet of Vampires and Howard Chaykin on The Scorpion strut their stuff.
For a few months, the fledgling firm stood toe-to-toe with industry giants Marvel Comics and DC Comics, temporarily altering how the big two approached their creators. Just as suddenly as they arrived, however, they were gone.
All of the ins and outs may never be known – although Jon Cooke's superb Atlas issue of Comic Book Artist covers a lot of the bases – but it's generally acknowledged that sales figures from the newsstand were horrendous. While many of those who avidly collect the Atlas-Seaboard line today were among the kids who found them on the spinner racks originally, many other collectors simply never saw them because their distribution was so haphazard. Whatever the reasons, the Atlas line ended. A handful of their series-The Destructor, IronJaw, Phoenix, Vicki, and Wulf The Barbarian-reached their fourth issues. Most had fewer and a number of them only had one.
Given the company's short life and the more than three and a half decades since the comics last appeared, it would have been reasonable to expect them to reside in the depths of forgotten collections. As it turned out, though, that hadn't been the case.
Many fans, dealers, and comics historians remembered the Atlas titles and have kept the flame alive. One of those fans was Phil Zolli.
Phil created the Atlas Archives website, which served as a focal point for everything Atlas-related. His personal collection included every known Atlas-Seaboard comic book, comic magazine, a mostly unknown magazine, original comic art, color guides, and more. It even included articles I had written or co-authored.
More importantly – and more representatively – he freely and enthusiastically shared this material with Diamond International Galleries' Mike Wilbur and me when we served as guest curators for Geppi's Entertainment Museum's "Atlas At Last!" exhibit, which was timed to the brief 2011 revival of the three Atlas titles and a number of their characters.
Those who attended the exhibit got to see the display of the full run of the original 1974-1975 Atlas line of comics and magazines, original comic book art, sketches, and other material. Zolli's artwork and My Secret, the rarest of the magazines, were prominently on display beginning Friday, March 11, 2011. Atlas At Last! was originally slated to end May 29, then it was extended until September 18, then October 1, and finally November 7 of that year. Among his original art pieces in the limelight were two unpublished covers, Planet of Vampires #4 by Pablo Marcos, and an undesignated Phoenix piece by Sal Amendola.
On behalf of Steve Geppi and everyone at the Geppi family of companies, our condolences to his wife, Janet, his children Nicole, Christopher, and Joanna, his extended family, and his many friends.
Atlas wasn't the only thing Phil collected, and I can only imagine he was the same about his other passions. I can't claim to have known him incredibly well, but I knew him well enough to like him, to see him regularly at conventions, and to share conversations that were realistic without being cynical about this potential-filled, tiny niche of collecting.
I know that his passing diminishes those of us who shared the Atlas-Seaboard bond with him, just as I am certain that every area of collecting could use at least one more Philip Zolli.
J.C. Vaughn is Vice-President of Publishing for Gemstone Publishing. Gemstone's Amanda Sheriff and Carrie Wood contributed to this column.
In Memoriam: Philip Zolli, Jr.