Comic Character Collectibles
By J.C. Vaughn
Although it never truly lived up to its potential or even the company's own hype, Martin Goodman's ill-fated Atlas line of comic books from Seaboard Periodicals in the mid-1970s has fascinated collectors and historians in the field for decades. Back in 2011, Geppi's Entertainment Museum hosted "Atlas At Last!" a retrospective on the company's efforts.
Even with the company's short lifespan – less than a year – in comic book circles, the name power alone of the creators who were involved with Atlas demands attention. If the August 24-27, 2015 Comics and Comic Art Signature Auction at Heritage Auctions is any indication, maybe others are coming to realize it's worth a serious look from collectors.
Topping the results of the Atlas offerings, Al Milgrom and Dick Giordano's 11″ x 17″ original cover art for Morlock 2001 #1 sold for $8,066.25. All prices include Heritage's 19.5% buyer's premium.
Frank Thorne's art has performed well in a number of events over the past year. That trend continued in this auction, garnering the second, third and fifth ranking for the category. His cover for Cougar #1, a piece with a 12.5″ x 18″ image area, closed at $5,258. The artist's cover for Tales of Evil #2 featuring Bog Beast and measuring 14.5″ x 21.5″, realized $5,019, and his 13.5″ x 21.5″ cover for Targitt #2 sold for $3,704.50, which might be a bit under market for his recent sales.
Larry Lieber, Frank Giacoia and Pablo Marcos were also well represented in the results. Lieber and Giacoia's cover for Destructor #2 went for $3,943.50, their cover for Tiger-Man #3 totaled $3,824, and their cover Weird Suspense #2 featuring the Tarantula sold for $2,390. All three had 10″ x 15″ image areas.
Rich Buckler and Al Milgrom's cover for Targitt #3 closed at $2,031.50, a solid price for those creators on a little-recognized title.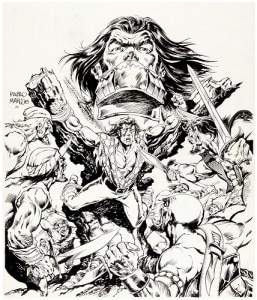 Grim Ghost, The Scorpion, Tiger-Man, The Destructor, Tarantula, Sgt. Stryker and other characters were featured in Ernie Colon's original Atlas house ad art. The piece appeared in Thrilling Adventure Stories and in Devilina #1, and it brought in $1,314.50.
Also in the auction, Mike Sekowsky and Pablo Marcos's page 3 splash page from The Brute #1 sold for $806.63, an unpublished Sal Amendola cover for Phoenix went for $776.75, and Pablo Marcos' cover for the unpublished Planet of Vampires #4 realized $657.25.
It was Marcos' original for Ironjaw #4 that was probably the steal of the auction, though. It sold for $1,553.50, and like all the pieces in the offerings it carried with it an interesting bit of history.
Among the many charms of the sometimes forgotten publisher, which produced 72 issues of full color comic books and black and white comic magazines, was that their cover designs were created to look like Marvel Comics issues of the day. And there was good reason for that.
It was 1975 and former Marvel owner and publisher Goodman had sold the company, but he believed the new buyers hadn't lived up to their end of the deal. So Goodman had decided to start over with Atlas, the name which he had used for his company after it was called Timely and before it was called Marvel Comics. In his sale of the firm, he had kept the Atlas name. Collectors refer to it as Atlas-Seaboard to differentiate it from Goodman's 1950s era Atlas.
The results of the company's efforts were a mixed bag, but some of the material was truly enjoyable and the talent the company attracted automatically makes it worth the time of enthusiasts of the period to check it out.
One of the company's best titles was Ironjaw, a sword-slinging barbarian in a distant, post-apocalyptic future. Living for battle, he was hired by rebels to help overthrow a tyrannical king. In succeeding at that assignment, Ironjaw discovered his true heritage, that he was son of the previous, true king. Instead of sticking around, he ducks out so he can continue his wandering lifestyle.
The first issue was written by Mike Fleisher with art by Mike Sekowsky and Jack Abel. Fleischer continued for the second and third issues, joined by artist Pablo Marcos. Ironjaw #4 was written by Gary Friedrich and illustrated by Marcos, who also provided the fantastic cover.
The series had some solid covers, including the first two, which are credited to Neal Adams, and the third, which was another piece by Marcos, but it's Ironjaw #4 where it all comes together.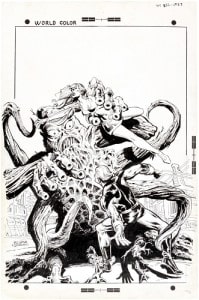 The July 1975 cover-dated issue features Ironjaw as readers had come to know him looking out over a scene from his origin. The first cover blurb made it clear: "And now – The Origin of Ironjaw!" Great, evil-looking bad guys had the pre-Ironjaw hero tied to a tree and you just knew no good was going to come from it.
The dynamic cover was made even more appealing with its trade dress, which made it very effectively look like a Marvel issue of the day. Deceptive, sure, but in hindsight it's difficult to say that the move didn't work, at least a little bit. The whole Atlas-Seaboard line collapsed, though, and that, as they say, was that. Ironjaw #4 was the last issue of the series.
A brief revival of three of the company's titles was offered in conjunction with another publisher in 2011, but Goodman's grandson Jason still sees potential in the characters today. In the creative environment of the comic book market today, it's hard not to share his opinion… particularly now that the secondary market is finally taking notice.
At Long Last, Recognition: Atlas-Seaboard Art Soars