Glass Magic: Then and Now
On Exhibit through May 1
Columbus Museum of Art. Columbus, Ohio
The Columbus Museum of Art is currently featuring an century-spanning exhibition on glass titled "Glass Magic: Then and Now." Bringing together a collection of ancient glasswork from the Israel Antiquities Authority with the Museum's own holdings of modern and contemporary works, the exhibition shows how the same ingredients can yield dramatically different and beautiful forms.
Glass has been a staple of decorative art and personal adornment going back more than 4,000 years. With its origins in Mesopotamia, glass was created by mixing and fusing sand, soda and lime. Beginning with luminescent beakers, cosmetic jars, and jewelry manufactured during this ancient period, the exhibition moves swiftly into the art nouveau, featuring exquisite examples from the museum's collection of 19th century vases, bowls and lamps. Artists such as Louis Comfort Tiffany and Émile Gallé are represented, and their works are considered amongst the finest art objects in the museum's collection. They will be shown alongside modern and contemporary masters of the craft including Harvey Littleton, William Morris, and Dale Chihuly.
Juxtaposing ancient and modern allows for the viewer to understand how this craft has endured throughout millennia, with a fresh perspective on changing styles, form and attitudes toward glass. Running until May 1, 2016 "Glass Magic: Then and Now" is on view at the Columbus Museum of Art. Open Tuesdays through Sundays from 10am to 5pm (Thursday nights until 9pm), the Museum charges $14 for adults, $8 for seniors and students, and is free for children 5 and under.
Hot Spots: Contemporary Glass from Private Collections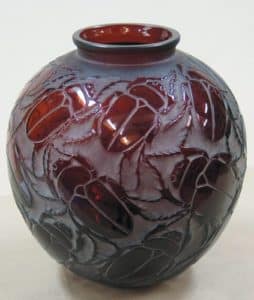 On Exhibit April 15 – September 18
Toledo Museum of Art. Toledo, Ohio
The Toledo Museum of Art will showcase diverse private collections of studio glass in an upcoming exhibit "Hot Spot: Contemporary Glass from Private Collections," opening April 15th 2016 and running through September 18th, 2016. Housed in the Glass Pavilion, the exhibition features North American, European, Australian and Asian examples of studio glass – more than 80 individual works, with some never before shown in public. The show also marks the 10th anniversary of the opening of the Toledo Museum's Glass Pavilion, and shines a light on the impressive legacy of glass at the museum.
Fittingly, a major name in the exhibition is Harvey Littleton, who received support from the Toledo Museum of Art's director when the artist first began his career in the 1960s. The advent of studio glass also coincides with the museum's efforts to build a facility and studio dedicated to and designed specifically for teaching glass technique in 1969.
Littleton's works will be shown alongside notable craftsman including Joyce Scott, Nicholas Africano, Tom Moore, Kimiake Higuchi, Preston Singletary, Debora Moore, and Tobias Møhl. Glass works will be featured in eight thematic groups – the human figure, animals, plants, landscapes, vessel forms, the spirit world, abstract forms and space. The exhibition connects both past and present and ensures the role of the Toledo Museum of Art in the legacy of the studio glass movement.
"Hot Spots: Contemporary Glass from Private Collections" will open on April 15th, 2016 at the Toledo Museum of Art and end on September 18th, 2016. The museum is open Tuesday through Sunday, and admission is free for any individual.
Museum Highlights: April 2016