by Deborah Abernethy and Mike McLeod
$11,090 (26 bids): Authentic 1786 George Washington-Signed Document.
The majority of the rare autographed items we are listing tonight were found among a large collection of books hidden in the attic of a Massachusetts home. The owner had thought all these years that their home didn't even have an attic, never mind that there were treasures hidden up there.
Framed under glass, just as we found it, this document was stabilized in the early 20th century. It was mounted on archival tissue paper and framed with glass on both sides in a 9 x 9.75-inch oak frame. At the top of the document, it reads, "The Estate of John P. Custis." John Parke Custis was the stepson of George Washington. There is a list of payments to several people and the State of Virginia. At the bottom, the document says, "By Ball: Due Geo. Washt. EE G. Washington." This George Washington signature measures 4 inches long by .75 inch tall, and it is bold and clear. After looking at the name "Washington" written in several other places, I am starting to believe this entire document is in his hand. Fresh to the market, this document needs to be properly researched by experts. (Photo, eBay seller wwolst12.)

DBA:
  Is this a good buy?  The key to this is the last sentence: "Fresh to the market, this document needs to be properly researched by experts." If this is a genuine George Washington-signed document written in his hand, it would be worth more than twice as much as this document. So if the experts decide that this is a real George Washington document, it is a really good buy. If it is declared not to be authentic, then someone has lost some money.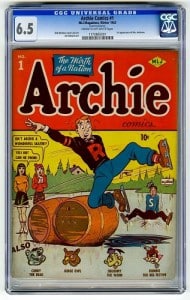 $62,778 (44 bids): Archie Comics #1 CGC 6.5 Jughead, Betty & Veronica Montana MLJ Golden Age Comic.
Archie #1 is one of the hottest Golden Age #1 issues today and is currently ranked as one of the top 20 Golden Age comics based on the Overstreet Comic Book Price Guide. Archie #1 is rising faster than any other Golden Age #1 over the past three years with the Overstreet guide value doubling in the past three years. Investment potential is very strong with this 6.5 copy as Archie #1 is nearly non-existent above 5.0 with only four copies certified, including this beautiful 6.5 copy. Only two copies are certified higher. This 6.5 copy presents like a higher grade and has a beautiful, clean cover. The highest graded copy at 8.5 sold for $167,300 in Feb 2011. A CGC 5.0 sold for $34,000 in December of 2010. The comic up for auction here is worth a substantial premium of what a 5.0 sells for considering the fact that no 5.5 or 6.0 copies are certified. (Photo, eBay seller sparklecitycomics, which buys collectibles and large and small comic collections in any price range in any state at the seller's residence with immediate payment. Info: Brian at 201-923-1230.)
DBA:
The description has a grading system listing of 6.5. Comic books are graded based on condition, rarity and marketability. A near-perfect comic book would be 9.9.  A Fine/Very Fine copy would be rated 7.0 and could be a well-read copy with slight defects. A grade of 5.0 would be a complete book but would have some defects, like yellowing or scuffing. It would be a complete copy with no pages missing.
This comic book sold on eBay is a certified copy with a grading of 6.5.
Heritage Auctions sold an 8.5 certified copy in February 2011 for $167,300 which is the highest amount paid for a non-superhero comic book. Note that the original cost for this comic book was ten cents.
This is a good buy as it is already certified.
$10,225 (29 bids): Rare No 3000 1928 Buddy L Tugboat 28 Inches Long Completely Restored.
It is an original 1928 Tugboat made by Buddy L that has been completely restored as shown. Displays beautifully. This tugboat is 28 inches long and 10.75 inches high. The air motor is missing, as almost all are. (Photo: eBay seller electricattic,
www.electricattic.com.)
DBA:
Buddy L is an American toy company founded in 1920 in East Moline, Ill., by Fred Lundahl. His son was called Buddy, and he first made a toy dump truck out of steel straps for Buddy. He went on to make "toys for boys" out of pressed steel. During the Depression, he sold the company. These early toys are very collectible.
A red tugboat, thought to be a salesman's sample, sold in 2011 for $23,000. Similar tugboats to this one that was sold on eBay will sell for $9,000 to $12,000, so this would be considered to be market value for such an item. These are so rare that most are sold at auction rather than in retail stores.
$667 (15 bids): Figural 3D Victorian Hand Gas Wall Lamp Light Sconce.
This interesting light was probably once a gas light, but it has since been electrified. It has a bronze or brass look; however, I believe the metal is die-cast zinc. The actual age of the light and base metal is unknown. A magnet will not stick to the hand. Around the top part of the light, there appears to be the letters SBACH or S BACH and some numbers. I'm not certain that the top part of the lamp and base are original to each other or if they are married pieces. The hand would stick out a little over 6 inches from the wall, and the total height is about 16.5 inches from tip to tip. The hand looks to be fitted with a Victorian cuff. The hand measures 3.5 inches long by 3.75 inches tall. The piece shows a good deal of wear, discoloration, oxidation and finish loss. As with any old light, a new wiring is recommended. This has no plug, it was direct wired. The exposed wires were places in a socket (not recommended), and the light works. A bulb will not be included, and there is no shade. (Photo, eBay seller keensurfer.)
DBA:
  The "SBach" refers to the gas mantle probably manufactured by Welsbach, and this type of mantle is called a Welsbach mantle. It is a device for generating bright white light when heated by a flame. Carl Auer Freiherr von Welsbach was an Austrian scientist and inventor who worked on rare earth elements which led him to develop the use of flint in gas lights and later, the development of the metal filament light bulb. I cannot tell from the photographs if this is an early experimental lamp, but my guess is that it may be an early lamp. Carl Auer Freiherr von Welsbach worked in both gas and electric light sources. These lamps used elements that could be a fire hazard. I would have this lamp looked at by someone who really knows lamps, not just someone who rewires them. This was a good buy.
Deborah Abernethy is a certified appraiser with the International Association of Appraisers.
She can be contacted at 404-262-2131 or Deborah@expert-appraisers.com.
Her website is www.expert-appraisers.com.