By Brock Lane, www.beltbucklehistory.com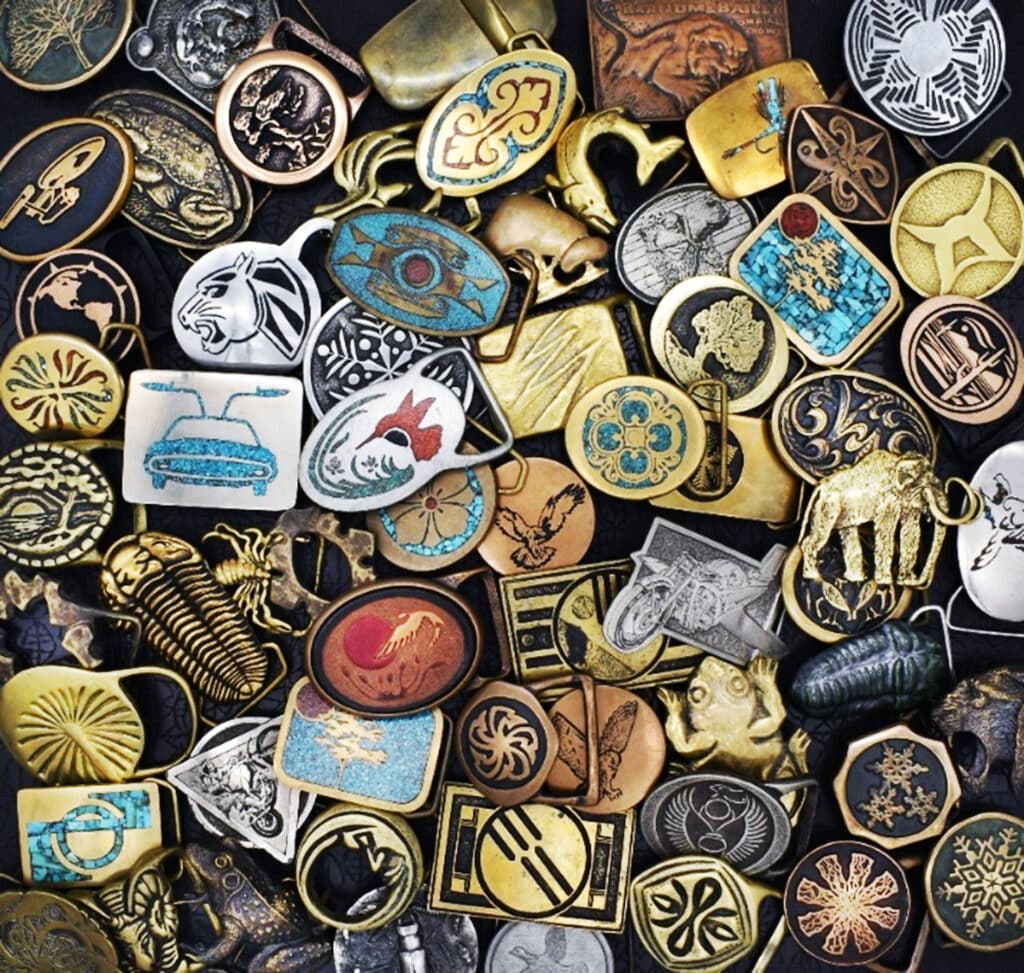 The very first vintage belt buckles that I bought were on Craigslist. I didn't know anything about them, but they looked interesting, and I was hopeful about doing some research to learn the story behind them. But to my disappointment, I really couldn't find much! There were no relevant books at the library and nothing significant on the Internet. But why was it so hard to find information about old belt buckles?
Cowboy Belt Buckles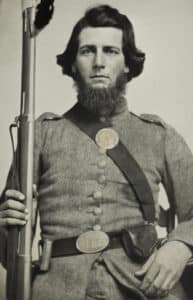 Unfortunately, a lot of that information had already been lost, but we do know that early cowboys in America didn't really wear belt buckles … at least, not until the 1920s. Pants didn't even have belt loops around the waist until 1922 … That's when Levi—the oldest denim maker in the world—started putting them on their jeans. Most cowboys settling in the West in the 1800s were wearing suspenders or pants that cinched from the back with a fabric strap.
It wasn't until after the Civil War that belt buckles became common in America. Military uniform "plate buckles" were relatively large, bearing artwork that signified the soldier's unit, rank, or state. When the war ended, veterans sought new opportunities in the Wild West, and some continued wearing their belt buckles in civilian life or as lawmen on the frontier. The "ranger" belt buckle, popular today with cowboys, comes from the Texas Rangers who wore three-piece buckle sets on their gun belts.
Native American silversmiths also crafted belt buckles in the early 1900s, using the stamp work and Tufa casting techniques they had developed making silver jewelry like pendant necklaces, cuff bracelets, and bolo ties. Yet another style of belt buckle popular in the early 1900s was called a slide or compression buckle. One of the best-known manufacturers was Hickock, founded in 1909. They produced a variety of men's belt buckles that were small, sleek, and often featured a monogram pattern with personalized lettering or initials.
Hi-Yo, Silver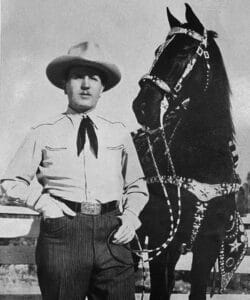 The invention of movies in the 1890s was a significant source of inspiration for cowboy belt buckles. The Western film genre was an instant hit, captivating audiences of the 1910s and 20s with tales of gun-slinging heroes like Tom Mix, Gene Autry, and Roy Rodgers. These larger-than-life characters wore eye-catching belt buckles that shined on the silver screen.
Early Hollywood silversmiths like Edward Bohlin and Al Shelton, seized the opportunity to cater to this growing trend. In addition to saddles, spurs, bits, and other Western hardware, they became expert silversmiths who crafted elaborate belt buckles for the Hollywood elite with intricate floral and paisley engravings that captured the spirit of the West.
Competition Belt Buckles
Have you ever wondered why cowboy belt buckles are so big? Rodeo competitions first began to award belt buckle trophies to event winners in the 1920s in California. They celebrated the victors' grit and riding abilities, so they became a symbol of pride and professional reputation.
Today, we'd call this "bragging rights" … and a bigger belt buckle signified a tougher and more capable cowboy. The Professional Rodeo Cowboys Association (PRCA) and National Finals Rodeo (NFR) were the most respected organizations, and their trophy buckles remain the most sought after. Older trophy belt buckles from before 1970 can be quite valuable and more difficult to find.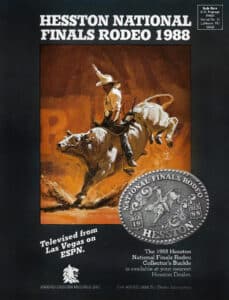 In 1974, Hesston commercialized the trophy buckle tradition. Partnering with the Professional Rodeo Cowboys Association (PRCA), Hesston introduced an annual series of collectible buckles that showcased various rodeo events. These buckles are an annual tradition that allows attendees (and not just the champions) to leave with a memorable keepsake. Major rodeo organizations, like the Professional Bull Riders (PBR), continue to award extravagant buckles to their champions, and TV broadcasts of rodeo events have further amplified the cultural significance of these buckles, ensuring that the tradition continues.
Fake "Tiffany" Belt Buckles
But why did belt buckles become so popular in the early 1970s? After all, it wasn't just cowboys that were wearing them. In the late 1960s, antique collectors encountered rare and unusual-looking belt buckles at pawn shops, gun shows, and flea markets. By all regards, they appeared quite old (1890s-1920s), rare, and valuable. Many were made by Tiffany & Co., the reputable jeweler based in New York, and frantic collectors bought them up at prices as high as $200. Above is one example (from the author's collection) that came with an original receipt where the customer paid $50 plus tax – that's equivalent to about $400 today if you adjust for inflation from 1970.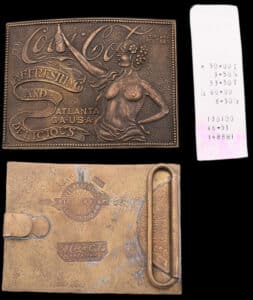 There was also a collector's guide titled Tiffany & Gaylord Express & Exhibition Belt Plates that dealers and pawn shop owners would show to prospective customers. The 90-page hardbound publication showcased numerous belt buckles of interest and offered insights into their historical context and rarity.
Unbeknownst to collectors, the "Tiffany" belt buckles and associated guidebooks were a meticulous lie. The ruse unraveled in the early 1970s when J. Duncan Campbell, an advisor to the Smithsonian Institute and an expert in historical belt plates, purchased a copy of the collector's guide. To his astonishment, he found it contained passages plagiarized from his own publications for the Smithsonian, edited and rearranged to praise the fake Tiffany buckles.
Campbell eventually exposed this scheme and found that the fake Tiffany buckles were being mass-produced in England and chemically treated to make them look older than they were. The perpetrator, an Englishman called John Fairchild, was ultimately revealed, but only after tens of thousands of fraudulent buckles were sold into circulation.
1970s Belt Buckle Craze
The fake Tiffany belt buckle fraud was impressive in its audacity, complexity, and scale. A young sculptor, Daniel Bergamot, was one of the few who noticed the popularity and success of the fake Tiffany belt buckles. He decided to try making his own legitimate buckles that could actually be worn and formed the company Bergamot Brass Works in 1974. Their first buckles were copies of popular fake Tiffany designs, but they quickly developed a catalog of their own artwork and designs. The belt buckles sold out fast, and despite hiring several employees, they had a several months-long backlog of orders. A business that was inspired by fraudulent antiques quickly evolved into a thriving industry, and belt buckles became an iconic element of 1970s fashion.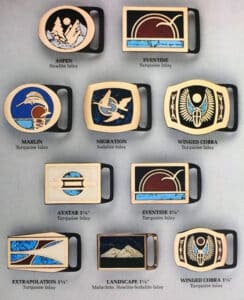 Several new companies formed to fill the demand for buckles. MM Limited (now Great American Products) found early success making buckles with motorcycle brands like Harley Davidson, Honda, and Yamaha. Indiana Metal Craft and Basic Tool Supply (BTS) were also early entrants to the industry.
The Tech Ether Guild was an artist collective in Kalamazoo, MI that produced dozens of solid brass buckle designs in the late 70s to early 80s and was popular with hippies and young people. Craftsmen and artists soon saw the potential of buckles as a medium for artwork, and designers including David Yurman, Jack Boyd, Carl Tasha, Leoma Lovegrove, Scott Nelles, and Duncan Laurie all created belt buckles before moving on to other artistic endeavors.
Expansion of Belt Buckle Popularity
In the 1970s, Belt buckles were sold through mail-order catalogs, leather shops, western stores, and music festivals. Popular themes included astrology and horoscopes, hippie counterculture, psychedelia and drugs, Western and cowboys, animals and nature, fantasy artwork, Egyptian revival, and more.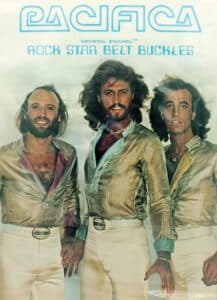 In the mid-and late 1970s, manufacturers expanded into producing corporate designs for companies as promotional items and employee gifts. Apparel marketing was a novel marketing strategy at the time, and it found success using belt buckles to promote brands – especially in the music industry. Pacifica belt buckles made a splash in record shops, with shiny holographic images that featured rock bands like KISS and the Grateful Dead.
The 1980s saw a rise in the popularity of belt buckle collecting, especially among farmers in the Midwest who
collected the agriculture-themed belt buckles given away with tractors. Local belt buckle clubs formed to meet and hold swap meets, and two magazines dedicated to buckle collecting were even published.
Manufacturers aligned with the growing collector's market by producing sets of limited-edition belt buckles. Award Design Medals and Tony Lama (a popular cowboy boot maker), for example, collaborated to produce several large series of belt buckles commemorating U.S. states, cattle breeds, and famous western firearms, which became a highly effective marketing tool that helped to drive demand among collectors. Today, there are only a few remaining buckle manufacturers, and the popularity of belt buckles has died down considerably since its peak in the 80s.
Belt Buckle Collecting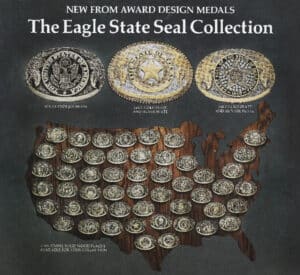 I realized I wasn't the only person curious about the history of belt buckles when customers on Etsy and eBay started reaching out to me with questions. Most people who contact me about belt buckles either inherited them from a family member or recently bought them at garage and estate sales, thrift shops, flea markets, or swap meets. Now I've started a blog and online collectors guide for belt buckles at www.BeltBuckleHistory.com, and here's the advice I give to beginners:
• Don't polish belt buckles unless you plan to keep them. Polishing compounds will remove a lot of the natural color that comes from age, and that tends to hurt the value. Collectors usually prefer the natural patina and original condition.
• Condition matters a lot for belt buckles. Look for damage on the back including broken or missing loops (where the belt attaches) and also broken-off pins/prongs (the part that goes through the hole in the belt).
• Who made it? Figuring out the manufacturer or artist can make a big difference in value and salability if the buckle is linked to a particular person or company.
• What's it made from? Belt buckles made from precious metals like gold and silver are obviously more valuable, but solid brass buckles tend to be better than plated ones. They're more durable, heavier, and last longer. But this is not a firm rule, so subject matter and quality of the artwork are important too.
• How much is it worth? Values range dramatically, so I recommend researching similar items for sale on online marketplaces. Using the advanced search features on eBay to view only items that have already sold can be enlightening. Studying the market and assessing the condition and rarity can help you estimate what your buckle is worth.
---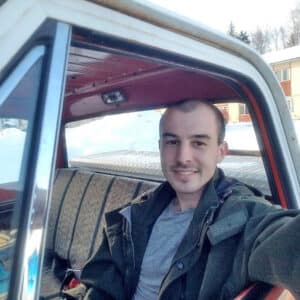 About the writer: Brock Lane operates multiple businesses on Etsy, eBay, and Shopify, including an inventory of over 10,000 rare and unique vintage belt buckles. After earning a master's degree in economics, Brock worked as an economist and consultant but turned to a life of entrepreneurship instead. Now, he's a small business owner specializing in online retail and collectibles.
Visit Brock's website www.BeltBuckleHistory.com for blog articles, tips on buckle cleaning and restoration,
identification, and more – all about belt buckles. You can also follow BeltBuckleHistory on X – formerly Twitter – (@VintageBuckles) or visit Brock's Etsy shop at www.alaskashinythings.etsy.com. To reach Brock with any questions/comments visit www.beltbucklehistory.com/contact