by Judy Gonyeau, managing editor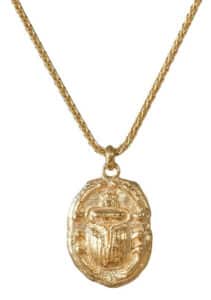 Evidence has been brought to light that charms were perhaps first formed as far back as 75,000 years ago according to the discovery in Africa of shells being used for adornments. Moving forward to 30,000 years ago, intricately carved mammoth tusk charms were found in Germany.
Back in 10,000 B.C., leather bracelets and cords were adorned with pieces of bone, shell, and wood that represented any number of things to their maker and the wearer. During the Bronze Age, charms were crafted to look like mystical symbols, animals, and special words to ward off evil and bring good luck. These are perhaps related to the first meaning of the word "charm." It was a synonym for "song" or "incantation." Anthropologists think the people of that time used charm bracelets as a way to connect to the mystics and look favorable to the gods. Charms also served to identify Egyptians to the gods in the afterlife.
One of the first documented examples of using charms to represent something about the person wearing it is from the Roman Empire. Christians would wear the ichthys (fish) charm to identify themselves to other Christians. The choice of using a fish came from the Biblical story of Jesus feeding the five thousand of his followers when he had only two loaves of bread and two fish. Jewish scholars of the same period would write tiny passages of Jewish law and put them in amulets around their necks to keep the law close to their heart at all times because of a belief that if the information were stored close to the heart and mind then the body would better absorb it.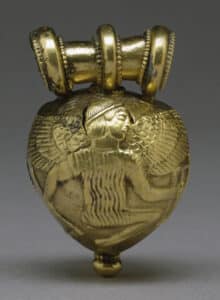 But when it comes to charm bracelets, the first were worn by Assyrians, Babylon-ians, Persians, and Hittites. They began appearing from 600 – 400 BC. Lockets were used to keep important messages at hand and at heart. At times of war men would often carry a lock of their wife's hair and other such trinkets as a reminder, and also for good luck.
Toward the middle ages, charms were also used as a form of identification by using images and symbols representing their background, heritage, political affiliation, and religion. Knights would wear them into battle for good luck and to bring the luck of their families with them. They were most often used with incantations to send bad luck to the enemy and protect warriors in battle.
The general wearing of charms began to lose favor with the wealthy classes during the Renaissance as books became more commonplace, separating the superstitious from fact-based beliefs. However, charms and amulets were still widely used by people of lesser means and education. The role of the charm remained relatively unchanged until the early 1900s.
Victoriana
It was Queen Victoria who could well be considered the Queen of charm bracelets because it was she who introduced a "new" charm – a charm of remembrance to mark milestones in life. This was something the monarch could wear and subtly show the things that were dear to her. She had more than one to suit her mood and her status.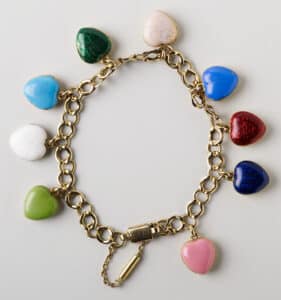 One charm bracelet was given to the Queen by the love of her life, Prince Albert, with one heart locket for each child they had, adding to it over the years.
Another favorite given to Victoria by the Prince is a "locket" like bracelet. The bracelet has a case at the end with Prince Albert's picture in it. Queen Victoria adored the bracelet, she said. "It is his own exquisite taste and one of the loveliest things I ever saw. How I shall value it, and what extreme pleasure it gives. I put it on at once, and it was much admired."
One other charm bracelet was worn by the Queen continually during the last forty years of her life, and was also new to the royal jewelry "line": mourning jewelry, and in particular, a mourning bracelet. Pictured in the center is the mourning bracelet created after Albert's passing in 1861. There are sixteen oval and heart-shaped charms with varying amounts of adornment. This piece is part of a group of jewels and mourning jewelry that were placed in the "Albert Room" at Windsor Castle after the Queen's death in 1901. This was the room in which Prince Albert had died, and the Queen left strict instructions for this list of personal jewelry to be placed there and not passed on in the family.

Her Majesty's Influence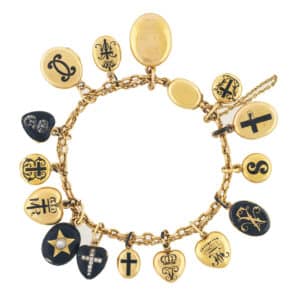 While Queen Victoria is famous for her own charm bracelets, she also made a habit of giving them as gifts, and the idea took off. Charm bracelets became a hit in the upper classes. Each charm had to be hand-crafted rather than mass-produced – something not done until the latter part of the 18th and early 19th century with the boom of the Industrial Revolution. Although some were simple in design, each one represented something personal to the wearer. Shapes included four-leaf clovers, hearts, birds, and flowers.
One maker in particular made its mark on the world of charm bracelets: Tiffany & Co. Tiffany started his company in 1837, the same year of Queen Victoria's coronation. In 1889, they created a simple single heart charm on a delicate chain-link bracelet and introduced it at the Paris Exhibition. This not only brought Tiffany notice but also cemented the heart as one of its most prominent symbols in their many jewelry lines.
Later in the 20th century during the era of the Great Depression, these smaller reminders of better times reflected the improved techniques established thanks to advancements in jewelry creation when platinum and diamonds became integrated into charm design.
Charms on the Warfront and the Homefront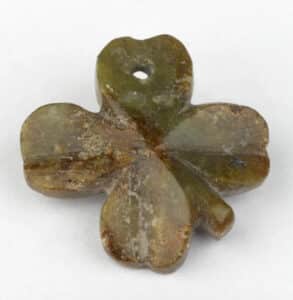 With the onslaught of the World Wars, soldiers once again took to carrying charms representing home, and those left behind would also build charm bracelets to keep their loved ones near them. During the Second World War, soldiers began to gather remembrances or trinkets to mark their time of service. These were reminders of the men they served with, the women they loved, and the places they went. They also kept all manner of good luck charms, religious charms, and sometimes charms that belonged to their fallen brothers. While they were away—sometimes for years overseas—they began to pick up charms for their loved ones back home. Native craftsmen in the South Pacific quickly picked up on the trend and crafted charms from shells, bits of metal, and wood representing symbols and landmarks from the area.
Designed to Charm
Prior to WWII, jewelry houses throughout Europe and the world made sure to add the right amount of bling to the charms. The story of Henry Dankner and Sons demonstrates the fate of one family of high-end charm designers. Their work was distributed by such jewelry powerhouses as Cartier, Van Cleef & Arpels, and Harry Winston.
The family fled Nazi Germany in 1944 after everything had been seized from their Budapest workshop. Henry and his two sons moved to New York and were able to restart their business in 1950. The company continued until 2014 when they donated all their archival sketches and molds to The Fashion Institute of Technology.
Other high-end jewelry houses made charms for the masses, as did a number of mid-range makers. There was a wide range of price points for the collector from makers that included Walter Lampl, Thomas L Mott, Beaucraft, Charles Horner, and J.M. Fischer, among others.
At the end of World War II, the craze of collecting charm jewelry really took off. Charms were now being made out of the pot metal once reserved for the Armed Forces, and manufacturing at high levels meant shapes of all kinds were being pressed out as fast as girls could get their hands on them.
The Mid-Century Charm Craze!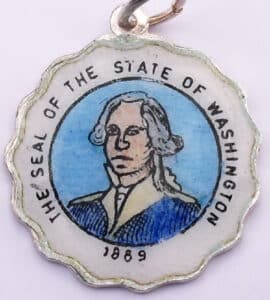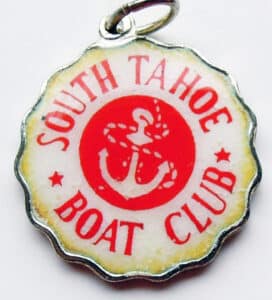 As the world reached for signs of normalcy, there was an absolute explosion of interest in the things that were not able to be obtained or used—or worn—during the Wars. Charm bracelets gave women a way to mark what they learned were truly life's precious moments; to remember the past and build a shiny new future.
As life in the "burbs" took off, the variety of charms made shifted to a more lifestyle-driven selection. Charms were made to mark every occasion from hobbies to sports, travel during vacations, and every celebration that took place in the home and on the patio or at a party.
Charms could be changed on a whim to suit the mood of the wearer. Rites of passage were marked first with the bracelet and a special charm for a 16th birthday or engagement or wedding, followed by more charms as events unfolded. Some bracelets appeared to weigh more than the wearer as years went by and charms were added. Older charms from generations past were not worn so much as kept in a memory box. Often, mothers would pass their bracelets on to their daughters as a keepsake.
Entertainment played a major role as influencers —a.k.a. movie stars—clasped the bracelets to their wrists in movies, advertising, and their not-so-private photos of their "life at home. If you saw Bette Davis wearing a charm bracelet, you wanted to emulate that high style and get one, too.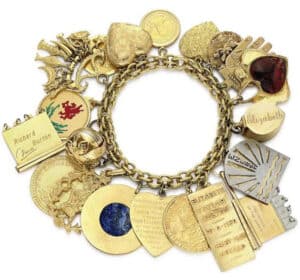 One of the more famous charm bracelet fans from the mid-1900s was movie star and later jewelry designer/entrepreneur Elizabeth Taylor. Becoming an actor at the tender age of 9, Liz led a life of extremes that would have easily filled more than a few charm bracelets. Her devotion to her jewelry collection was the "one true love of my life," she once stated.  Like any collector, she amassed many pieces that had great monetary value and great sentimental value as well.
A sale of five of her charm bracelets at Christie's Auctions in 2011 made top dollar as they came across the block. According to CharmsGuide.net, "The first item sold last night was this gorgeous loaded, and very personal, gold and multi-gem charm bracelet, which was estimated at around $25,000 and ended up selling for $326,500! It includes charms like a locket with her children's names inscribed, a director's slate inscribed 'The taming of the shrew,' etc."
The other bracelets brought just as much attention, selling for $194,500, $195,400, $158,500, and $116,500, respectively. The total estimate for all five bracelets came to $93,000 but sold for over ten times as much: $991,400.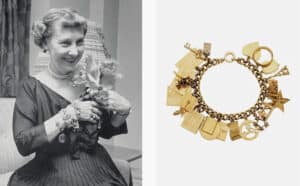 When General Eisenhower and his wife Mamie moved into the White House in 1953, the country was filled with optimism as the celebration of the end of WWII continued. According to Christie's, "She proved to be popular with the American public, which identified with her as a 'girl next door'. In January 1953 Time magazine opined, 'Mamie Eisenhower is fondly expected to touch off a social renaissance and to lend a new warmth to the affairs of the presidency.'" As for her personal style, Christie's noted in the description of an auction of the Eisenhower Collection that belonged to the First Lady that "Mamie Eisenhower's cheerful smile and positive energy, along with her designer clothes and famous bangs, which were styled by Elizabeth Arden in Paris, were among her trademarks as First Lady. Her style was personalized with accessories such as pearl chokers and button earrings, glittery pins, fitted hats, mink stoles, full-length fur coats, and charm bracelets, such as this one that commemorates important milestones in her life."
The Evolution of Charm Bracelets in the Late 20th Century
As the popularity of charm bracelets waned in the 1970s and '80s, Italy reincarnated the bracelet by linking modular charms with elastic to form a single-charm-bracelet. These bracelets usually consisted of 18 Italian charm links, each of which depicted a series of related subjects soldered onto the actual link. This new iteration caught on to the point that soccer players from around the world were wearing bracelets showing their nation's flag. Tourists to Italy in the 1990s noticed the trend and brought it back with them to the U.S. where it caught on. At the same time, there was an uptick in sales of vintage and antique charms at antique shows and shops. This idea gave way to the popular Pandora style bracelets where the charms are attached to the single strand of the main bracelet with a stronger sense of permanence rather than hanging by a small metal loop.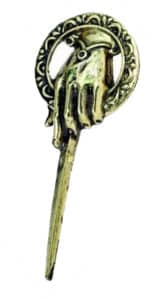 In the 2000s, mysticism moved onto screens large and small along with the build-up of many Fantasy Cons. Think of the start of the Dungeons and Dragons game; movies and series including Game of Thrones, The Vikings, Wonder Woman, and Lord of the Rings; popular authors such as Neil Gaiman and Brandon Sanderson feeding a growing hunger for fantasy, and you get the idea. Fans have begun gathering a selection of runes displayed on pieces of stone or metal and other mystical charms, circling back to ancient times when these small tokens and their accompanying powers brought a sense of added protection as they went out into the world. Today, the display of these ideas and symbols in some ways marks the wearer as someone who believes in the power of magic and the role of this energy in their life.
Next?
Feel free to consult the stars.