Photos and information by Ron Harmic at www.medicalantiques.com, and www.CollegeofOptometrists.org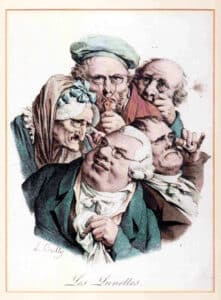 The 19th-century customer had a wide choice of corrective visual devices of which spectacles were only one. Notice in this famous print, Les Lunettes, by Louis-Léopold Boilly (1823), five French men and women using different types of optical aids, including a quizzing glass, folding lorgnette, wig spectacles with jointed sides, nose spectacles, and a spyglass.
More and more evidence has come to light that simple nose spectacles continued to be in use into the 19th century albeit they were increasingly seen as old-fashioned. Indeed, the 19th century is not nearly as interesting a period to study as the 18th or 20th as most innovations in vision aids seemed to have less influence and the designs available to the mass bulk of the population remained largely static.
Much is often made of the so-called "rise of ophthalmology" in the 19th century. If anything, this growth of a new medical specialism set back the development of spectacles since most ophthalmologists (the title is only truly valid from the mid-century onwards) disdained spectacles in their preference for treating medical eye problems. The emergence of optometry, at the very tail end of the century, was far more influential in reinvigorating a largely moribund industrial sector.
Types of Spectacles
Spectacles are perhaps the easiest ophthalmic antiques to find. In a social context, spectacles were a label of keen intellect which began at the time of 15th-century blue-blooded nobility. Many 18th-century gentlemen purchased and wore spectacles who could not read and vainly created a false badge of rank. This connection of brainpower with spectacles continues to this day.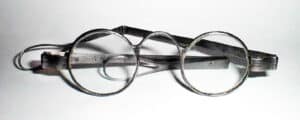 The earliest antique spectacles in regular use, made of wood or leather with a riveted center pivot, date to the 15th and 16th centuries and are documented by woodcuts and paintings from the period.
The "Nuremberg" type (a German city known for skilled workmanship and "cheap" goods) were made in considerable quantity during the 17th and 18th centuries of a continuous copper wire frame with round lenses. Reading glasses of similar construction with a single lens were also made during the same period of time.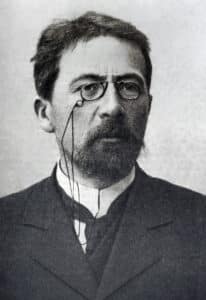 Pince-nez spectacles regained spectacular popularity during the late 19th century through the 1930s and can be found in endless variety and patents. They were not held in place by earpieces but by a pinching nose bridge. Amazingly, temples did not show up on spectacles until the beginning of the 18th century.
"Temple" spectacles were invented in the 18th century with temples (arms) fitted with rings which enabled them to be pressed against the temples above the ear, a reliable improvement over Pince-nez. These did not extend over the ear (which would have been a good idea). Temple spectacles are also called "Wig" spectacles when the ends of the temples are secured under or in a wig. Temples are sometimes double hinged and pivoted, with round or teardrop loops as various makers "improved" the methods of securing spectacles. The loops were also used for a cord tied behind the head. Eighteenth-century lenses in a round form were common on temple spectacles and later smaller round lenses followed by oval. Occasionally, octagonal and rectangular lenses were also used in the 18th  and early 19th centuries. Bifocal lenses were invented during the late 18th century and were attributed to Benjamin Franklin.
"Lorgnettes" are a pair of lenses attached at one side by a handle, hinged or pivoted, that fold back into the handle for protection of the lenses. Some double lens lorgnettes are hinged between the lenses and fold out to a single plane when in use. These can date back to as early as the middle of the 18th century; however, most are Victorian and some are made to this day.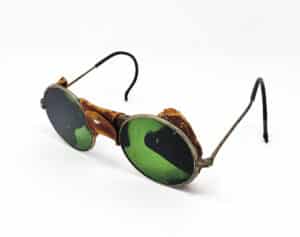 "Scissors Spectacles" are similar to lorgnettes except the independent lenses fold into a central handle. These can date to the late 18th century but were continually produced until the late 19th century. Handles on scissors spectacles are often found with tortoiseshell or mother of pearl handles.
"Quizing Glasses" were in use from the mid-18th century to the late Victorian era. These are a single lens casual reading magnifier and often very elaborate with both long and short handles. Often worn around the neck on a cord by both men and women, the fancy ones were considered more fashionable than spectacles. Round lens monocles have very small handles or small loops added and were awkwardly held by muscular effort in the eye socket for reading. Today, a jeweler's "loupe" is the outcome of these early readers.
Spectacles are found in endless variety which will overwhelm a beginning collector who is not focused on a specific collecting area. Spectacles also add a fitting period detail accessory for antiques or Revolutionary and Civil War collectors. A small collection that illustrates the evolution of eyeglasses makes a fascinating display for the ophthalmic professional.