by Melody Amsel-Arieli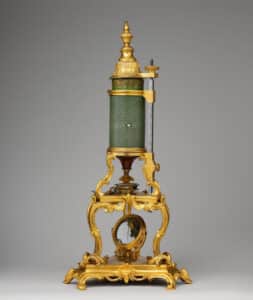 Simple magnification devices, like water-filled spheres and rock crystal (quartz) "burning glasses" were known around the Mediterranean and across the Middle East in ancient times. These evidently served not only to light kindling but also to cauterize wounds and enlarge texts. According to Roman naturalist Pliny the Elder, Nero viewed gladiator battles while peering through a precious, green, clear "smaragdus," believed to be an emerald. Whether this was fashionable, dramatic affectation, or corrected his vision is not known.
Reading stones, domes of polished glass or rock crystal placed over text to magnify its letters came into use around 1000 AD. Within a century, clerks and scholars were using round, handheld, low power magnifying lenses, some mounted with brass or bone rims and handles. Later designs, following fashion, were birch, rosewood, fruitwood, porcelain, mother-of-pearl, gold, or silver-mounted. Since Europeans were charmed by oriental decorative styles, Chinese-made bone, ivory, jade, jeweled, and metal-mounted magnifying glasses were also desirable. Faberge's two-tone gold creations, featuring opulent nephrite, guilloche enamel, pearl, emerald, ruby, rose-cut diamond, rock crystal, or moonstone embellishments, however, were extraordinary.
Expand My View of the World
As European explorers, seafarers, naturalists, and adventurers introduced exotic varieties of flora and fauna from far shores, curiosity about the world abroad increased. As a result, the nature of scientific study changed. A method of meticulous, systematic research arose, based on measurable evidence gleaned from a range of innovative scientific instruments.
As an example, microscopes are magnification devices used to study objects too small to be seen by the naked eye. Over time, their components and designs have varied, reflecting technological advancements. Early single lens models, with cases often made of ivory, bone, wood, or tortoiseshell, feature simple screw barrels with interchangeable lenses of different powers. Few have survived.
In the early 1600s, compound microscopes, which feature double lenses for higher magnification, were introduced. Their objective lens forms a two-dimensional image of the specimen studied, while the adjustment of its ocular (eyepiece) lens brings it into focus. Designs vary. Culpepper types, for example, are made of wood, cardboard, and lustrous, green-dyed shagreen (sharkskin) upon circular bases. Cuff types feature stable, box-shaped bases, while Gould types feature central tubes whose cases often function as bases.
Microscopes—dated and created by noted instrument makers like Hugh Powell or Swift & Son, and housed in original, fine wood cases containing additional optical accouterments—are highly desirable. So are the engraved, gilt-bronze models housed in gold-tooled, velvet-lined, fitted leather cases. These examples were coveted by 18th century royalty and the well-to-do.
In 1609, Galileo Galilei revolutionized astronomy by applying the glass lens telescope, invented in the Netherlands, as an instrument to  study the solar system. Since this device works by refracting (bending) light as it passed from air to glass, it is also known as a refractor.
Due to its length, it creates high magnification with bright, sharp resolutions. Because its lenses are large and heavy, however, refractor telescopes generally require tripod support.
Through the 1800s, an array of smaller, weaker, lighter, less costly refracting telescopes, known as monoculars, were produced for personal use. Simple, adjustable, handheld pocket scopes, for instance, magnified objects within sight of the viewer through the use of a series of extending lenses. Their dimensional images were well-suited for a variety of naturalist and outdoor enthusiasts, including bird watchers, hunters, mariners, as well as the visually impaired.
I Spy …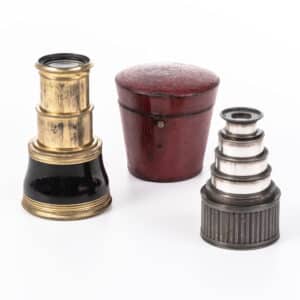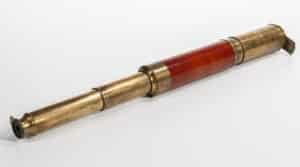 Spyglass monoculars, a type of telescope popular for surreptitious observation, evoke imagery of adventure on the high seas or in military campaigns. Many were simple, multi-draw pieces wrought from wood or brass and wrapped in leather. Some, gifted by descent, hail from the American Revolutionary War, for example, or might even be traced to one of its battles. Other monoculars were engraved with names of acclaimed military men, like John Henry Hobart Ward, a general in the American Civil War or fellow fighter Captain Isaac B. Gildersleeves, who reputedly transported Northern troops during the Shiloh campaign.
Nobility and the wealthy, who commissioned the most beautiful, lavish, handcrafted magnification devices of all, however, spied on one another with monocular works of art. Many, created by noted makers like P. Cutts & Sons, Dollond London, or François de Baillou à Milan, shimmer with gold, jewels, enamel work, and mother of pearl.
With the introduction of "jealousy glasses" in the 1630s, spying at the theater or the opera took a secretive, personal turn. The goal was to gape – but discreetly. Though this magnification device seemed to be a simple, front-facing, straight-barreled spyglass, it contained a delightful secret – an oblique lens and a side aperture, so its owner, though innocently facing forward, could see sideways!
… With My Little Eye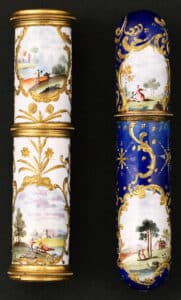 Etuis—tiny, popular, ornamental cases for enclosing personal necessities—also featured tiny spy glasses. Thus, while men seemingly sought their ear scoops or snuff spoons, while women sought their smelling salts or perfume vials, they could covertly check out who was doing what with whom.
During this era, tiny, inconspicuous spy glass lenses also concealed innocent looking, very collectible items like pieces of jewelry, snuff boxes, and scent bottles. Ivory, sterling silver, or brass-mounted fine wood walking sticks cached them as well, apparently proving useful at eye level when their owners were seated.
Through the late 1700s, miniature spy glasses were also hidden in decorative hand fans. Unlike earlier, simpler peepholes, which formed part of their designs or were drilled into their frames, these tiny magnifying devices were secreted at their central pivots. This enabled demure ladies, while hiding their faces, to unobtrusively take a good look around.
Spyglasses were also mounted in the thick, ornate guard sticks that radiate from the fan's central pivot – often a concave lens on the inner one and a convex lens on the outer. Closing the fan lined up its guards, thus creating a tube-shaped spyglass with a lens at each end. Its magnification could be adjusted by separating the guards. If a single concave lens was mounted, it created a sort of "quizzing glass."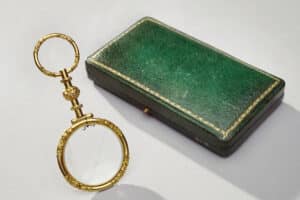 Quizzing glasses, which feature small, single magnifying lenses set in ornate frames, were raised to one eye to closely "quiz" (scrutinize) anything or anyone of interest. Many featured stylish, gold-plated ring handles. Others, like pieces of jewelry, dangled from elaborate gold chains or black ribbons of varying lengths. Though most quizzing lenses were simple magnifiers, some may have been set with corrective lenses created by opticians.
Magnification devices made before 1800 (and some even later) generally feature lenses made of clear rock crystal. Though heavy and expensive, they were scratch resistant. While they may not seem attractive by modern standards, many appreciate their historic appeal.
Show Me More for My Two Eyes
Two monocular telescopes, one per eye, were first paired in the 1600s, creating binoculars. Yet the first successful model, which featured two individually focused telescopes attached to a single frame, appeared hundreds of years later. Toward the 1900s, a central-focusing mechanism as well as a prism-erecting system—allowing the use of more powerful lenses—was added. These double magnification devices were more comfortable to use than the single-lens version. By using eyes naturally, fixing on a single point, they also provide realistic, three-dimensional images.
Some binocular buffs focus on pieces from particular eras, or with specific technical specifications. Some seek sumptuous models mounted with shagreen or decked in pearls and diamonds. Others prize binoculars traced to a particular war or battle, like a WW II Imperial Japanese model, a mid-19th century bone and brass naval one identified to Captain Percival Eddy, or a true gem marked "A souvenir/of the night/we torched/Atlanta/July/1864."
Eye See
From about the 1830s, many wealthy and upper-class European men wore monocles, round, oval, or rectangular magnifying glass lenses wedged securely within one eye socket. Though many were standard sized, those made to order, though more costly, were considerably more comfortable.
Early monocles were rimless or enclosed in narrow metal loops. Later models, due to bar loss or breakage, were often pierced and suspended by a cord to wearers' hat brims or upper garments. More advanced designs featured raised edge extensions, known as galleries, which positioned lenses more comfortably, just outside their eye sockets. Others featured ridged, flattened-wire galleries supported by three springing posts. After drawing these together, placing the lens in the eye socket, and releasing the posts, they sprang back, fixing their lenses in place. When paired with an elegant top hat, morning frock, and cane, the highly fashionable monocle, at the turn of the century, "made the man."
Though monocles never really took off in America, they did attain a certain stature. The first issue of The New Yorker magazine, for example, featured a dandy peering at a butterfly through a monocle. And Planter's iconic Mr. Peanut has sported his since 1916.
Oh, Snap!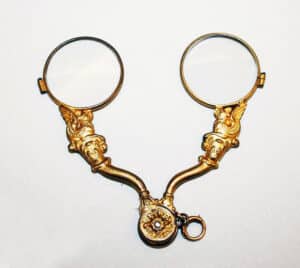 The earliest type of spectacles, two small magnifiers fastened together, were clumsily clamped or held to the bridge of the nose. Though their form changed considerably through the years, wealthy, aristocratic, visually-challenged women refused to be seen wearing them in public. In the 18th century, however, scissor spectacles—double lenses attached to delicate, jeweler-designed Y-shaped frames—became the height of fashion. Though some may have corrected eyesight, most were worn purely as adornments.
When short, decorative handles were added at one side, these elegant gold, silver, horn, or turtle shell rimmed tiny telescopes became known as lorgnettes. For storage, their lenses folded neatly one upon the other or into their handles. Models combined with fans folded into their rigid guard sticks. Trendy, longer handled, spring action lorgnettes folded compactly into stylish brooches.
Soon afterward, binoculars, featuring inexpensive lenses and narrow visual fields, were attached to long, lorgnette-like handles. These eventually evolved into less bulky, far more ornamental, double lens theater binoculars, known today as opera glasses. Every cultured lady had to have one, whether she attended prestigious performances in Paris or popular productions at one of the popular "opera houses" that dotted small towns across America. These sleek, smooth, lightweight, portable pieces were a joy to use. Though easily slipped from pocket or purse, scores were suspended on stylish neck-straps or featured handles which raised effortlessly to eye level.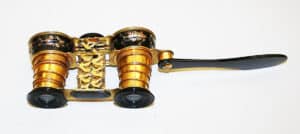 Vintage, American-made opera glasses typically featured simple, shimmering mother-of-pearl faceting. On the other hand, fine French enamel models were adorned with dainty drawn romantic figures amid gilt garlands and florals, or multi-hued mother-of-pearl trimmed with gilt-bronze. Gilt silver and 18kt gold Faberge confections were often embellished with glamorous combinations of pale guilloche enamels, bow swags, gemstones, or scrolled engravings.
Though beauty is always enticing, many collectors value vintage personal magnification devices for their scientific and historical significance as well.
Some, to trace their development, may collect consecutive models of a specific type. Some seek ones by a particular maker or from a particular area or era.
Others find unusual pieces, especially those that feature fascinating social backstories, charming. And modern-day opera fans, optometrists, microbiologists, and students of the stars may find related vintage personal magnifying devices irresistible.