By Bruce Elsass, collector, the Golden Glow of Christmas • Introduction by Judy Gonyeau, managing editor
---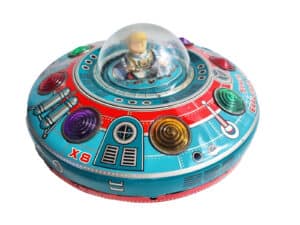 At the end of World War II, Japan had seen more than its share of death and destruction when nuclear bombs hit the major cities of Hiroshima and Nagasaki. It was time to establish the "new" Japan, hold those accountable for War Crimes, make reparations around the globe to those countries and their people who were harmed during WWII by Japan, and rebuild this nation in order to move forward.
As part of the new 1947 Constitution, Article 9 (known as the "No War" clause) made the manufacture of military weapons and other war instruments obsolete in Japan, responding to perceptions that Japan was extremely militaristic. According to eMint.com, a museum of toys located in Singapore, "The Constitution and other policies from this time also emphasized non-military industrial activity, both to demilitarize the country and create an economic bulwark against Communism in East Asia."
According to Visit-Nagasaki.com, The Allied forces occupied and managed Japan from 1945 to 1952. "General Douglas A. MacArthur and his allies in the United States occupied much of the country, causing widespread military, political, economic, and social reforms." This is when smaller, decorative items and all other products were marked "Made in Occupied Japan." Designers, manufacturers, and the Japanese workforce turned to creating "happier" and "playful" goods as their focus. Costume jewelry was something the women in the U.S. and abroad bought to help with the rebuilding of Japan. The mechanical and electronic innovations developed during the war were applied to moving toys and smaller, more advanced production of those toys. And there is a story about a designer who turned a tin can into an intricate model car and gave rise to the tin car toy craze that followed.
Vroom Vroom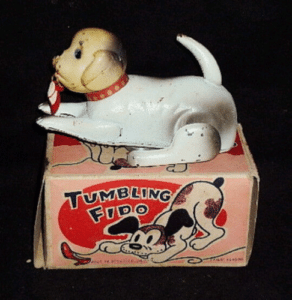 Between World War I and World War II, some Japanese companies were creating beautiful models of American cars while here in the U.S. it was proving tough to get into the model car market unless you were making heavier, thick-metal cars. It was the era of the neighborhood 5&10/Woolworths stores and once the Great Depression hit, things tanked.
With the Second World War coming into view, industrial manufacturing turned to making items needed for the War Effort. Metal was scarce, and toys were made in much smaller quantities and cherished by the children living through this time.
The post-war era saw a boon in metal toys coming out of Japan. Tin cars were quickly coming into the hands of American boys and girls. Tin toys may have been developed in Germany, but the available Japanese workforce that moved into the cities from the country turned their attention to making modern, acceptable decorative, and utilitarian products within new factories being built. Because of post-WWII agreements, Japan was able to export its goods to a variety of other countries and made a strong foothold in the American market, while Germany had a much larger recovery to make.
---
The 1950s Toys
– with Bruce Elass, Tin Toy Collector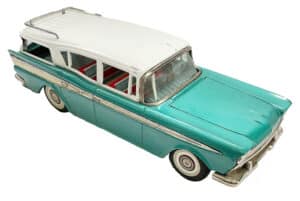 [Japanese] toys took many forms, improving significantly on the pre-war marketed, purely cottage industry, toys. With women being given the right to vote in Japan, they also joined in on the making and decorating of toys, mostly due to the number of losses during the war. Mechanical and battery-powered toy parts were produced mostly by women in factories and assembled there and at home. Toys soon became a popular export item.
The heyday of these toys was about 1952 – 1962. After 1962, plastic became the material of choice for toys and tin fell out of favor. Many of the toys made earlier in the 1950s have celluloid parts for windshields and other parts, whereas the later ones have plastic parts. Also, the earlier toys tended to be smaller, with larger versions being manufactured later. Transitional, medium-sized toys are often the rarest and therefore the most desirable and expensive. Some collectors collect only toys with bright graphic boxes; some may even limit their collections based on specific graphics artists, although few of the Japanese artists are known.
By the mid-1950s, Japanese toymakers had replaced many of the earlier wind-up mechanisms with miniature battery-powered electric motors. These motors enabled the toys to run for a much longer time, allowing the engineers to increase the complexity and variety of the movements and even to add lighting. These more versatile toys were a huge hit in the United States, helping to make Japan the world's top toymaker for over 20 years. During this period, Japan made 95% of the world's battery-operated toys. These years were considered the "golden age" of these innovative toys.
The toymakers of Japan included: Alps, EC, MM, M-T Co., MS, MS-Co. (different companies), HTC, TM, and TN. One well-known company was Alps Shoji, Ltd. of Tokyo, which was founded in 1948. Their toys are generally well-marked. However, many toys were unmarked, and on some, only the boxes were marked. On others, marks do not indicate the maker, but the distributor or marketing company. Boxes often carry only the name of the U.S. importer, such as Franconia and the Illfelder Toy Company (founded in 1856).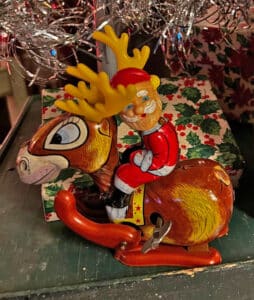 The Japanese tin toy industry declined due to the advent of plastics, rising labor costs, and increasing safety restrictions. Many Japanese toy manufacturers used their miniaturized electric motors to diversify into the electronics field. Toy making began to popularize in Taiwan and Hong Kong, and later in China, where many manufacturers used plastic. Within the realm of collecting, some tin toy collectors do not collect toys that have any plastic included while others consider up to 15% plastic acceptable.
Tin Toy Provenance
Elsass admits that determining the provenance of specific toys can be challenging. Many toys are unmarked or are marked only with a few letters. Many manufacturers used different marks depending on the production location. Moreover, the marks on many toys conflicted with the name on the box (usually the importer), which makes determining the manufacturer even more difficult. Original boxes, important for all toys, are even more critical for battery-operated tin toys. Many times, the instructions for inserting the batteries properly, operating the toy, the name of the toy and maker, and lists of parts and accessories are only found on the box. As with most popular vintage items, tin toys, including Santas, have been reproduced, so examine the items with care before buying. To spot a reproduction, look for the brightness of the paint and tin, and the lack of normal wear patterns. Reproductions are also often stamped with "China."
Value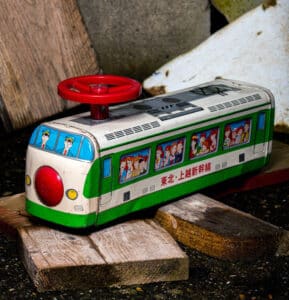 Although many collectibles markets are currently "soft," toys have maintained their value. The Christmas-themed toys are also a cross collectible and are sought by more than one type of collector (Christmas collectors as well as toy collectors). As is true with collecting any kind of toy, condition is paramount when it comes to determining value. Many toys were well-used and did not survive their juvenile owners, so a piece in good working order with good paint and in the original box may command much more than a similar model that is non-working or with notable signs of wear, and without the box. In some cases, a box in good condition is worth twice the price of the actual toy. Battery-operated toys faced the additional hazard of leaking corrosive battery acid, so even though many of the toys were made, a large proportion did not survive. Repainting diminishes the value of the toy so collectors should pay special attention to touch-ups.
Battery-operated toys can be assigned a number on a scale to indicate rarity, with #1 being a very common toy and #10 a very scarce one. Of course, prices usually increase along the same scale. Rare toys tend to be those that were made in very limited numbers, were very fragile, or became so popular with collectors that they are all in private collections.
Most of the tin battery/wind-up toys were sold at five-and-dime stores, such as F.W. Woolworth, Grants, Ben Franklin, J. J. Newberry, G.C. Murphy, and McCrory's, and at hardware and grocery stores. They were cheap, usually retailing for around $1.95 – $3.95. Now, some I have are valued up to $500 with the box.
Generally, these toys are an affordable collectible, with prices ranging from $30 – $300. Most of the Christmas forms are of Santa Claus, some with his sleigh and reindeer, but there are also snowmen and Rudolph, as well as more generic reindeer.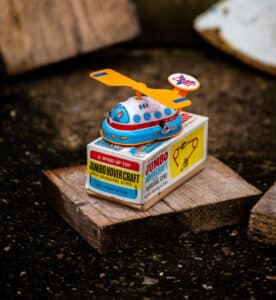 A large part of the appeal of tin wind-up and battery-operated toys is the wide variety of actions available. Usually, the more actions performed, the more valuable the toy. Actions include walking, rolling, turning/changing direction, spinning, smoking, and blowing air (bubbles, balloons, smoke, projectiles). These actions are also found: pouring or drinking liquid, lighting (static or flashing), sounds, bump and go, bouncing, and moving individual parts, including facial movement. The possibilities were limited only by the creator's imagination and mechanical ability.
"Major" action toys have three or more movements and toys with fewer than three movements are referred to as "minor" action toys.
Storage, Maintenance, and Display
It is important to store or display toys with tinplate lithographs out of direct sunlight and in a low-humidity environment, as they can fade and rust. Many collectors use humidity-absorbing materials in their toy storage bins, not touching the actual toys to prevent erosive damage. Of course, never store toys with batteries installed. Toys should be run occasionally to keep them loosened up and periodically lubricated with a lightweight spray lubricant. Using good quality car wax can add shine to most metal parts: the wax should be tested in an inconspicuous area to ensure it does not damage the paint. Valuable non-operating toys can sometimes be repaired by an expert, but Elsass cautioned they can be hard to fix when the wiring has worn out, but light bulbs can be replaced.
---
About Bruce Elsass
An avid collector of vintage and antique Christmas items, Elsass is a proud member of the Golden Glow of Christmas Past collectors'
organization and has been collecting Made In Japan tin toys for over 40 years. He even developed his own line of Christmas products under the name "Hobgoblins by Bruce Elsass." Elsass' Christmas ornaments have been displayed on the White House Christmas tree, sold at The Smithsonian Museum as well as the Folk Art Museum in New York City. Many of his products have been sold in boutiques, folk art, and gift stores around the country. But, times have changed. Today, he is creating for the big box stores. The cost of goods and retail prices have become so high that customers can no longer afford handmade items. The type of work he is doing now is not nearly as much fun for him.