by Pat Raynock, Biologist and Audubon Collector

As a career biologist, I have spent a lifetime looking at the beauty and beastliness of the natural world. I have benefited in my quest for understanding by the work of scientists who have gone before me and recorded their careful observations of nature as they have endeavored to reveal its mysteries. Today, a plethora of technological gadgetry aids us in our explorations, but there was a time, just a century or two ago, when all science was performed with laborious hand recording and physical pursuits taken by those going into nature to try to uncover its secrets and majesty. Such was the mission of the naturalists of the 18th and 19th centuries – to go into the unexplored regions of the world and to document species to record our earliest baselines of biological diversity. Some naturalists were driven by personal curiosity, some by religious fervor to document creatures to the glory of God, and some driven by the enticement of financial reward. But one thing they all had in common was a passion for nature, a passion to record and document the exotic creatures inhabiting the newly opened up regions of the world. One such naturalist was John James Audubon.
The Life and Times of Audubon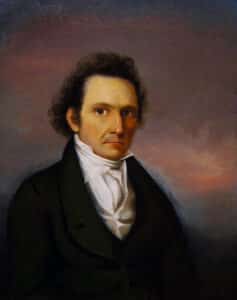 Much has been written about Audubon's entrepreneurial endeavors to produce a public record of the birds and mammals of North America, but perhaps less focus has been cast on his passion and obsession with this documentation. Although born the illegitimate son of a French sea captain in 1785 and sent to America to avoid entanglement in the French Revolution as a young man, by the time of his death in 1851, Audubon had become this country's leading wildlife artist.
As a young adult living in America, Audubon presented himself as a rugged adventurer and naturalist, and although he had no formal training in drawing or painting, he portrayed himself as an accomplished artist, and while wandering the woods drawing birds, he supported himself drawing portraits and genre art for patrons met during his treks. As his skill at observation, drawing, and documentation of birds grew, Audubon was drawn deeper into the wilderness areas of America as he looked for more species. Unable to interest himself in training for a traditional trade, and failing at a few business endeavors, he abandoned his wife and young family for years at a time while following his passion for drawing birds. His loving and tolerant wife supported the family by teaching piano while he traveled the country, mounting expeditions to the far southern and northern territories.
From Life, Drawings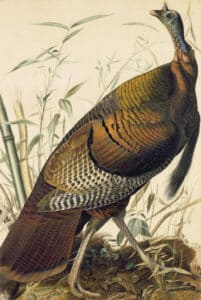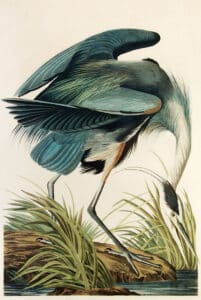 While traveling, Audubon invented a method using wires and pins to hang the specimens he collected so that they could be drawn in natural poses rather than in the standard taxidermy positions being used by other naturalists of his time. His original collection of mixed-media watercolors were painted life-size, and he decided when it came time to translate these works into engravings, each sheet should carry a different species presented with life-size, hand-colored engravings. The American publishers at this time had little access to the materials this large folio of work would require, and with no financial backing, Audubon found no support in America to produce his work. Audubon then decided to pack his watercolors into trunks and traveled to Europe to find both paper and an engraver to translate his art into book form.
In his single-minded determination, Audubon had persevered through criticisms of American ornithologists on his artistic, rather than "scientific," representations of birds, and found support overseas to publish the monumental work. Europeans were eager to learn about the "wild" America and recognized the artistic talent on display in his representations of the wildlife of the American continent.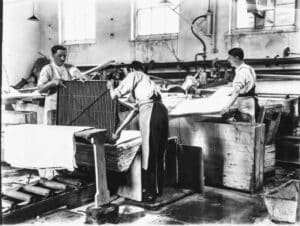 His
Birds of America
publication, a four-volume elephant folio documentation of 435 species of birds, remains the most expensive book ever published, with the last complete set resold at auction in 2018 for $9.65 million.
The Birds of America
took 11 years to complete and only 165 sets of the book were published from 1827-1838. The pages of the book were sent to subscribers five sheets at a time as the engravings were completed, and it was left to the recipients to have the manuscript bound into 100-page volumes during the production. Audubon oversaw the production and was known to be a devilish critic of the artisans working on the pages, hounding and harassing them if the coloring was imperfect on a particular pull. It is generally thought that although there were only about 160 original subscribers listed by Audubon in the ornithological biography, there may have been additional sheets produced and that some pages may have been printed in greater numbers.
Today there are no more than possibly 90 complete sets of the book that still exist intact, with many of the original sets destroyed in war, fires or natural disasters, or broken apart and distributed to heirs over time or sold. It is not known how many single sheets of any page may still exist outside of the bound copies, but it is assumed that the number is less than thirty.
Knowing What You Have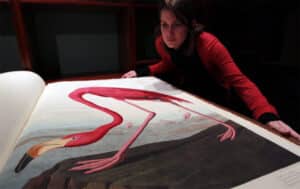 Since there are literally millions of copies of pages from
The Birds of America
, ranging from high-quality reproductions to poster grade decorations, how do we track down and preserve those rare original sheets that may still exist? Over the 200 years since their production, their origins may have been obscured as they have moved through time – treasured by one owner and then relegated to the attic by another.
As curators of these pages, there are a few earmarks that will identify each sheet to us. The most valuable of these is the watermark on each page. Only seen when a page is held to the light, each 27" x 39" sheet carries the "J. Whatman" or "J. Whatman Turkey Mill" watermark and the date of the paper, say, "1829" following the watermark. The paper is a heavy rag stock paper made in the two Whatman brothers mills in England and thusly bears the trademarks of either of the production mills.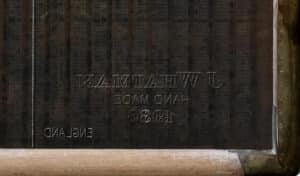 One can also look for other identifying markers on these pages as well, like checking that the pages are actually hand-colored over the black engravings. It's a dead giveaway that you have a copy if you look at a prospective sheet with a magnifying glass and see a dot matrix providing the color to the page. One can also verify the size of the image and the plate marks that are seen on the sheets by comparing them against well-documented descriptions that can be found on the internet. I have found one of the most informative of these being the University of Pittsburgh's Audubon collection statistics.
The Collector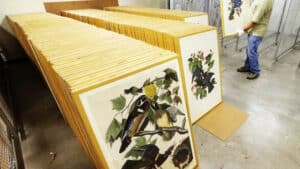 I have been tracking down and collecting original Audubon sheets for forty years, and each time I find one, I let my thoughts turn back to that time, when this indomitable man would be tramping around the wildlands of America, pursuing his passion to find just one more new species to add to his collection of birds of America. Although he relished in the fame and modest fortune his wildlife art brought to him during his lifetime, he would hardly have expected that his artistic rendering of his birds would become the most iconic wildlife documentation of modern time. Sadly, at the end of his life, he suffered from dementia, resulting from absorbing through his skin the mercury-based compounds used to preserve his specimens for study. Like so many others of his time, in the end, he gave his life for his passionate exploration and documentation of our natural world.
Pat Peterson Raynock holds masters degrees in biochemistry and microbiology at Rutgers University, taught high school for 40 years and taught graduate courses through the American Museum of Natural History's Seminars on Science program.