by Kary Pardy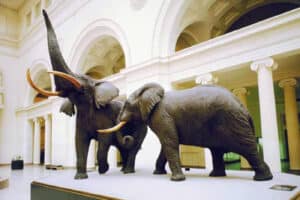 Someone mentions taxidermy and a few main themes come to mind: trophies in hunting lodges, decor in rustic cabins, or the old stuffed fox at your grandparent's house or neighborhood antique store.
The practice of preserving dead animals was once an art form, and in several ways still is, but taxidermy's relationship with death and the strict regulations that now police it have, in some circles, relegated taxidermy to a position only a few steps away from taboo. What does that mean for collectors? While the market is not what it once was, there are exceptions, and there is a way forward if taxidermy appeals to you. To understand where the field is headed, let's first take a look at where we've been.
History
The mid-19th century and the following Victorian period is perhaps the Golden Age of taxidermy. The 1851 Great Exhibition in London showcased the practice to the public, who were wowed by the anthropomorphic arrangements of Hermann Ploucquet (think "mice sitting down for tea") and the impressive displays of stuffed birds by ornithologist John Hancock. Queen Victoria herself was a collector of mounted birds, and taxidermy flourished.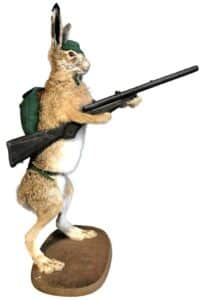 The long British history of hunting for sport and food combined with the desire for scientific preservation laid the groundwork for taxidermy as a popular practice in mainstream Victorian society and people took to it with enthusiasm. It would not have been unusual to find dioramas that included mounted birds in a middle-class Victorian home, and several people tried their hand at the art as one might try knitting. Victorian personal cabinets of curiosities centered on the wonder and beauty of the natural world, from dried flowers to mounted birds.
It is worth noting that culturally, people during the Victorian period had a different relationship with death than we do today. Items that we may now find strange, such as jewelry made with the hair of a deceased loved one or post-mortem photography, were not meant to be scary. Instead, they were ways to preserve a memory of a loved one in a time when the death happened in the home and was a more common part of daily life. Taxidermy found a similar niche – it was more about preservation and celebration than about morbidity.
As taxidermy moved into the 20th century, it was pioneered by professionals such as Carl Akeley, whose resume included names like The Field Museum in Chicago, the Milwaukee Public Museum, and the American Museum of Natural History in New York. Akeley was an innovator in the field, particularly when it came to his lifelike mounts. Starting with a frame of bones, wire, mesh, and papier-mâché, Akeley replicated the natural positions of his animals and left no detail behind or visible seams. His work had the realistic texture of muscles, veins, and wrinkles. He also cared deeply about presenting animals in representations of their natural habitats and in scientifically-accurate movements and social interactions. Akeley was a pioneer in the taxidermic field and helped many museums create realistic natural history presentations. Later in his career he also worked to preserve gorilla populations living in Africa, and Virunga National Park—the first park in Africa—was established in 1925 with his help.
The 1930s saw the beginnings of a shift in attitudes towards taxidermy, as its popularity had led to overhunting. Several animal populations were decimated: multiple exotic birds for their plumage and the buffalo in the American west are just two examples. To counteract the loss of a species, several animal protection regulations went into effect that changed the way that animals could be taken and changed the nature of taxidermy. By the 1970s, most large companies had closed their doors and were replaced with niche shops and small resurgences. To adhere to federal, state, and international regulations, collectors should seek out antique pieces (over 50 years old), which we will get into in the next section.
Collecting Tips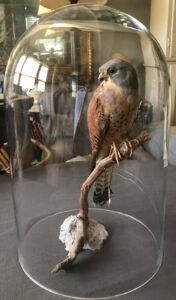 Examples of genuine antique taxidermy in good condition are hot items and auction sites report that taxidermy is one of the most-searched-for categories. So what should you look for? Famous older names include the renowned Victorian taxidermist Peter Spicer (also Peter Spicer & Sons – look for quality cabinet making in dioramas), Walter Potter of anthropomorphic diorama fame, Henry and Rowland Ward, James Gardner (brightly-painted backgrounds), James Hutchinson, Thomas Gunn, A.S. Hutchinson, Van Ingen & Van Ingen (specialized in big game), and John Cooper & Sons (fish).
As you get deeper into antique taxidermy and search out these big names, look out for forgeries or the re-casing of Victorian items. Condition is also key. If not properly cared for, mounts are especially susceptible to shedding or insect damage and there is little market for moth-eaten taxidermy. Look for pieces that have been kept in a stable, pest-free environment, out of direct sunlight, and cared for by their owners with dusting and bushing as needed. Restoration may help, but is costly and unlikely to be worth it should you hope to resell a piece.
The species is also important. Fish survive better than other mounted animals and also seem to have less negative connotations currently with regard to hunting. Unique or record-breaking catches are best, particularly if the stats or prizes are inscribed on the mounting plaque. For mammals, your everyday collector seems to prefer more common game, such as deer, moose, foxes, or game birds, but there is still a market for exotic game if it can pass through regulations, though these regulations in themselves make several auction houses or stores reluctant to take exotic species on, which may hurt collectors or those who inherit.
To stay on the right side of taxidermy laws, it is best to visit the US Fish and Wildlife Service's website. Some regulations to be aware of include the Migratory Bird Treaty Act, Endangered Species Act, Marine Mammal Protection Act, and CITES – the Convention on International Trade in Endangered Species of Wild Fauna and Flora. CITES is particularly important because of the breadth of animals it covers but does make some exceptions for items taken from the wild before it was enforced in the 1960s. Some species will require a license to keep and sell under CITES, but as is the case with all taxidermy, it is best to consult federal and state governing authorities before purchasing to make sure you have done your due diligence. Even if you don't plan to resell, those who inherit from you may and if they are outside the law, it can turn into an estate nightmare.
EstateSales.com
is a good resource and can connect you to federal pages with lists of species that apply under each regulation. Given the scope of these guidelines, it is understandable that several taxidermy collectors choose to stick with plentiful local species.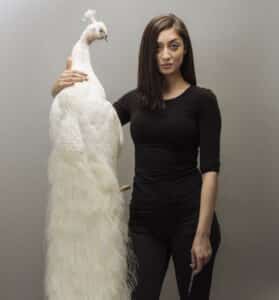 As trends circulate, taxidermy came around again a few years ago, thus the spike in interest on auction sites. Serious antiques aficionados are recognizing the artistry and skill behind a quality Victorian mount, as well as the beauty of the cabinet making and presentation. The preppy hunting aesthetic is quite popular as is its exotic style, and decorators are also incorporating more taxidermy than they have in years. In a 2013 article for the Chicago Tribune, author Rachel Poliquin (The Breathless Zoo: Taxidermy and Cultures of Longing) says "Part of the whole interest right now has to do with the romance of the vintage that's going on, the lord-of-the-manor aesthetic of bowties, tweed, hunter boots." She suggests that vintage taxidermy is the "ultimate anti-modern object" because each piece is a work of art that is "unique, intensely sensual and incapable of mass production." In decor, vintage taxidermy evokes a hunting lodge and wealth, or is a nice decorative juxtaposition with modern, clean lines, and speaks to adventure and uniqueness, or it can be ironic and kitschy, depending upon one's tastes.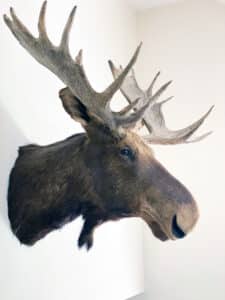 As a collector today, the bottom line is it pays to be informed. If you are looking to invest, hold out for big-name makers and well-cared for, well-documented pieces. If you are interested in one piece to add to your collection for decorative purposes, antique taxidermy can also be a good choice. Stay informed about the laws governing the trade of your particular type of animal and tread carefully, knowing that this particular collecting item can be polarizing. Taxidermists of any period see their work as a labor of love and respect the animals they work with. If we can approach this complicated field with the same frame of mind, then we should be headed in the right direction.