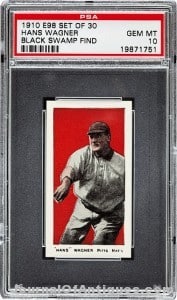 Ken's Korner: 37 rare baseball cards fetch more than $500K – The Journal of Antiques and Collectibles – September 2012
Last month we reported the discovery of around 700 rare, circa-1910 baseball cards in an attic in Defiance, OH, by a man cleaning out his late grandfather's home. The cards were from the exceedingly rare E98 series, produced by an unknown card manufacturer. Now, the best of the best from the group – 37 cards, featuring the likes of Hall of Famers Ty Cobb, Cy Young and Honus Wagner – have sold at auction for $566,132, against a pre-sale estimate of $500,000. The auction was conducted by Heritage Auctions in Baltimore.
One of the lots consisted of a nearly complete set of the E98 cards, which were issued over 100 years ago as part of a candy company promotion. Another lot was of a single Honus Wagner card, which brought to mind the fact that the highest price ever paid for a baseball card remains a Honus Wagner – a 1909 version made by the American Tobacco Company. It went for $2.8 million. Heritage Auctions said the remaining E98 cards will be sold over the next several years and are expected to realize up to $3 million or more.