Ken's Korner: 1909 T206 Honus Wagner card sells for $2.1 million
News & Views From the World of Antiques & Collectibles
By Ken Hall
A 1909 T206 Honus Wagner baseball card – the Holy Grail of sports cards, with only 200 produced and fewer than 50 known – sold at Goldin Auctions in New Jersey on April 6 for $2.1 million. The card was graded excellent, but that still wasn't the most ever paid for a T206 Wagner. That would be the $2.8 million that Ken Kendrick, owner of the Arizona Diamondbacks baseball team, paid in 2011. The card was previously owned by hockey legend Wayne Gretzky and has gained notoriety for having been trimmed.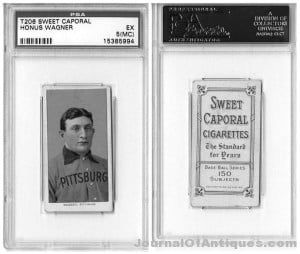 Bill Mastro, former owner of Mastro Auctions, admitted recently to having altered the famous card to better its appearance and increase its value. That's something he had denied for years, but Mastro is currently trying to cut a plea deal with prosecutors, who charge that he used phantom bidders in his auctions to drive up prices and sold fake items, too – like a lock of Elvis Presley's hair and an 1869 Cincinnati Red Stockings trophy. Mastro admitted to trimming the rough-edged Wagner card prior to auctioning it.