Travels with Chad
by Chad Smith
The blue arrow on Google Maps, which is loaded on my phone, indicates that I'm moving toward my target, but certain things just don't look right.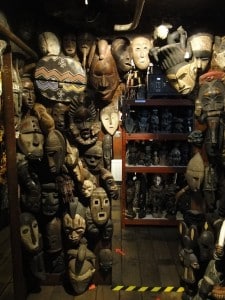 It's a desperately foggy night in Hamburg, Germany, and I'm trying to reach Harry's Hafenbasar, one part store, one part museum, known for its abundance of African masks, statutes and rare oddities from around the world.
But Harry's has recently moved and I had been having trouble getting its opening hours online. So I decided to try in person.
But that blue arrow just isn't correct. Though, it is true, I am walking in Hafen City, a portside district in Hamburg, the arrow has me placed in the water! Still, I follow it.
I see a steel bridge that leads down to a dock; the arrow points me in this vicinity. There's so much fog. I walk up to a big sail ship moored to the dock. My hands sting from the cold. I look at the blue arrow: I really hope I'm in the right neighborhood.
I walk the dock and glance at the boats along it. For some reason, one boat with a crane fixed on it catches my eye. I walk back and look at it. I am relieved. The sign reads, "Harry's Hafenbasar." Indeed, Harry's has moved — to a crane ship!
Through the mist I read the opening hours for the next day. I walk back up the steel bridge, very mindful of my footing.  The next day, I return in the daylight, thankful that I can easily see and that I've got my bearings.
Though founded in 1951, by a sailor, the late Harry Rosenberg, Harry's is still very much under the radar. Over the years, it has become known as a place where one can buy authentic artifacts from the African and East Asian worlds, as well as the one-of-a-kind oddity. (A taxidermied giraffe stands behind a counter near the entrance and shrunken heads can even be purchased.) Only a tiny percentage of the items are so rare they are not for sale.
Carolin Uhde, the friendly "curator" at Harry's, said that after retiring from sailing, Harry opened a stamp and coin shop but soon noticed that his customers were much more interested in the exotic artifacts he used to adorn the place — artifacts he would buy from sailors who had purchased the items during their travels.
Ultimately, Harry went into selling the exotic artifacts full time. "He eventually just told the sailors, 'It doesn't matter what you get your hands on, I'll buy it."
And, boy, did they listen.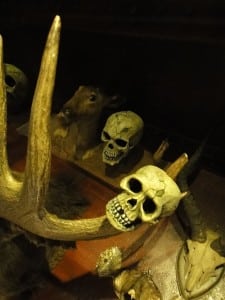 Harry's now calls a floating crane home, a curiosity in itself, and the boat's varied chambers and cabins are filled with things like medicine-man masks from Africa, voodoo dolls, antique guns from Portugal, well-crafted Buddha statues, cigarette holders carved out of sperm whale teeth, gorilla skulls and military gas masks.
Due to the fact that taxes on imported goods have nowadays become more Byzantine, little is added to the shop.
Still, Uhde said, "People, are very satisfied with the selection we have."
And the most sought after items are actually the shrunken heads.
Though the macabre objects were made by a variety of indigenous peoples, the ones Harry's has come from Papua, New Guinea.
According to Uhde, in the past, warriors would remove the heads of their victims and then, through a process, "shrink" them and wear them on their belts as trophies.
Nowadays, faux shrunken heads are manufactured in New Guinea and sold as souvenirs.
Still, some that are sold at Harry's are 100 percent authentic.
Chad Smith is a freelance journalist originally from Queens, New York, now living in Hamburg, Germany. He has worked as a general-assignment and beat reporter and has been published in the New York Times and the New York Daily News among other publications. Chad has a master's degree in journalism from New York University.